IRISH SOIGNEUR EMMA O'REILLY has received a personal, and long sought after, apology from Lance Armstrong. Armstrong responded to her accusations about his drug cheating by labelling her a prostitiute and an alcoholic but has since held his hands up and admitted he was wrong.
O'Reilly, who was a masseuse on the U.S Postal team during Armstrong's tainted reign as Tour de France champion, was one of the Texan cyclist's biggest critics during his many years of denying his drug use. Armstrong was vociferous in his denials and often reserved the worst of his bile for the Irishwoman.
Following his admission, during an interview with Oprah Winfrey in January, of taking performance enhancing drugs, Armstrong said he would like to make it up to O'Reilly and confirmed that her claims against him had been correct.
The Daily Mail's Matt Lawton arranged a face-to-face meeting between O'Reilly and Armstrong in the town of Celebration, Florida on Sunday. The personal apology from Armstrong was forthcoming.
O'Reilly commented, "It was too big a situation to just have a chat about it on the phone. I wanted to eyeball him. You can't keep kicking an injured dog. I wasn't here to humiliate him. But I wanted closure."
A contrite Armstrong, who has now been stripped of his Tour de France titles, attempted to explain why he had gone after O'Reilly with such gusto. Saying sorry, he added, was the least he could do. Armstrong said:
I wanted to talk to her. I felt it was necessary to have a conversation because there were definitely people that got caught up in this story who deserved an apology from me. When I reached out in January it was to talk. Emma, I appreciate, wasn't ready for that. But it's good that, tonight, we are doing this in person."
He added, "At the time, when I said what I said about her, I was fighting to protect a lot of positions. But it was inexcusable. It's embarrassing. I was in a conference room, giving a legal deposition, and I had no idea it was going to get out. But that doesn't excuse it.
"I guess you should always assume that, in that setting, the whole world will watch it the next day. It was totally humiliating for Emma. And if I saw my son do that, there would be a f***ing war in our house."
See Sport
Differently
Get closer to the stories that matter with exclusive analysis, insight and debate in The42 Membership
Become a Member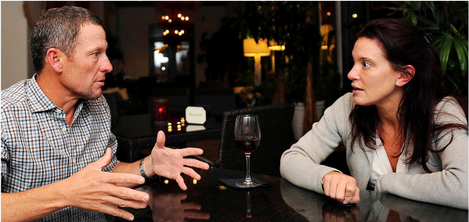 Lance Armstrong explains his dubious actions to Emma O'Reilly. Credit: Graham Chadwick/Daily Mail
The Armstrong/O'Reilly chat also featured several other interesting moments, such as the Tecan's hints that former UCI President Hein Verbruggen was aware of his blood doping during his reign as TdF champion. Following one positive blood test, Armstrong claimed Verbruggen was implicit in a cover-up.
Armstrong claimed, "Hein said 'We've got to come up with something'… so we back-dated the prescription."
The cyclist declared that blood doping and drug use was rampant in the early 1990s and continued, on a smaller scale, all the way up until 2005. "Nobody's claimed [the vacant Tour de France titles 1999-2005] and nobody ever will claim them."