Updated at 20.16
JAMIE FULLER, CEO of Skins, urged people not to be too quick to judge Lance Armstrong following his controversial late withdrawal from the One Zero Conference in Dublin today.
The Australian entrepreneur, whose sportswear company has organised campaigns urging for reform in Fifa and UCI, partially-defended Armstrong after his decision to pull out of today's conference at the last minute provoked plenty of anger.
However, Fuller added that it was a shame for those in attendance as well as for Armstrong himself that he could not be present.
"Colin Kaepernick, who plays for the San Francisco 49ers, four or five weeks ago not standing up for the national anthem and taking a stance on how African Americans have been treated," said Fuller.
"The positive impact that's having in bringing that whole discussion to the floor, we sort of fundamentally believe that here's an opportunity for sport to do just that. There's a history of sport having done that for some time. Look at the role rugby played in the eradication in apartheid (at the 1995 World Cup). So there are precedents for sport to have significant impact, particularly in areas of social injustice.
Lance can get involved at that level plus he can also get around advocating for anti-doping. But there's a journey he has to go through and in my opinion, today was a really important part of that journey and he's not here."
Fuller added that he would be prepared to collaborate in a campaign with Armstrong, as he has done already with another infamous doper — the Canadian sprinter Ben Johnson — and provided he met certain conditions.
"In 2013, I convinced Ben Johnson to front a campaign for us on anti-doping and everybody said to me 'you're off your rocker'.
We started to build that brand with a very clear view on anti-doping. Everyone said 'don't do it' because Ben became toxic.
"If Lance was prepared to do certain things and he was prepared to be as open and frank as he could be, then I would not wait for him to detoxify."
Fuller also rejected claims that Armstrong was not genuine in his apologies to those he has verbally abused and felt the legal reasons he gave for pulling out of the conference were more than just a convenient excuse.
Be part
of the team
Access exclusive podcasts, interviews and analysis with a monthly or annual membership.
Become a Member
"I would argue when you say he doesn't take responsibility for his actions," he told host Ger Gilroy.
You and I have got the luxury of not being faced with a $120 million lawsuit that's going to wipe us out completely. It's easy for us to sit here and judge him for not coming.
"I would dearly have loved if he turned around to the lawyers and said 'get f***ed, I'm going'.
"I too have an element of sympathy for him because I'm not in that position."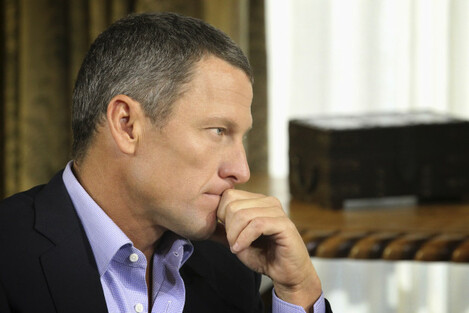 Lance Armstrong (file pic). Source: AP/Press Association Images
Fuller recalled how he had met Armstrong in the past and was impressed by the disgraced cyclist's conduct.
I had a really bizarre 48-hour period in April 2013. I had lunch with Ben (Johnson) and convinced him to front that anti-doping campaign and the next day, I had lunch with Lance in Austin (Texas).
"Over the course of that 36 hours, it was (having lunch with) the two biggest dopers in the history of sport.
I'd been leading a group of people who'd been effectively a Lance Armstrong hate club and it wasn't meant to be that, it was about trying to reform the UCI.
"I was very brutal, borderline rude. I wasn't abusive, but I was very direct. And his response was 'I'm ashamed, I'm embarrassed and I'm sorry for the things I've done'. He corrected me on a couple of minor things but I definitely saw contrition."
The42 is on Snapchat! Tap the button below on your phone to add!