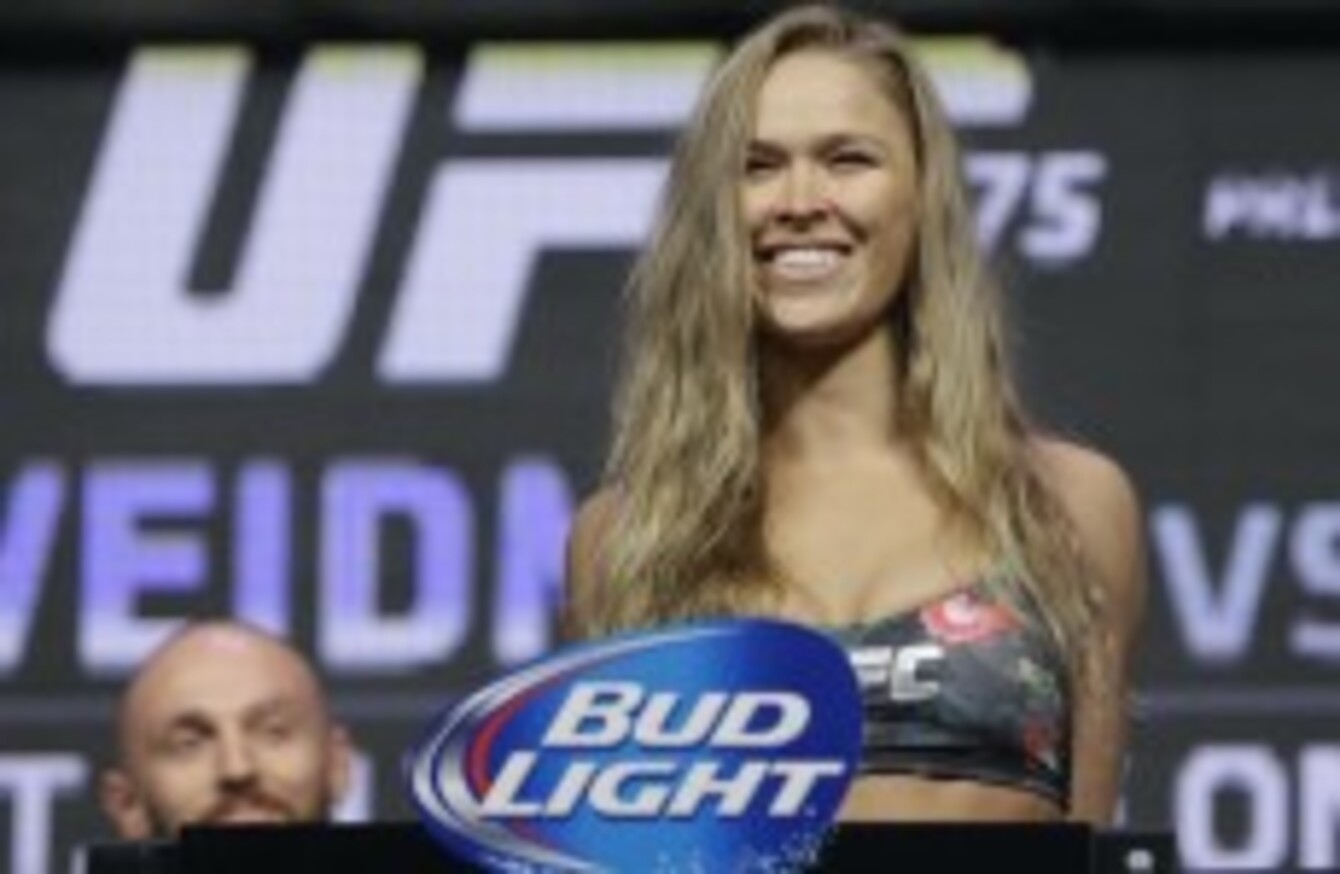 UFC women's bantamweight champion Ronda Rousey.
Image: AP/Press Association Images
UFC women's bantamweight champion Ronda Rousey.
Image: AP/Press Association Images
JUST OVER TWO years after it was introduced, perhaps it could be seen as a knee-jerk reaction to describe one fight as crucial to the long-term future of the UFC women's bantamweight division.
Yet it's hard to escape that feeling ahead of tonight's UFC 184 headliner between challenger Cat Zingano and defending champion Ronda Rousey in Los Angeles.
With her unblemished 10-0 record, Rousey is the most dominant fighter in the sport today. The judo Olympic bronze medallist has coasted through her professional MMA career since it began in 2011.
Six of Rousey's 10 wins have come inside the very first minute, and she's only been outside the first round once — all the while competing against some of the best the women's 135lbs weight-class has to offer.
Tonight's opponent Cat Zingano has long been touted as the biggest threat to Rousey's reign, and it's difficult to argue with that. The pair were scheduled to meet in November 2013 until Zingano — who's also undefeated at 9-0 — was forced to withdraw due to injury.
With respective backgrounds in judo and wrestling, neither Rousey nor Zingano are renowned for their striking, so expect both to try and close the distance early. Rousey does have some power in her hands, but her range of striking is limited. However, the same can be said of Zingano.
A 32-year-old from Colorado, Zingano does some of her best work in the clinch, whether it comes via knees or takedowns from throws and trips. But with her own arsenal of throws and hip tosses, Rousey will be comfortable if that's where the fight goes.
Should the contest hit the mat, the trademark armbar will always be a danger against Rousey, and although Zingano is effective in top position, the same can't be said when the roles are reversed.
Can Zingano cause a shock tonight? She has the tools but — as is generally the case — we're struggling to see where Rousey loses this one. Surviving into the championship rounds and testing Rousey's durability late in a fight might be Zingano's best hope.
If Cat Zingano can't take Ronda Rousey out, is there anyone who can? And in that instance, what's next for the division? Rousey has become a big star and one wonders if she can sustain her appetite for competition by strolling through a couple of fights a year.
The 28-year-old Californian has already begun a film career, featuring in The Expendables 3, in addition to cameos in the upcoming Furious 7 and Entourage movies.
If Zingano can't test her, perhaps former professional boxer Holly Holm — who makes her UFC debut on tonight's card — or undefeated Brazilian prospect Bethe Correia can.
There's plenty of talent in the UFC women's bantamweight division, but the gap between Rousey and the rest has grown with each of her four fights for the promotion to date.
With two women's bantamweight bouts topping tonight's bill, let's hope that UFC 184 will be remembered as the event that breathed new life into the 135lbs division.
Either way, we're not looking beyond a Rousey victory. The champ to emerge victorious inside two rounds.