GLOUCESTER HAVE CONFIRMED that Laurie Fisher will take over as the club's head coach under recently-appointed Director of Rugby David Humphreys.
The Australian previously spent three years as forwards coach at Munster and enjoys a fine reputation within the game for his technical expertise and ability to develop young players.
The 56-year-old is currently the Director of Rugby at Super Rugby franchise the Brumbies, where he originally earned his stripes before moving to Ireland.
Having moved from an academy position to taking control of the Brumbies' forwards under David Nucifora, Fisher became the Australian side's head coach in 2005. Three years later, he switched to Munster and worked with Tony McGahan.
Fisher returned to the Brumbies in 2012, overseeing the improvement of the forwards pack to the extent that the Canberra-based club reached the Super Rugby final a year later.
Gloucester CEO Stephen Vaughan is thrilled to announce the signing of Fisher ahead of the 2014/15 season, pointing out that there was much interest in the post, but only one outstanding candidate.
He [Fisher] deservedly enjoys a reputation as one of the shrewdest minds in world rugby, an individual who has continually sought to improve himself and his coaching methods," says Vaughan.
"The references and feedback we have had regarding Laurie from high-quality people that have worked with him have been very impressive indeed."
Humphreys will be pleased with the latest addition to Gloucester's coaching staff, following the captures of Nick Walshe as attack and backs coach and John Muggleton to control the club's defence.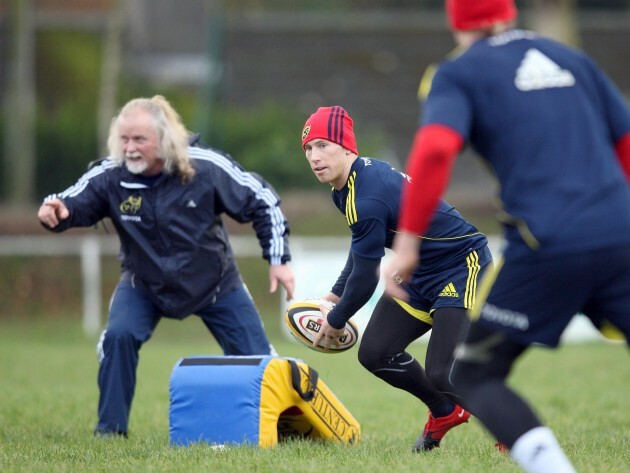 Billy Stickland / INPHO Fisher is regarded as a fine technician. Billy Stickland / INPHO / INPHO
Fisher's time at Munster saw two Pro12 successes, and he was well thought of by many of the province's players, particularly for his technical knowledge and in-depth study of the game.
"I was fortunate to have a fantastic coach in Laurie, who was able to sit me down and give me numerous foolscap pages of notes on a regular basis which I would then take home and work on, allowing me to do that bit extra on my own, helping me kick on to the next level," James Coughlan told Munster Rugby recently.
"That's not to say that other coaches didn't help me massively as well, but it was under his watch that my transition from the player I was to the player I am now took place."