THERE WAS MUCH written during the week on the unsuitability of Turner's Cross for the Ireland international game on Tuesday night.
Many complaints were justified but to be honest I found it difficult to care about those as I got swept up in the great sense of occasion in the ground.
Then, watching highlights later I saw how well the stadium looked on TV. That latter point is important.
We all know and accept that the media facilities weren't sufficient, especially when Martin O'Neill was announcing his squad after the game, which only added to the media presence.
From the perspective of the players not making the final 23, there are few private rooms available throughout Turner's Cross where Martin O'Neill could have that uncomfortable conversation in relative comfort.
Then, the post-match huddles took place on and around the pitch; all this far from ideal.
It wasn't a good game, but it was a good occasion. The ground was packed, predominantly green and there were pockets of supporters creating a decent atmosphere.
However, it's only since I left the ground and have spoken to people who'd watched the game on Setanta Sports that I realise what a positive the coverage was for Turner's Cross, and by extension the league.
Colleagues and friends have been universally complimentary about how well the stadium looked, how perfect the pitch seemed and how well the atmosphere came across.
The compliments could be tinged with a slightly patronising "lovely little stadium", but it came from a demographic of acquaintances whose primary exposure to live football is on TV, and the English Premier League or Champions League football.
Being able to finish conversations with "you should pop down" and not have that suggestion rejected was encouraging.
Be part
of the team
Access exclusive podcasts, interviews and analysis with a monthly or annual membership.
Become a Member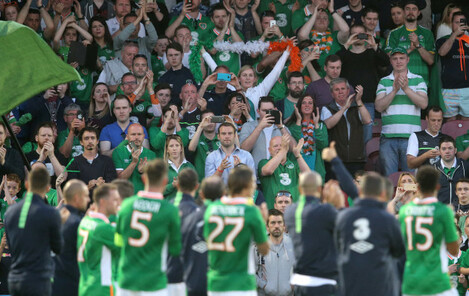 The players thank the fans after the game. Source: Cathal Noonan/INPHO
The thing is, it's all about perception.
In 2015, when Dundalk visited Turner's Cross for a game screened live on RTE, the ground was just as full, the quality of the game at least as good and the atmosphere notably better, but I heard none of the same compliments from those same colleagues and friends who'd watched that game last year.
For an Irish international Setanta brought out the bells and whistles that the average football fan would associate with Sky Sports or BT.
To be fair, Setanta consistently strive to hit a high level with their League of Ireland coverage in terms of camera positions and perception. Multiple camera angles, quick changes of footage and on-pitch analysis add a layer of drama to the TV coverage that we typically do not see associated with live League of Ireland football.
Here's the thing, watching the average English Premier League game, or early group stage game in the Champions league is typically no more exciting for a neutral than a League of Ireland match.
Bear with me; if you don't directly support a team involved, while you're unquestionably watching a higher standard of player, you're not necessarily watching a more exciting, engaging or interesting game.
Modern football is noise, pure and simple.
A tiny fraction of what is written and reported on is the ninety minutes. Sky Sports primary contribution to football has been in manufacturing a heightened interest in the noise around the game, rather than in the game itself.
From speculation on managerial changes, transfer windows, player wages and endorsements, corruption in Fifa and Uefa we are bombarded 24 hours a day, seven days a week.
The noise drives much of the interest, there's a circus around the game that the League of Ireland can allow to pass us by or that we can learn from.
There are certain grounds that will never look good on TV without major infrastructural investment, but we can push our players front and centre, be much cleverer with our promotion of games and the league and do the hundred little things that would grab little bits of attention and spark new conversations.
Every club, and the FAI, can learn how to make more noise. If everyone shouts loud enough in unison, a few people outside of our hardcore followers might hear us, and listen.
The42 is on Snapchat! Tap the button below on your phone to add!