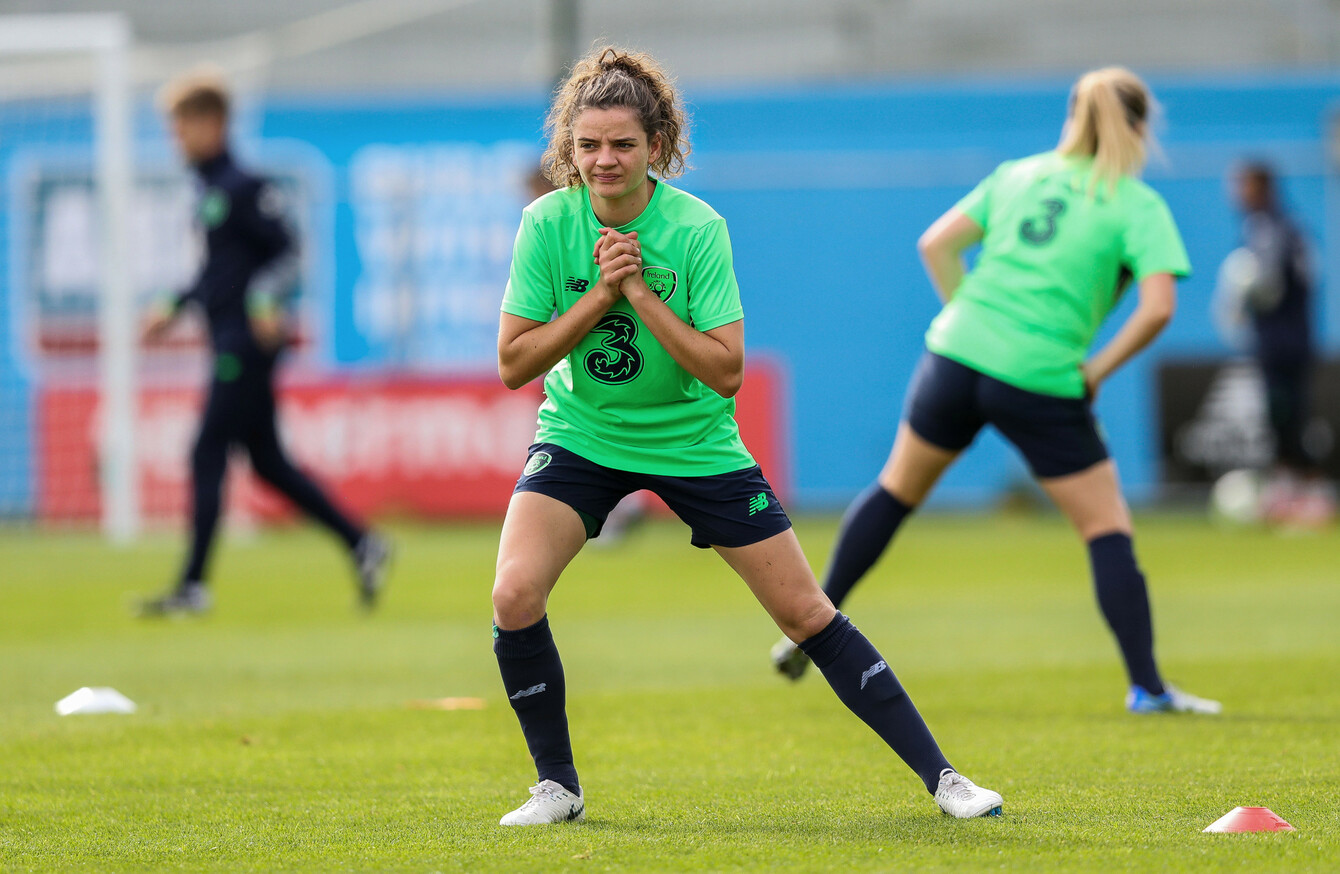 Leanne Kiernan pictured training at Tallaght Stadium yesterday.
Image: Ryan Byrne/INPHO
Leanne Kiernan pictured training at Tallaght Stadium yesterday.
Image: Ryan Byrne/INPHO
IT'S BEEN A whirlwind two years for Leanne Kiernan.
While her talent was starkly apparent to all who knew her from a young age, it was 6 November 2016 when she came truly announced herself to the wider footballing public.
Just 17 at the time, she scored a phenomenal hat-trick during the Women's FAI Cup final as her Shelbourne team claimed a comfortable 5-0 victory over Wexford Youths in front of the RTÉ cameras.
A nomination for WNL Player of the Year followed, while after producing four goals and three assists on her competitive debut for Ireland U19s amid a 10-0 win over Macedonia, she quickly established herself within the national team's senior set-up.
The 19-year-old has featured in every one of her country's seven World Cup qualifiers so far — five times from the outset and twice as a substitute. She is also expected to be involved later today, as Ireland take on the North at Tallaght Stadium (kick-off: 5.30pm).
Despite the disappointment of not qualifying — a fate that was confirmed following last June's 1-0 loss in Norway — Ireland can take heart from a campaign in which they held European champions Holland scoreless.
Kiernan, who is one of five teenagers in the current panel, has undoubtedly been a bright spark. Despite her lack of experience at international level, she has managed to make an impact, getting her name on the scoresheet in the 2-1 win over Slovakia in Dublin last April.
"The team has come together since Colin took over," she tells The42. "Obviously, we're disappointed that we can't qualify.
"But it's been good, we can take a lot of positives out of this campaign, which we'll bring into the next one.
"Playing against Holland and Norway, they're excellent teams. We want to be playing against the very best teams, trying to get results against them."
With star striker Stephanie Roche still out injured in addition to another experienced attacker, Áine O'Gorman, missing a considerable portion of qualifying (but back fit and in the squad now), plenty of responsibility has been put on the shoulders of Kiernan and fellow young forward, 22-year-old Amber Barrett, during the campaign. Yet both players have adapted admirably, proving they are more than capable of making the transition to international football.
I suppose you'd be a bit nervous," Kiernan adds. "But it's more excitement, because not many people get the opportunity to play for their country, so we gather lots from it and I really enjoy playing in front of my family and friends. What more could you want?
"Colin Bell has brought on the game a lot [in Ireland] and it's good to see all the young girls getting opportunities. It's just about progressing on in the next campaign now and getting the results."
The last few months in particular have been momentous for the Cavan native. Towards the start of the summer, she moved to London, completing a move from Shelbourne Ladies to West Ham United.
"It was through the national team, Colin said they were interested and I said I'd go over, have a look and when I went over, I thought it was the club for me.
I'm living in an apartment with two of [my team-mates], I'm settling in eventually, struggling with the whole washing [laundry] and that, but I'm getting there.
"Being full-time, it is a big difference to being in a non-professional team. I'm enjoying it and it improves you." 
Kiernan did not need to look hard for advice on the matter, with 10 other members of Ireland's 18-player squad currently playing football abroad. Moreover, like her, Arsenal duo Louise Quinn and Katie McCabe are living in London.
And the teenager has gotten off to a promising start. In addition to a goal in pre-season, she scored for the first time competitively last Sunday amid a 4-1 victory against Lewes in the Hammers' Continental Tyres Cup tie.
What a strike from @kiernan_leanne 😍 pic.twitter.com/Jpqmhoy3Yn

— West Ham United Women (@westhamladies) August 27, 2018
It was another special moment for the youngster, for whom big things have been forecast for quite some time.
A sports-mad kid, as well as soccer, GAA and cross-country running formed an integral part of Kiernan's upbringing. Before London came calling, she had offers from America, but chose to stay in Ireland initially.
I felt at the time, I probably wasn't ready. I was enjoying life in Ireland, of course the Leaving Cert is a big thing I had to get it done before I'd leave, which I knew. So I felt this year was the time to go when I'm a bit older."
Still relatively young and naturally shy, Kiernan says homesickness has not been an issue despite living abroad for the first time.
"My parents have been over twice since I've left and I only left two months ago, and I talk to them every day, so it's good."
Last June, The42 spoke to Kiernan's former Shels team-mate Rachel Graham, who was fulsome in her praise for the youngster.
She's the least charlyish person you'll ever meet," Graham noted. "She's always wanting to learn — we played against Limerick and I think she scored four goals and she's still taking onboard: 'I've done this wrong, I've done that wrong,' rather than saying: 'I've scored four goals. What more do you want from me?'
"She doesn't have an opinion about herself or anything like that, she's brilliant."
This modesty shines through during the interview. Her answers to questions are short and to the point.
Of becoming a professional, Kiernan simply says: "It was always a dream that I never imagined myself being able to do, but thankfully I'm able to do it now and will give it my best."
Kiernan's advice for young athletes, who might hope to some day emulate what the Irish starlet has already achieved in her short career, is similarly concise.
Training would be a major thing," she says. "Train hard and believe in yourself. Believe that you can get to that level and that you can do it." 
Having at one point adhered to a hectic schedule that involved the average seven-hour  school days followed by a 180km round trip from Cavan to her training base with Shels in Dublin's Morton Stadium — usually four times a week — she is relieved to be able to focus fully on football for now.
Yet Kiernan always insisted she would like to be a pig farmer in her native Cavan one day and despite all the renown and accolades she has received in recent times, that ambition has not changed.
"I done my year in the Agricultural College in Ballyhaise," she explains. "I applied for [a course] in Dundalk to do Agriculture. I got that before I left, but I deferred it for a year [to make the West Ham move], so that's still an option, which is good to have too.
"I'd say I'll have to make a decision next year to see where I go."
Despite all the hype that the teenager has prompted in recent times on account of her formidable footballing talent, it is to Kiernan's immense credit that she seemingly fails to see what all the fuss is about.
The42 is on Instagram! Tap the button below on your phone to follow us!