LEBRON JAMES DELIVERED 38 points and Kevin Love had a career playoff high 32 as the defending champion Cleveland Cavaliers opened their Eastern Conference final series with a blowout win overnight.
The Cavaliers were coming off a 10-day break but showed no signs of rust by going wire-to-wire to easily beat the Boston Celtics 117-104 at the Boston Garden arena.
"Starting the game, LeBron really controlled the tempo, really set the tone early," Cleveland coach Tyronn Lue said. "He's playing at a high level right now, and that's the reason we're riding him so much."
Game two is Friday at the Garden before the series shifts to Cleveland for games three and four.
"Amazing, but he's better than when I first got into the league," said Celtics fourth-year coach Brad Stevens of James.
The Cavaliers dominated from the opening tipoff. They compiled a 26-point lead in the first half and expanding it to 28 in the third quarter before the Celtics cut it down to 17 at the end of the quarter.
James, who is seeking to reach his seventh straight NBA finals, scored 15 in the fourth quarter en route to his seventh straight 30-point game. He also had nine rebounds and seven assists.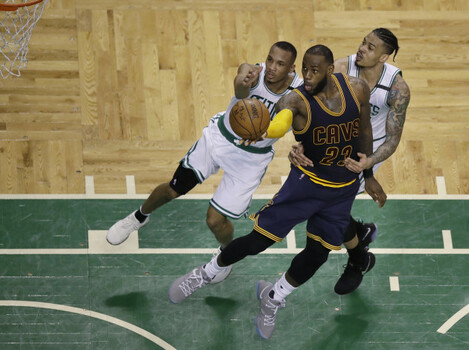 Source: Charles Krupa
James said as well as the Cavaliers played, they can do even better.
"I don't even think we played that great tonight," James said. "We definitely didn't shoot the ball as well as we're capable of shooting it.
"I think the energy and the effort and mindset was where it needed to be starting on the road, especially in the Eastern Conference Finals."
Source: NBA/YouTube