SIX YEARS INTO his inter-county career, and Lee Keegan's proximity to an All-Ireland medal has never felt closer.
Under 2015 All-Ireland winning club manager Stephen Rochford, they brought Dublin to a replay but agonisingly lost by a single point.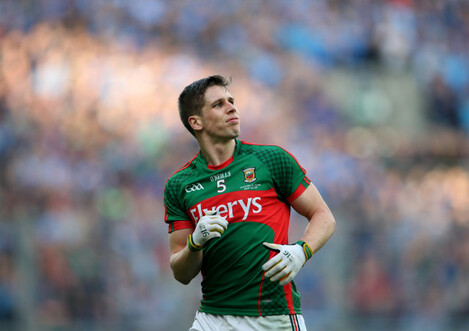 Source: Cathal Noonan/INPHO
In his time on the Mayo team, Keegan has lost three All-Ireland finals (two by a single point) and three semi-finals (two of them after a replay).
He's been consistently among his county's best performers over those years, but still he hasn't managed to help them over the line.
As well as the obvious psychological anguish of losing so many big games, playing so deep into the championship for six straight seasons takes its toll on the body.
"It is (tough). It's not getting easier, to be honest, the way the game has evolved," Keegan says as he reflects on 2016.
"It's getting very difficult to be honest. Even the league has got so competitive that it's so hard to sustain and keep your body in shape and keep motivated and go back to your club. It's very hard to look after yourself for ten months of the year.
"You don't get much of a life outside it, to be honest, between work and playing sport. That's all you have. I suppose we're lucky that we have an ambitious group of lads that are trying to succeed.
"They wouldn't come back if they didn't think they were going to win a medal. That shows the character they have. But I'm not here to get character awards. I'm here to win medals. That's the only reason I come back every year, to win that main medal."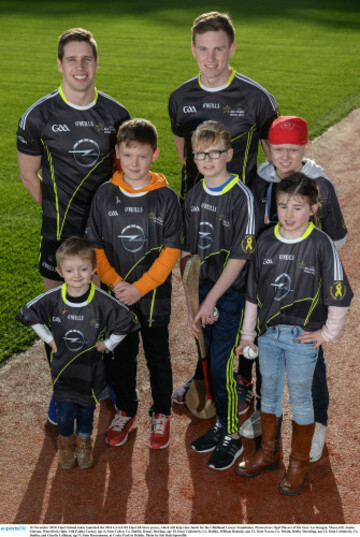 The main medal aside, Keegan's trophy cabinet is bursting with honours. A five-time Connacht medalist, he's also won four All-Stars (more than any other Mayo player) and was recently crowned Footballer of the Year.
"I don't go out to think about awards at the end of the year. It's ultimately about winning the main goal, and that's why I come back every year to train with Mayo. We just believe that we can win it.
"To be recognised as a great player and a great team you have to win the main goal which is Sam Maguire. I'd give them all (awards) up for just one Celtic Cross. But there's a lot of work has to go into that before you get it."
In many ways, the 27-year-old is the ultimate modern footballer. Intelligent, strong, hard working and confident on the ball, he also showed his versatility this year by taking up important man-marking duties on the last line of defence.
"I was probably recognised more as the attacking half back," he says. "I like to be recognised for my defending more so. I am a defender.
"The way I look at myself, I pride myself on stopping forwards scoring or limiting their influence as much as possible.
"That's where the challenge came from Stephen this year, where he put me in full-back and corner-back and expanded my game from that point of view.
He continues: "It was good to experience different lines. I thought I might get a nosebleed when I was put back on the full back line in the league. I got over that quick enough.
"When you are marking the likes of Darran O'Sullivan and these lads and trying to chase them up and down the field. Listen, I learned a lot of harsh lessons in the league. I came across great players and they gave me a very hard time.
"That really helped me grow towards championship and I really got a different flavour for how corner-backs and full-backs worked. I don't think I did too bad. I got a couple of scores from there as well.
"Overall, I was just delighted from the aspect of my defending. I think my defending became a lot better, even playing in the half-back line. Getting used to that surrounding in a one-on-one position in that area has really, really brought my game on a lot more."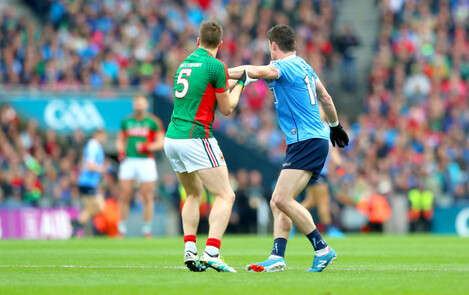 Source: James Crombie/INPHO
In the build-up to the replay, Keegan was cast as the anti-hero who was using the dark arts to prevent Diarmuid Connolly from playing. Keegan was black-carded in the first-half of the replay, a major turning point along the way to Dublin's latest All-Ireland success.
"I was just worried about one job and one job only, to win an All-Ireland, and obviously marking Diarmuid, one of the best players in the country, you try and negate his influence as best possible.
"I have no intention of stopping the way I play. I play hard. I play as fair as possible. I am there to win at all costs. Everyone has an opinion and I can't stop people from talking, good or bad about me. Again, I don't know if it influenced the referee in the final. It wasn't for me to worry about.
"I have nothing but respect for Diarmuid Connolly and what he has achieved in the game. He is one of the best you'll see. I'm sure if I seen his (trophy) cabinet now it's full of what I'd love to have.
"But I don't see why I should let Diarmuid run around the pitch and do what he does best. If I did he'd be kicking six or seven points a game and I'd be looking like a dud out there. I'm a defender, I'm going to try and negate his influence as much as possible.
"Believe me, I love watching him play when he's in top form but I'm just there to do a job for Mayo. That's just what I had to do.
"He was the lucky one this year that he slotted away the winning penalty and I went up and shook his hand afterwards because that's all there is. We have nothing but respect for each other. At the end of the day we're there to win games and there to win medals. I'm sure he'd say the same thing himself if he was in this position."
Two of Connolly's former team-mates, Jack McCaffrey and Rory O'Carroll, opted out of the Dublin squad in 2016 to head off on their travels. That's something Keegan would love to experience, but there's one big difference between himself and the Dublin duo.
"Of course you always think of what the possibilities could have been if I hadn't played Gaelic or I'd took a year out. You look at Rory O'Carroll, for instance, he'll probably not come back next year either.
SEE SPORT
DIFFERENTLY
Get closer to the stories that matter with exclusive analysis, insight and debate in The42 Membership.
Become a Member
"He's obviously off enjoying his life away from football. It's easy for him, because he has won three All-Ireland medals.
"Of course, winning an All-Ireland (would) influence a lot of things. I'd love to go off for a year and experience different things, just relax," he laughs.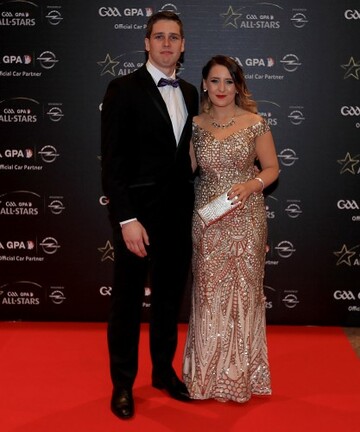 Source: Donall Farmer/INPHO
"Even from my partner's point of view – she'd love to go traveling some time or see a bit of the world in the summer. She's a teacher. She does be putting pressure on me that time of year."
A laid back and positive individual, Keegan is quick to point out that there's plenty keeping him here too. Not to mention running out onto the hallowed turf behind him.
"There is a huge buzz out there as well. When you run out at Croke Park in front of 84,000 people there's no better feeling in the world.
"The hairs are standing on the back of your neck – the atmosphere alone. I am so lucky and blessed that we are able to compete at the level, year in, year out.
"Of course you'd love to see the different options around the world or do different things, but at the end of the day it's our choice. We do it. We love it that much that we come back every year."
******
Players of the Year Lee Keegan and Austin Gleeson were in Croke Park for the launch of the 2016 GAA-GPA Opel All-Stars jersey which continues to help raise funds for the Childhood Cancer Foundation.
******
The42 is on Instagram! Tap the button below on your phone to follow us!