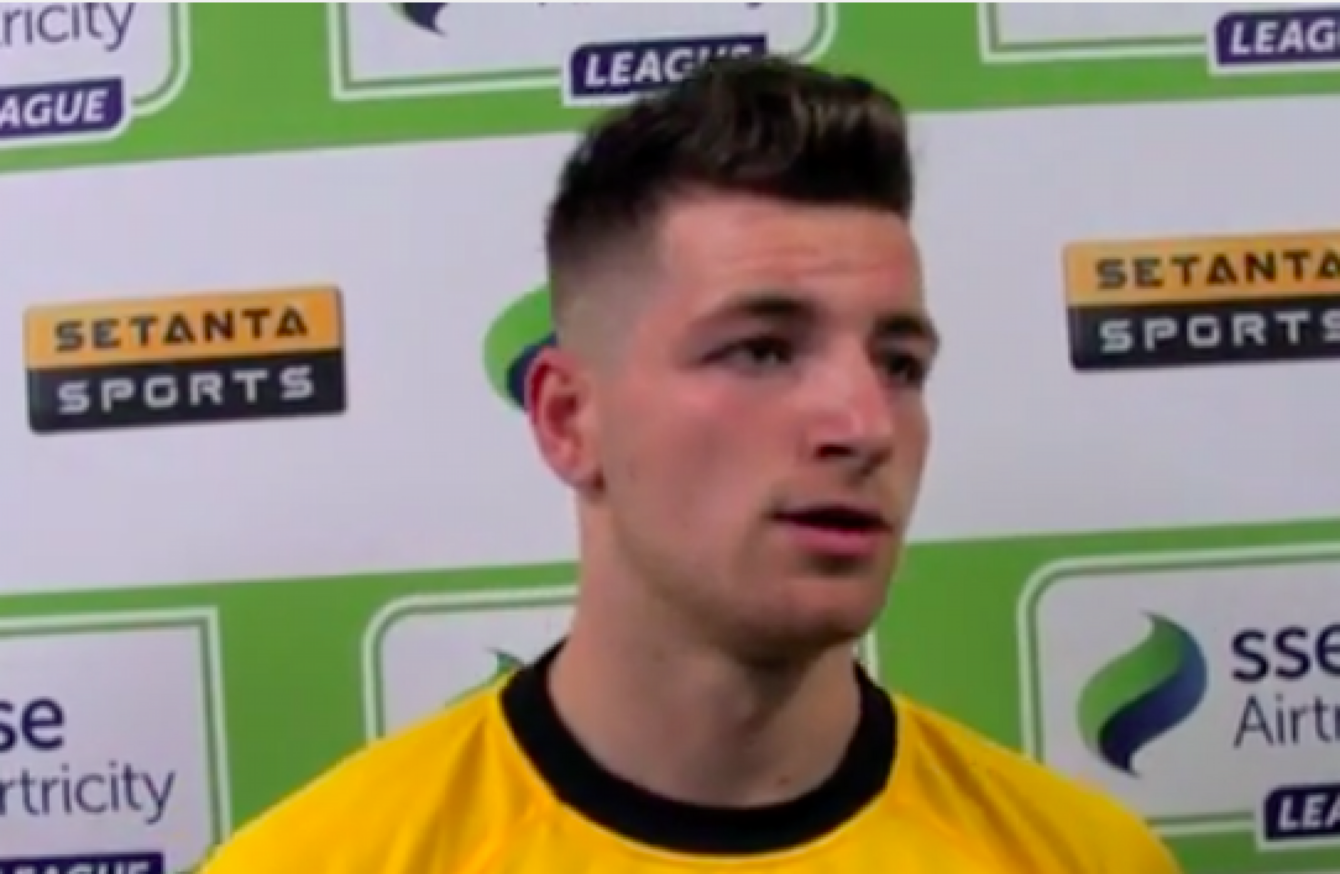 Lee Steacy is part of the Bray squad facing an uncertain future in the coming weeks.
Lee Steacy is part of the Bray squad facing an uncertain future in the coming weeks.
LEE STEACY ADMITS Bray Wanderers' players were left in shock after Sunday's meeting with team officials, after players were told the club only had enough money to pay next week's wages and that they were free to find other clubs.
The Seagulls have been plunged into a crisis over the last four days.
A statement released by Bray's chairman Denis O'Connor at half-time of their game with Dundalk on Friday detailed their struggles to attract high attendances and questioned the point of running the club under such circumstances.
O'Connor, alongside manager Harry Kenny, met with players early on Sunday, as the bad news was broken to the squad.
"We were saying there was nothing to worry about thinking it was just a plea to get fans in," Steacy tells The42, in relation the club's press release last Friday.
"Sunday morning we come in ready to train. We didn't train and we were waiting for an hour for Harry and the owner and the investors to come in and have a meeting with us.
Harry came in with the chairman and basically told us that there was only enough wages for the next week. They didn't know where they were after that.
"For a lot of players at the club, their only income is Bray. They are worried about sorting out employment straight away. Obviously, other players will be more in demand and will have offers straight away from other clubs."
In the statement released to the media, chairman O'Connor said he expected crowds to increase at the Carlisle Grounds following the team's upsurge in results, which sees them sit in third place and on course to compete for a European place.
The club's investment increased dramatically at the beginning of this season, which saw Bray bring in as well as keep on a number of high-profile players including Dylan Connolly, who on Thursday signed for champions Dundalk for €45,000.
O'Connor said:
With the appointment of Harry Kenny as Head Coach in the middle of last season this Club took a very upward step in Irish football. He has brought us to new level. So at the start of this season The Club decided to back Harry with more resources in the expectation that he would continue the good run and that the investment would push us further up the table leading to greater support both on the terraces and reflected in gate receipts. Well, Harry has more than delivered but the support has just not materialised."
Steacy says he is deeply saddened by the turn of events. The 24-year-old signed for Bray midway through last season following Shane Supple's switch to Bohemians and has enjoyed his time at the club considerably.
"I'm devastated to be honest. We were going so well, there are 12 league games left for us, I think we definitely could have gotten Europe — 100%. It probably doesn't seem possible now because it's a huge uphill task.
It's hard to take. You see everyone on Twitter saying you could see that this was coming. It's very frustrating to see some people getting joy and a laugh out of this — they don't see the impact it has on the players.
"You see all sorts and it's very frustrating because we were going really well. We are only a part-time team and we're right in the mix with all of the full-time teams. This just covers over everything now."
The club believed the recent increase in investment in players would be balanced out by supporters through the turnstiles following their recent rise up the Premier Division into third place.
This rise in the team's popularity has not transpired, however. The club has sold just 110 season tickets, with only 365 supporters in attendance at their recent league fixture against Derry City, a game which pitted third against fourth in the Premier Division.
Steacy says the lack of home support has been a source of frustration for the players, comparing the crowds to those of Bohemians, where he played for two seasons.
"I can't get my head around why the fans haven't been showing up and fair play to the loyal fans that are — you see the same familiar faces every week," he says.
We all know how big Bray is but I don't think they want to support the club. I don't know if there are other problems ongoing that we don't know about. But we should be getting at least 500 plus a week considering where we are in the table and the games that we play in.
"There have been some amazing matches in the Carlisle Grounds this season. It just doesn't make sense why you wouldn't want to go out and watch the club.
"Some of the goals we have scored have been unreal and some of the passages of play have been unbelievable. You can hear a little bit of the fans cheering, but it doesn't compare to the 1,000-plus fans you get every week in the Jodi in Bohs.
"That atmosphere really spurs players on. I think of the season in 2015 with Bohemians, when we finished fifth, we had the lowest budget in the league.
What I found about that team is that we were always hard to beat and I think that was down to the fans always encouraging us. I think the fans in Dalymount could have gotten us 10 points a year just from the morale they brought keeping us going. I think every club needs that."
Steacy says he believes a number of Bray's squad will depart due to the need to earn a regular wage.
"What's worried me the most is that after the meeting on Sunday, we went for lunch. At the end of it, when we were saying goodbyes, it was a sense of 'see you around.' We've to report to training on Tuesday and I don't know if the whole squad will be there.
"I know I'll be there, but I don't know what the other lads are going to do. The club haven't said to us that there is no money, but they have said that they can't guarantee it. I don't know what that means.
I think the majority of the squad will move on. I think by the way most of them are playing this season, they are doing really well, so they will get offers. A lot of players rely on this money because they've mortgages and kids. It could be their only income so they have to move on."
The goalkeeper adds that Harry Kenny has been an integral part of the club's successes this season and says the manager understood the situation the players were in to find new clubs.
"Harry was a player and might have went through what we have. But he just said, 'at the end of the day lads, you're free to speak other clubs and you have to do what's right for yourself. And he is right, at the end of the day you have to be earning money.
"It's just a shambles that this has been allowed to happen. I don't say that from a Bray point of view — the league should not have allowed this to happen. There should never be insecurities about wages halfway through a season.
Harry explained that he understood exactly where we were coming from. Obviously he would love to keep us all, but I'm not sure if he'll stay himself.
"Denis said to give them a couple of days to sort things out. I'm patient so I don't mind that, but we'll have to see what the PFAI say tomorrow when they meet with us. We'll just have to take it from there.
"Tomorrow we will know more, but we have no game for two weeks so I suppose anything could happen between now and then."
The42 is on Instagram! Tap the button below on your phone to follow us!