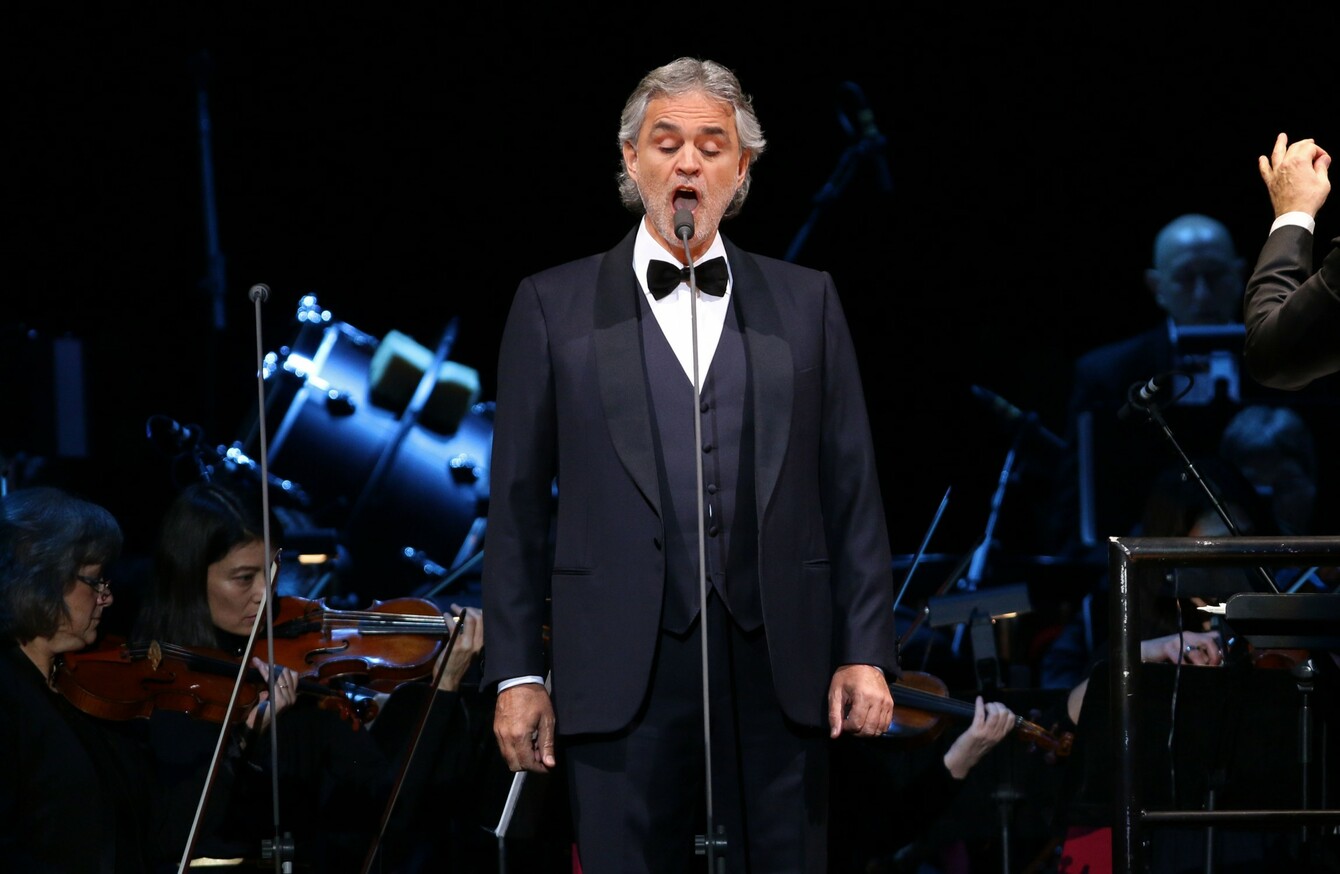 Bocelli will sing the likes of Nessun Dormo and Time To Say Goodbye.
Image: AP/Press Association Images
Bocelli will sing the likes of Nessun Dormo and Time To Say Goodbye.
Image: AP/Press Association Images
LEICESTER CITY WILL celebrate their dream Premier League title in style on Saturday with a pre-match party involving world famous tenor Andrea Bocelli.
The Italian singer will serenade the Foxes' title-winning players before Saturday's home game with Everton, after which they will collect the Premier League trophy following a fairytale triumph that was clinched on Monday.
Bocelli will perform at the King Power Stadium as a personal favour to his fellow Italian Claudio Ranieri, Leicester's title-winning manager, and other special guests at the game will include the club's famous Ice Kings of the 1960s.
Ranieri was applauded on Thursday at his first pre-match press conference since his side were crowned champions, as more than 100 journalists raised glasses of champagne to toast the popular 64-year-old.
And he revealed plans for Bocelli's performance were born around two months ago, long before Ranieri conceded publicly that his side were title contenders.
"He called me one-and-a-half or two months ago and he was so happy at what's happening to Leicester," said Ranieri. "About singing, he said 'why not?'
Then I give all my info to the club and they made all the arrangements and everything –- for all of Leicester and the community.
"I met him a long time ago at his concert at Wembley. I met him, I was not sure if he remembered me."
Source: AndreaBocelliVEVO/YouTube
Bocelli will begin the afternoon's celebrations on Saturday while the Ice Kings — the Leicester side who narrowly missed out on the old First Division title in 1963 — will be presented to the crowd at half-time.
Leicester captain Wes Morgan will receive the Premier League trophy after the game.
Thursday's light-hearted press conference continued a week of celebrations for Leicester, who were confirmed as champions when second-placed Tottenham Hotspur could only manage a 2-2 draw with Chelsea on Monday.