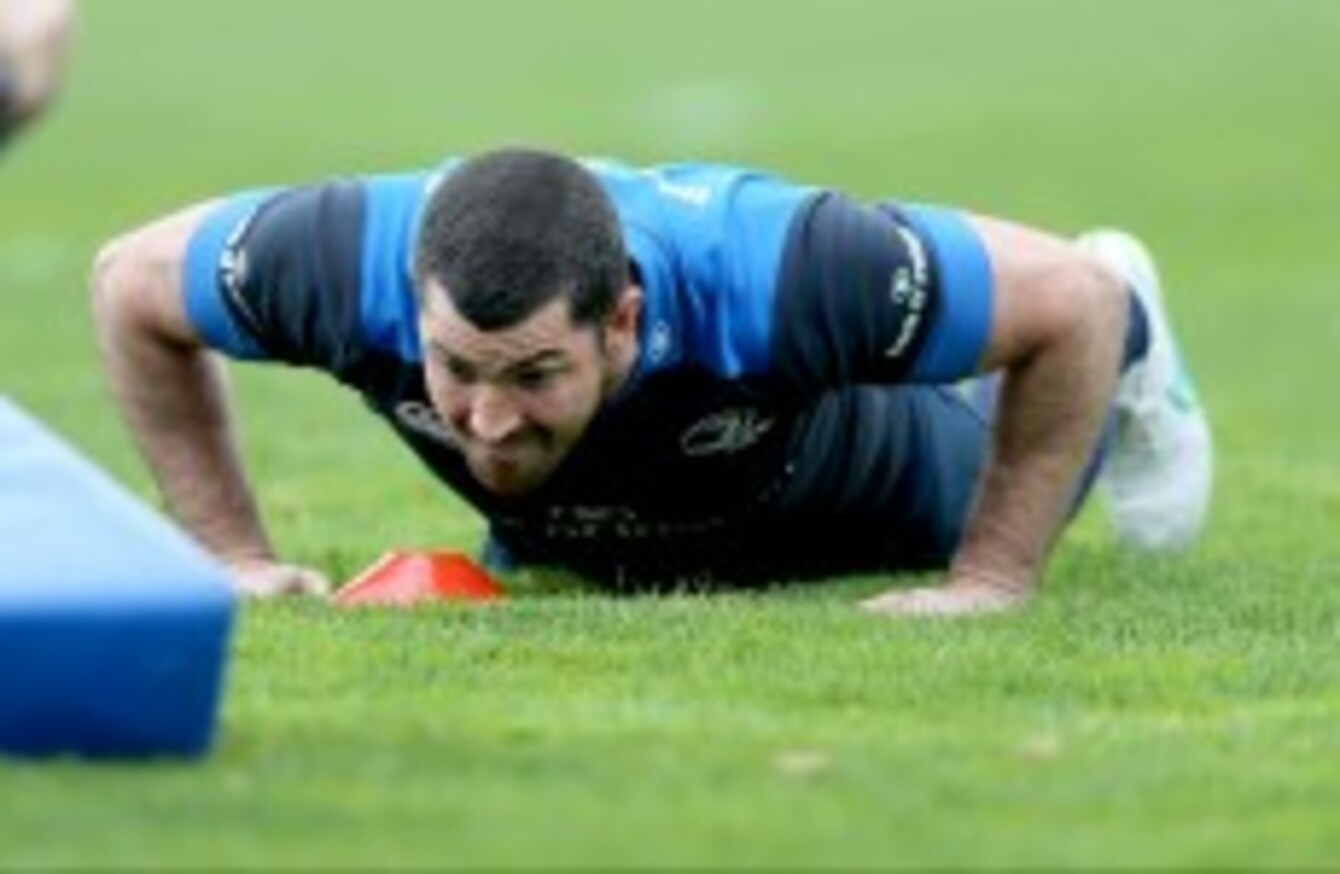 Image: Donall Farmer/INPHO
Image: Donall Farmer/INPHO
Updated at 22.40
STATS CAN BE a notoriously slippery factor to use when getting your head around the multitude of moving parts in an elite rugby fixture.
However, one in in particular has stood out over Leinster's recent marquee games. Missed tackles.
Over the three games since the Six Nations ended, Matt O'Connor's side have totalled 68 (via ESPN). The good news is that the number is on its way down since the 30 forced by Glasgow and 29 slipped by Bath. Yet despite bringing the number to a more respectable nine away to the Dragons, they ended up with their only loss over the three games.
The bad news is that the reigning back-t0-back champions and their wealth of powerful ball-carriers and skillful offloaders are next up on the itinerary. So Leinster, naturally, are placing renewed emphasis to shore up that blue line again.
"We know they leak a few tries. They are a big pack, but there are opportunities around there," agrees Jimmy Gopperth when Toulon's tally of six tries against in the past two games in pointed out.
"The biggest thing it comes down to is defence. They score a lot of tries, so if you can really focus on your defence and make them not score, then take your opportunities we could be there or there abouts."
"It's just a mindset. You've got to go in there ready to tackle and get right up in their face.
That's what we have to do. We've to go out there with massive line speed and really go in to them. You've got to make your one on ones. Otherwise they'll get their hands through, they're offloading and they'll be 20 metres behind the gainline. We know that and this week is all about preparing ourselves mentally for those challenges.
Gopperth wasn't able to put a finger on a reason that 'mindset' has not been quite right in recent weeks, but the net result is that he will lead a backline with a very clear and narrow area to improve on when they run out in Stade Velodrome.
"We're just not getting ourselves in position early enough, we're not getting set early enough," says the Kiwi.
"If you're not set early enough then you're a bit hesitant at what you want to do. If you're set nice and early then you can come forward and make your shots. When we're good defensively that's what we do, we get in to position early  and we come forward and make shots. We know we're capable of it, but on Sunday it has to be 100%."
From the coach's perspective, forwards boss Leo Cullen feels that, mindset aside, no great overhaul is needed in how his side play without the ball. Instead, the key will be that players are technically and positionally sound when the big red shirts start coming their way.
"Parts of that Bath game our defence was pretty good," contests the former captain.
"We got bust a couple of times by George Ford where we were just caught drifting off. That little bit of a lapse of concentration was something we talked about, so it's important guys are coming off the line and staying square and not drifting off those threats.
"At the top end, when the intensity of the game is high, this is when players are putting them under the most stress. We're training for so many different scenarios, but the higher level you get to, the more duress you're being put under because you'll come up against better players."
At every level Leinster have played at this season, another psychological state has appeared to influence the Pro12 champions. They have become nervy front-runners, with the aforementioned draw against Glasgow (albeit after a sensational comeback), defeat to Dragons and January's draw with Wasps being memorable occasions when the eastern province failed to turn healthy advantages into a full-time victory.
"You just have to keep playing. From 1-15 you have to keep playing, keep doing what you want to do," urged Gopperth.
"For 50 minutes against Bath we were really good, then it's just accuracy of things. If you don't kick well and if you don't chase well you can get hurt. Especially against Toulon. Their back three are electric. They'll break you from anywhere."
And against Toulon, missed tackles often turn out to be more than empty stats, they quickly become points on the board.
Originally published at 18.50