LEINSTER WERE MORE ambitious in their use of possession on Sunday against Harlequins than they have been in recent months, but again their handling inaccuracy proved to be damagingly restrictive.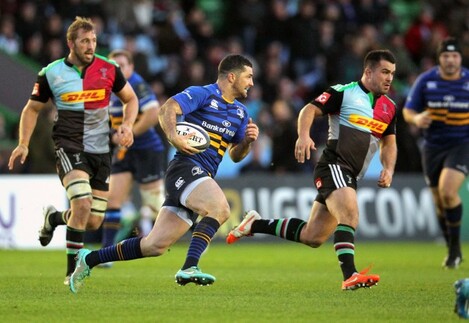 Rob Kearney couldn't link up with the men outside him during Leinster's visit to the Stoop. Source: Andrew Fosker/INPHO
One of the major frustrations for the eastern province's supporters this season has been Leinster's kicking game, so often turned to as a means to control territory but frequently poorly executed.
46 kicks from hand in the recent unwatchable Pro12 win over Ospreys was considered a low point by many of those present at the RDS. That Leinster kicked the ball from hand only 19 times at the Stoop on Sunday might have offered balancing encouragement.
Indeed, Leinster attempted to hurt the 'Quins defence by attacking with ball in hand more often than they have done against the majority of opposition this season. Such a mindset appears to be the ideal blueprint for Matt O'Connor and his team moving forward, even if their inaccuracy continues to hold them back.
Gopperth's depth
Out-half Jimmy Gopperth has been the target for a large portion of the disgruntled Leinster supporters this season, and his form certainly hasn't been strong. Some of the issue has been the depth at which the Kiwi has been setting himself up in attack.
That is, Gopperth has been lying back deep from the ruck, allowing the opposition defence time to rush up and pressure Leinster, who therefore often find themselves under pressure and losing the gainline.
Whether that's down to the player's confidence or coaching instruction has been unclear, but the fact that Gopperth's depth has often been followed by a poor kick has been of some frustration.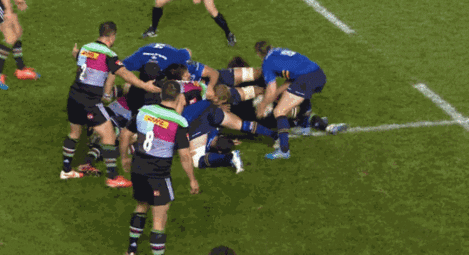 The example above, from the 'Quins defeat, demonstrates what we're discussing, with Gopperth deep from the ruck, not even thinking about using the players outside him and then kicking right down the throat of Mike Brown.
Gopperth's intent is to kick closer to the touchline, of course, forcing 'Quins to scamper back, then allowing Leinster's chasing line to pressurise them and ultimately win territory.
Even with Gopperth's depth, there is still an attacking opportunity outside him if Leinster are willing to take a risk. With eight of his teammates outside him, against four viable defenders, this is a numbers-up situation.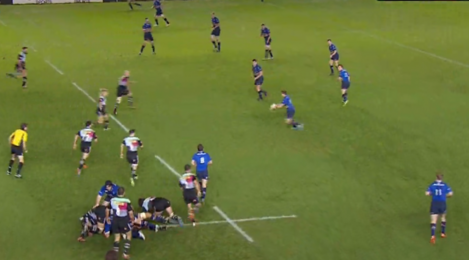 'Quins lock George Robson does a fine job of hammering up to limit the scope for Gopperth to fire a pass, but even still, there was an opportunity to create something. Instead, a poor kick followed by an unconvincing chase.
Thankfully, there were few instances of the above on Sunday, with Leinster looking to retain the pill more often than has become the norm, even inside their own half, from where they usually look for a swift exiting kick.
Getting Gopps flat
31-year-old Gopperth had one of his better games for Leinster at the Stoop, largely due to playing flatter to the gainline and posing a threat to the 'Quins defence. He has made quite a number of linebreaks in the Pro12, but his depth has been an inconsistent factor.
We get a nice example of Gopperth doing damage from a flat position in the clip above, as the Leinster pack serve up superb clean possession off the top of the line-out.
Essentially, it's a nice step inside and offload from Gopperth to break down 'Quins, but the fact that he's so flat allows him to get right over the gainline as soon as he beats Tim Swiel.
Outside the Leinster fly-half, the animation from Gordon D'Arcy, Luke Fitzgerald and Ian Madigan is crucial.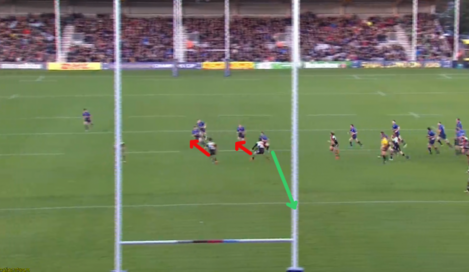 As indicated above, the short, flat lines from D'Arcy and Fitzgerald draw the attention of Swiel and George Lowe outwards, slightly away from Gopperth. Out the back door, Madigan is running an outside arc, again offering distraction to the 'Quins midfield.
The combination of Gopperth's flatness and the quality of the line-out ball also means that flanker Luke Wallace has some yards to make up in covering across on the inside. That allows Gopperth to own the collision and offload comfortably.
In this instance, the bust of the home team's defence leads directly to three points from the boot of Ian Madigan, after Harlequins infringe during their attempt to scramble back.
Play what you see
A futher positive in the performance of Gopperth was a scything break from deep inside his own half, something we really haven't seen a huge amount of from Leinster.
The key here is that Gopperth has his head up and makes a strong decision based on the information his eyes are feeding him. The Leinster out-half drops deep behind the ruck, again with the initial intention of kicking the ball out of his team's half.
However, in contrast to much of what we've seen in recent months and the incident above, Gopperth doesn't simply stick slavishly to that particular component of the Leinster gameplan.
Yes, the agreed tactics dictate that the pressure needs to be lifted by putting the ball into the Harlequins half, but there are different ways of achieving that.
Gopperth identifies 'Quins lock Charlie Matthews [red circle] isolated in defence with huge space outside him, and makes an instant decision to run the ball. There's no hesitation, no thought that he needs to stick to the plan of kicking the ball here.
This is what every coach wants from his players, strong decision making that exploits the space. Any gameplan is a guide for the players, a means of organising them on the pitch, but the vast majority of coaches will back their players to go against those same tactics when they identify an opportunity elsewhere.
O'Connor will surely continue to encourage his players to do more of this, relying on their ability to read the game and take advantage of opposition deficiencies.
Less pleasing for Leinster is the handling error that ends the attack, an issue that plagued them again on Sunday. Chris Robshaw deserves major credit for getting a hand in as Sean Cronin looks to gather, but it was a hugely frustrating moment after such a promising thrust.
Stretching routine
Leinster attempted to use the width of the field a little more against 'Quins than has been the case at other points during this campaign, although it took them a handful of phases to work across the pitch on occasions.
Above, they work a nice midfield hit-up to the right of an initial dummy mauling play, and then move the ball across to the wide right channel, where another example of the inaccuracy we've mentioned occurs.
First things first, it's another excellent platform from the Leinster pack, winning the ball cleanly and then cleverly driving over the gainline and slamming the ruck through Jordi Murphy and, notably, Mike McCarthy.
It's exactly the kind of possession every backline craves, and again we see Gopperth getting up very flat at first receiver. From there, the inaccuracy creeps in, even if it looks relatively smooth from Leinster.
Gopperth's pass to Madigan is slightly behind the centre, meaning he has to adjust. In turn, that means he is less of a threat carrying the ball after D'Arcy gets a solid block on Lowe ahead of the ball.
On that outside edge, Kearney clearly wants Darragh Fanning to run a switch line back against the grain, but the wing and fullback get their wires crossed and the ball goes wastefully out of play.
We can see above that 'Quins have Matt Hopper well positioned inside to cover the switch, partly because of the inaccuracies from Leinster in shifting the ball to Kearney and partly because of a strong defensive drift from the Premiership side.
Even still, there is a strong opportunity for more gainline progress here for Leinster if take that switch option and eat up more metres. It's never going to be a try directly from the position above, but who knows what might have followed with 'Quins stretched.
The mix up on the outside edge is an example of what O'Connor points to when he articulates his frustration that injuries and international selections have denied Leinster the chance to field combinations together for extended runs of games.
If Leinster can do that, these incidents should become less common. Furthermore, adding Sean O'Brien and Cian Healy back into the mix later in the season should provide more of this type of possession to the backline. Reasons to be positive perhaps.
Problems on the edge
The passage above wasn't the only time Leinster had problems on that outside edge, with one further incident proving to be extremely costly. We'll come to that soon, but below we get another example of Leinster mixing the positive with the poor.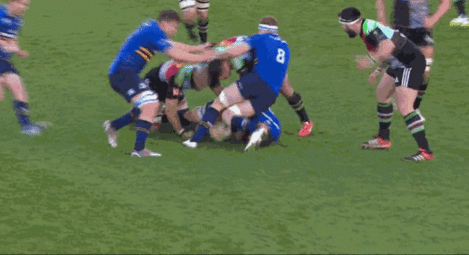 Again, the ruck speed is excellent from Leinster initally, allowing Eoin Reddan to fire the ball to Gopperth in a flat position. In contrast to other performances, Gopperth is now a threat to the 'Quins defence, not merely a hub through which the ball passes.
The image below shows how Gopperth draws Joe Marler into making the hit [red arrow], while simultaneously creating the space for Jack McGrath to run a short line into [green].
See Sport
Differently
Get closer to the stories that matter with exclusive analysis, insight and debate in The42 Membership
Become a Member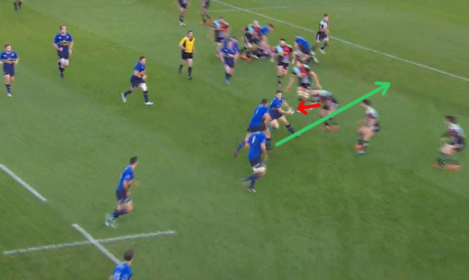 It's exactly what Leinster need from their out-half, pinning down a defender and creating opportunities to maintain their forward momentum.
With Gopperth out of the game after being tackled, the very next phase gives us a glimpse of what O'Connor wants from Madigan as a centre.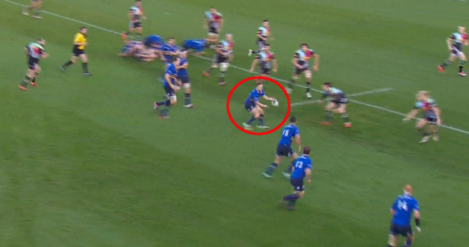 The Ireland international swiftly recognises that Gopperth is out of the action, and steps in at first receiver to take more quick ball from Reddan. That ability to comfortably slot into the 'out-half' position in open play is one of the benefits of having Madigan at 12.
The suspicion is that O'Connor might ideally prefer to play Madigan in the 10 shirt if he had all of his backline elements fit and firing, using Ben Te'o in one of the centre positions, but for now Gopperth [10] and Madigan [12] is considered a stronger combination than, say, Madigan [10] and Reid [12].
Back to the play at hand, there is once again a breakdown on the outside edge as Kearney's pass proves too firm for D'Arcy to handle. Again, it's not quite a clear-cut chance to make a bust of the 'Quins D, but it is an opportunity to make big inroads down the touchline.
Leinster at their very best are ruthless in taking these glimpses of an opening in tight spaces, but their poor handling has been an issue all season.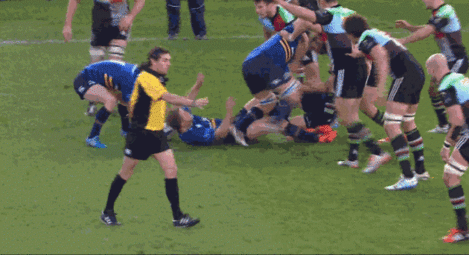 In the GIF above, we get a further example of the problem. Leinster run through two decent phases, using an inside pass with their pod of forwards in midfield, before getting a chance to make yards up the right.
Again, the pass doesn't go to hand. That Leinster are creating these little opportunities through their phase play is encouraging, but the final execution currently isn't good enough for a team that aspires to win trophies again this season.
Below, we see another opportunity for the backline to really threaten Harlequins, with four attackers against three defenders. Most teams would expect to manage that situation in defence, but once again there is the possibility for Leinster to perhaps earn a penalty if they force 'Quins to scramble.
By the time the ball has been worked into Madigan's hands, below, we can see Swiel already gesturing for some help from the inside, recognising that he and Asaeli Tikoirotuma are in a poor defensive situation.
Dave Ward is clever in rushing up on Madigan, forcing the centre to act decisively. Even still, there is the chance to hit Fitzgerald on a short line [red arrow] or go out the back of Fitzgerland to Rob Kearney and Zane Kirchner on the outside.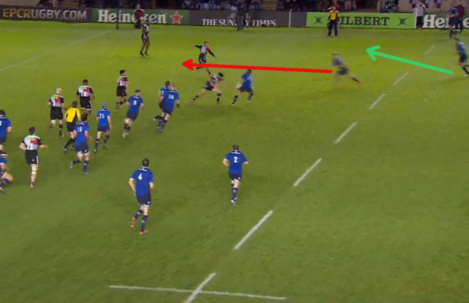 Whether or not Madigan gets a decisive call from one of his teammates in this instance is unclear, but it has to go down as a wasted opportunity for O'Connor's team to make important progress downfield.
Most damaging of all the errors on the outside edge was Kearney's intercepted pass, intended for Kirchner. It's in that same wide right channel in which Leinster looked to attack very often on Sunday, with the outcome even more negative this time.
It's a narrow channel for the four attackers to take on three defenders, but as we've mentioned before, it's the same type of scenario in which Leinster have excelled in recent years.
It's a forced pass – rather than any flowing, intuitive attacking connection – that is at fault again, and in the end it's a relatively low-risk decision for Tikoirotuma to make in biting in on the pass.
It's easy to pick out these details when you're not on the pitch, playing at the incredible pace of these European club rugby ties, but the fact that inaccuracies in Leinster's attack actually cost them a try at a crucial time highlights the need for these issues to be remedied swiftly.
The answer shouldn't necessarily be to revert to kicking the ball more often. Instead, O'Connor might expect that a continuation of the intent to test the opposition with ball in hand will result in sharper execution and more gainline progress.
More of the same attitude against Conor O'Shea's side at Lansdowne Road on Saturday would be welcome, with Leinster under pressure to link up more intuitively and clinically exploit the openings in 'Quins' defence.
First published at 19.11