THEY MAY SIT along with Connacht in the 'maybe' pile of Irish provinces going into the sixth round of Heineken Cup pool matches, but this weekend Leinster once again showed that they are the team nobody wants to meet.
Yesterday's 22 – 29 win over Castres at the Stade Pierre Antoine was not their finest 80 minutes. They were frustrated, flustered and knocked back, but their ingrained knowledge of how to escape such situations ensured they would maintain their interest in the competition and makes them the best equipped side to challenge for the crown in Cardiff.
It's three and a half years since Leinster lost to anyone other than Clermont away from home in Europe. Down 14 – 0 after the first quarter, another side may have wilted or start contemplating a losing bonus point. Leinster, with Jimmy Gopperth doing his best Jonathan Sexton impression, still clearly had winning in mind.
The Kiwi has been an exemplary character since arriving in Dublin. He has never offered a hint of dissatisfaction at being considered mere competition to for Ian Madigan. And yet each time he has been given the nod he has provided Leinster with exactly what they need at a given time' be it a percentage play or running threat.
Of course, Gopperth's 12 points merely gave the visitors a grip in yesterday's game. It wasn't until Matt O'Connor called the depth chart into play in the second half that the screw began to turn.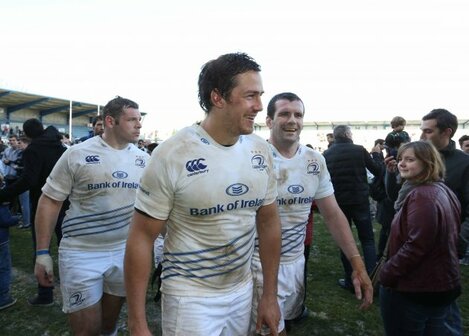 ©INPHO/Billy Stickland
The introduction of Shane Jennings was key in that regard. The ex-Leicester man is usually overlooked for a starting jersey, but his ability to influence a game remains as important to O'Connor as it was to Joe Schmidt in the 2011 final.
Jennings' first act was perhaps the most important. He jogged onto the field and gave his captain an assured pat on the back that seemed to say, 'Jamie, there are 29 minutes to go. We're only five points down. No need to panic.'
Textbook
GPS tags don't measure such contributions, but they certainly caught his second, on the play that followed, when Jennings cleared out a ruck on his own five metre line and allowed Brian O'Driscoll turn over. Had he not, there may well have been reason to panic, but that possession swing gave a platform for  the visitors take up residency at the other end and make a near-impossible situation look like a textbook away performance.
The lack of bonus points and that home defeat to Northampton will make it difficult to secure a home quarter-final, but the three-time champions will qualify for the last eight by beating the Ospreys at home this Friday
And when the dust settles on the seedings next Sunday, each one of the top four will be hoping that Leinster are not the team who come to visit in April.