HIS MOVE TO Clermont is just around the corner, but Jono Gibbes stresses that a "good occasion on Saturday" is keeping his attention in Dublin.
The Leinster forwards coach admits to a little apprehension about the switch to the Top 14 next season, although that feeling is tied up in the language difficulties he will face, rather than a lack of belief in his coaching ability.
Gibbes' aptitude in his chosen field has been proven time and again with Leinster since joining in 2008. The province's forwards have laid the foundations for three Heineken Cup trophies, an Amlin Challenge Cup and a Pro12 title in the years since.
There may be another of the latter to come at the end of this month, so how does Gibbes reflect on the excellent job he has done? Will he leave Leinster's forwards where he would have hoped to?
I never sort of had a plan, as such, like that. But I think by their own hands, they have really progressed. They've got a great understanding of what's important during the game and around the set-piece stuff; they've grown themselves."
A typically modest answer from the affable Kiwi, who goes on to highlight his belief that incoming forwards coach Leo Cullen can inspire further improvement up front.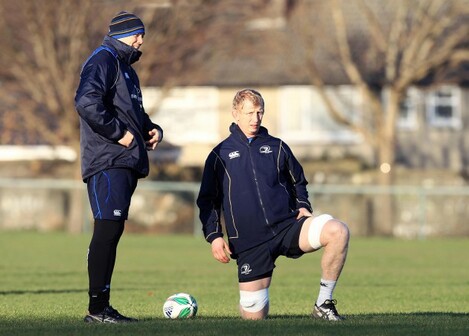 Cullen has learned the ropes from Gibbes. Source: Dan Sheridan/INPHO
"I think Leo's really well-placed to take it forward and go up another level again. I think because he's coming out of the changing sheds, I'm sure he understands what the players talk about after they have a meeting with me.
"He'll have a good insight and he'll be able to say, 'I won't make that mistake!' I think he'll be able to add something, simply because of his position as a player within the same group. It's difficult to do that, but I think the person he is makes it easier."
Be part
of the team
Access exclusive podcasts, interviews and analysis with a monthly or annual membership.
Become a Member
Cullen faces the same transition to that which Gibbes undertook in 2008, shifting directly from playing into forwards coaching. Many struggle to similar adaptations, which are rarely as straightforward as they may appear.
A good player does not necessarily make a good coach, but Gibbes' confidence in Cullen is focused on the Irishman's character.
I think first of all, the person he is; he's a good man, he's calm and he puts a lot of thought into what he does. I think the person that he is will transfer into the job and make it a bit easier straight away because he's got the guys' respect, he carries himself really well and he's a methodical-type personality. Those are great attributes to have."
"I think he will struggle and miss the game a little bit. There's always a period where you think you still want to play. He will go through that, naturally enough. Other than that, I think he's been around a while, he's seen most things over here. I think he'll be able to cope really well. I think his adjustments will be minor, really."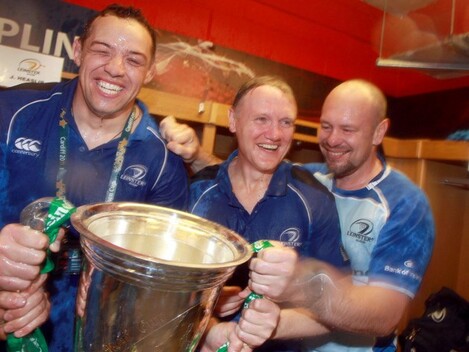 Gibbes with Joe Schmidt and Greg Feek after 2011's Heineken Cup win. Source: Dan Sheridan/INPHO
Beating Ulster on Saturday, and then overcoming either Glasgow or Munster in the Pro12 final would be the ideal way for Gibbes to part company with Leinster, but even if that does not prove the case, the 37-year-old will leave with a positive view on his time in Ireland.
Still such a young coach, the New Zealander faces an intriguing challenge in turning Clermont from trophy challengers into a consistent title-winning machine. Lessons learned with Leinster will allow Gibbes to plan with confidence.
For me, I've learned a massive lot off the players, from when I came in. I've really enjoyed working with them because I think they're hungry, they're motivated and they're self-driven people.
"That makes it stimulating to come to work each week with guys that want to be better, that are certainly hard on each other. I've learned a lot off them and that's a real positive for me from my time at Leinster."