LEO CULLEN HAS done his best to deny that there is a new focus, a new ethos or an attacking mindset to Leinster's gameplan this season.
In the wake of the impressive win over the Dragons in the RDS last month, he put the 37 – 13 bonus point win down to any number of factors: the players, the opposition, a bit of luck, the weather… everything but himself.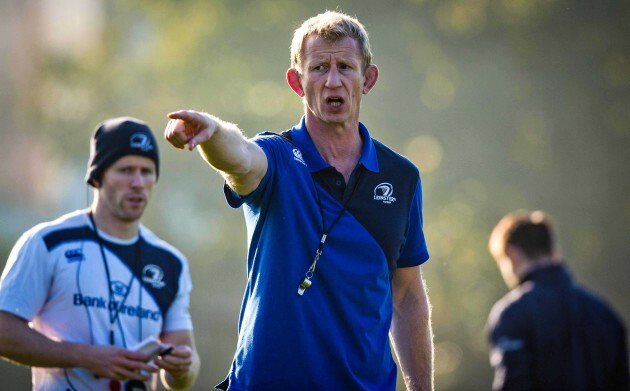 Morgan Treacy / INPHO Morgan Treacy / INPHO / INPHO
However, with his internationals now back in the fold there can be no doubt that there is an obvious new direction being taken by the blue back-line. Jonathan Sexton returned for the win over Treviso and on top of the smatterings of accurate running lines, crisp passing and clean offloads there was the unmistakable scent of ambition.
With two tries on the board by half-time, Sexton was driving Leinster from within their own 22. If there was a boot used it to move the ball rapidly across, rather than down, the field.
"Yeah, there was some space where we could have kicked on a few occasions," says Cullen.
"We got ourselves in to a little bit of trouble a few times. But overall, for a first hit-out (for returning internationals) against Treviso we knew it was going to be tricky. We've had a pretty poor record over there over the years, a lot of teams do."
That's Cullen again, trying to shift the plaudits entirely towards the players' on-field actions rather than the system he has put in place for them to work with.
"It's important to have a framework where we're able to see what's there. There were a couple of times when maybe we did overplay when exiting, but players have license to go and play what's there as well.
(We're) trying to get a handle post-game what's going through their heads, what are they actually seeing and are they making the right choices based on what's in front them?"
Over the course of 80 minutes, Cullen's happy for a range of choices to be available to players. Over the course of a training week, the leash is a little tighter.
On Monday, Devin Toner was asked about what changes he has seen since Cullen – a man he has worked extremely closely with over the past eight years – moved in to the hot seat. Understandably, Toner began by pointing out the similarities owing to last year's forwards coach having responsibility for the pack again, but then he came to the training:
"From what I've seen. training is really organised. We're told exactly how long we're going to be on the pitch for and that's followed to a tee.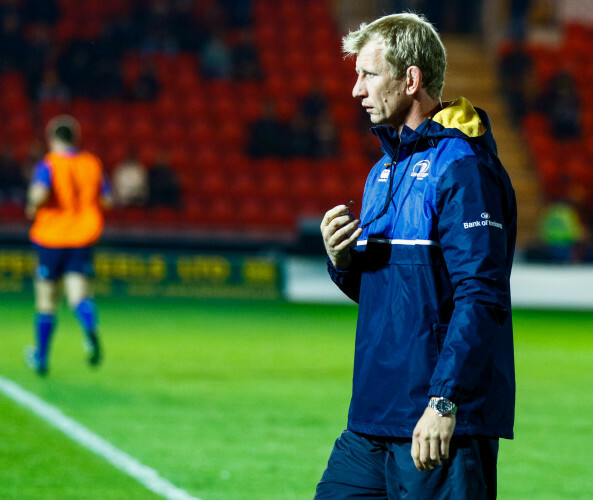 Simon King / INPHO Simon King / INPHO / INPHO
"Sessions are really short and sharp and we're getting through a lot of work."
That can sound like an unimportant factor in the grand scheme of things, but anyone who could be found hanging around Leinster post-training midweek press conferences over the last two seasons would anecdotally tell you that start times were movable feasts. 15 minutes one day, 25 another… never anything worth complaining about, but from a players' point of view, the sense that a session is dragging on a bit can't help confidence.
Even if an athlete is on the field for over an hour, so long as they know they're going out for over an hour, the feeling that the machine is working up a sense of momentum towards a single purpose can be maintained. Especially if variety can be factored in to the mix too.
"It depends on what day it is," continues Toner, "sometimes it could be 65-70 minutes, other days it's 45. It was 60 minutes today, it's different every day."
Cullen's thinking is:
It's just due to the fact that we're in a block that's quite long. It's important that we have a good level of intensity. We work hard on just putting together a good coordinated plan for the players, so they're as well prepared as possible for the weekend."
Exclusive Six
Nations Analysis
Get Murray Kinsella's exclusive analysis of Ireland's Six Nations campaign this spring
Become a Member
Of course, the positive results this season have been punctuated by two defeats and we're writing here on the back of a pretty facile win over Treviso. The season may be six games old, but it starts here. The big names are back, the World Cup is over and the Champions Cup is just over a week away.
What's more. Leinster have the league leaders in town, and they come boasting an unbeaten record.
The timing of the fixture is not ideal, Friday night is better scheduling in relation to the Champions Cup opener than Sunday's win in Treviso. And on top of the short five-day turnaround Leinster's flight home was among the planes dealt lengthy delays due to the fog which shrouded Europe on 1 November.
'Young and old'
Cullen will tomorrow name a team he hopes can reduce the Scarlets' lead over his side from six points to one. However, he has been cautioning against expecting a sea change of internationals coming in to replace the young talents who have kept the show on the road through the first six games.
"I'd hope everyone's under pressure to keep their place – young and old," Cullen said with a little added force when asked if perhaps the likes of Josh van der Flier, Ross Molony, Garry Ringrose or Cathal Marsh would be feeling the heat from the stellar names this week.
"I've been really happy with how some players have got on in the absence of quite a few players to the national setup. I want to make sure that those guys, when they get their chance in the team, that they feel comfortable in there and they're not willing to give their place up easily.
"I'm hoping it's competitive, I'm hoping everyone in the squad is very passionate about playing for the team. That's what's really important, because that's what drives us on to be better."