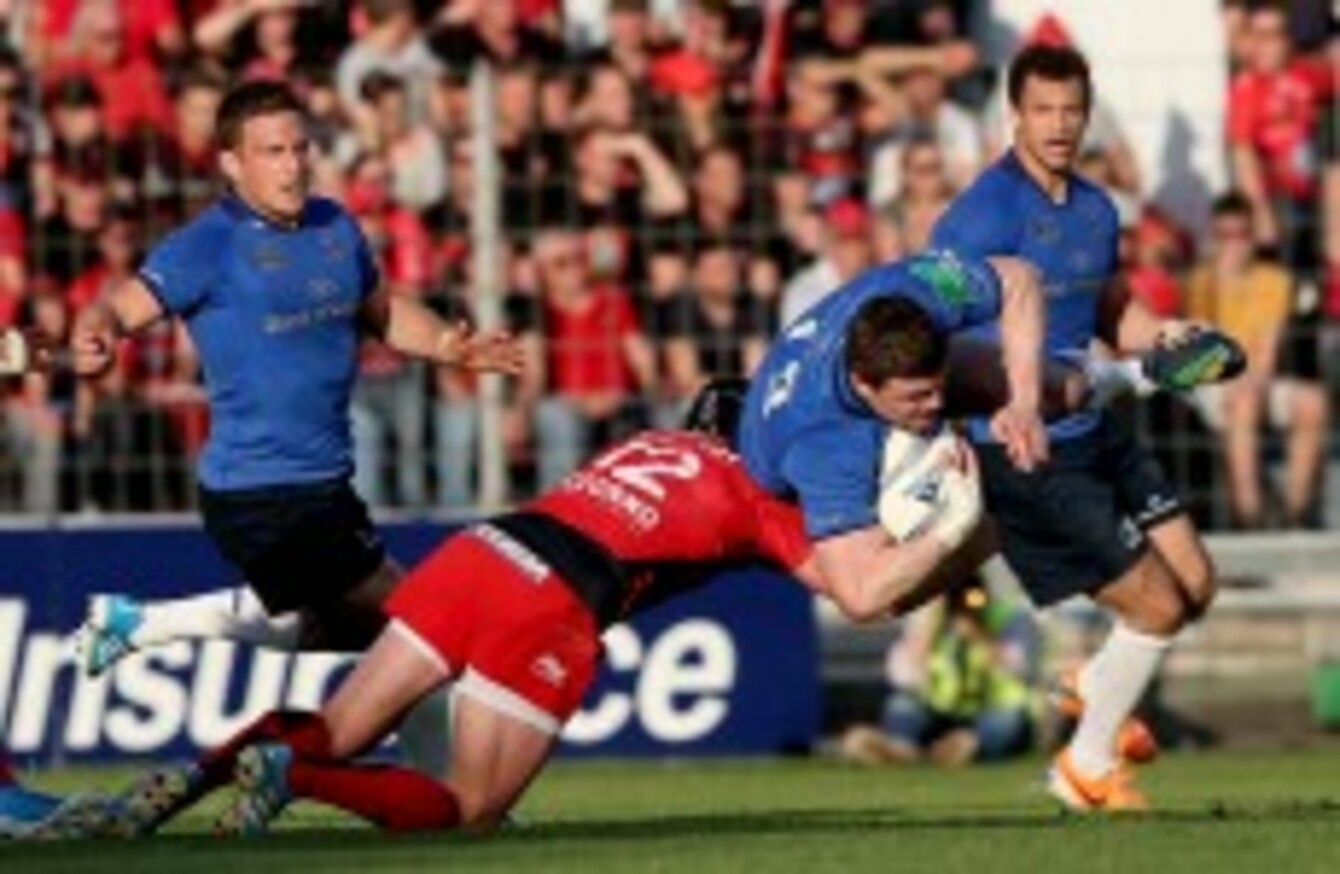 Brian O'Driscoll is tackled by Matt Giteau at Stade Mayol.
Image: James Crombiee/INPHO
Brian O'Driscoll is tackled by Matt Giteau at Stade Mayol.
Image: James Crombiee/INPHO
LEINSTER ARE OUT of the Heineken Cup and there will be great disappointment within the province about the manner in which it was confirmed.
Toulon deserve all the credit coming their way for a thrillingly physical, focused and aggressive performance on Sunday at Stade Mayol, but here we attempt to examine what Leinster might learn from their defeat.
Concentrating extensively on the power of the Toulon team is unnecessary – given that it has been covered in depth elsewhere – while it goes without saying that Leinster's 27 missed tackles were costly.
Instead, the main focus in this article is on the game plan Matt O'Connor provided his players with, as well as some of the uncharacteristic inaccuracies in Leinster's play.
First half kicking
Leinster's early involvements on the ball involved lots of kicking, as indicated by their very first attacking possession. Having won a line-out on the right-hand side of the pitch, out-half Jimmy Gopperth launched a cross-field bomb for Dave Kearney to chase.
The Kiwi's kick is well-placed and Kearney gets into the air to win the ball, tapping it back on Leinster's side. Fortunately for Toulon, the ball bounces into the bulldozing Mathieu Bastareaud's waiting arms and he initiates the attack that results in the home side going 3-0 up.
There was an almost identical kick from Leinster just over 10 minutes later from the very same position on the pitch, except this time Gordon D'Arcy was the man to unleash the bomb.
The inside centre is not a player who kicks the ball often, particularly in the manner below. Indeed, this was just D'Arcy's fourth time putting boot to ball in the Heineken Cup this season [according to the ERC's statistics], highlighting Leinster's focus on kicking in the first half of the Toulon clash.
Again, Kearney competes well in the air but the risks of this particular kick are clear as Toulon once again claim the bouncing ball. The Top 14 side go back onto the front foot and the passage ends with Jonny Wilkinson making it 6-0.
Targeting Drew Mitchell out on the right wing with those early kicks was a clear tactic form Leinster, as underlined after they won an early scrum free-kick just inside their half.
The example above was a particularly un-Leinster like play, something we haven't seen a huge amount of from them in recent years. The awarding of the free-kick itself was a sharp sign that their early game plan was not to create a high tempo.
As referee Wayne Barnes signals for the infringement, there is no question of Eoin Reddan sniping immediately with a quick-tap, something he has done superbly in recent months for the province.
Rhys Ruddock is alive to the possibility, scrambling a few steps wider to offer a potential pass if the scrum-half goes quickly, but Cian Healy signals for Reddan not to do so. It is Leinster's natural instinct to seize this opportunity to turn up the tempo and stretch Toulon early in the game with ball in hand, but that is not in the game plan.
Before we go any further, it is worth stressing that retrospectively questioning a team's game plan is an easy thing to do. If Kearney had managed to claim either of the first two early bombs, Leinster may have benefited from the momentum of such a high-quality catch.
Had their tactical approach – which involved more than kicking, as we will see later – worked out and resulted in a narrow victory, O'Connor would likely have been praised for his intelligent planning.
The intention here is not to slate the Australian coach for what he saw as the best way of beating Toulon in France, but rather to examine whether Leinster were suited to carrying that particular plan out.
Leinster's earliest counter-attacking opportunity saw them send up another contestable kick in Mitchell's zone of the pitch, but the former Wallaby came up with a high-quality catch in reply.
Gopperth's first reaction after receiving the pass from Rob Kearney is to indicate that he's going to put up a high kick, there is not even a glimpse of a thought around running the ball back.
While Toulon's kick chase is quite strong, there are two kick-return options for Gopperth. With several of his forwards retreating in midfield, he has the chance to run the ball at least 10 metres up the pitch before passing wide to Fergus McFadden on the right.
Alternatively, Gopperth has a brief opportunity to bounce back to where the pass has come from and link up with the Kearney brothers down a narrow channel wide on the left.
While Leinster's instincts under Joe Schmidt may have been to run this particular ball back, the game plan in this early case says that a kick is the right option. Interestingly, Leinster's best attacking passage during the first quarter in Stade Mayol came when they did counter-attack.
Following a deep box kick by Sébastien Tillous-Borde, McFadden was forced backwards to collect the ball and upon turning found himself under pressure from Juan Smith. The game plan may have said this was a situation to kick the ball, but McFadden was forced to counter.
The winger's initial burst suddenly gave Leinster an injection of momentum and they flashed the ball through the hands to the left, where Dave Kearney made another seven metres through contact [below].
While the passage ends with Leinster conceding a penalty, it did at least show a spark of attacking intent, forcing Toulon to work hard in defence and stretching them just a little more.
This example of counter-attacking came about thanks to a poor kick chase from Toulon, but forced into countering, Leinster suddenly came alive. Going back to the free-kick incident earlier, it is easy to imagine a quick-tap from Reddan giving them a similar mental impetus.
That exact attribute could have come from Leinster reclaiming one of their early bombs, but as the game panned out, O'Connor's men got no success with that early tactic and ultimately it failed to feed their energy and work rate levels.
On the one occasion that Leinster did regather a contestable kick in the first half [when Reddan's box kick from just outside the Leinster 22 was won by Zane Kirchner], they immediately followed it with another kick.
One minor aspect of the incident above that is worth noting is the lack of 'animation' outside Gopperth as he goes to kick the ball from a deep-lying positions.
Leinster have been at their best in recent seasons when they have multiple attacking options in attack. Even when Jonny Sexton or Ian Madigan were going to kick the ball in season's past, they often had some sort of animation in the backline outside them.
As we see below, there is nothing of the sort from Leinster, with Cian Healy just in front of the out-half and Brian O'Driscoll and Rob Kearney virtually standing still.
The point is that Leinster's players all know the kick is coming, it's the pre-defined option in the opening 25 minutes, so there is little focus on offering options elsewhere. While Toulon have a solid line set up defensively in the example above, there is no intention on Leinster's part of testing it.
Whatever about the suitability of the tactics to Leinster's players, O'Connor's men got to half time at 6-6 thanks to their superb scramble defence. With the expectation that the visitors would bring more attacking intent in the second half, there was reason to be positive.
Passing the ball
Leinster certainly kicked the ball far less often after the break, as they gradually began to enjoy more attacking possession inside the Toulon half. However, they repeatedly failed to break down the French side's powerful defence, often being driven backwards in contact.
The patterns designed to stress Toulon's defence were based around one-off runners around the fringes of rucks, very often receiving a pass from Reddan from the preceding ruck.
Below, we see a passage of play that was fairly typical of how Leinster attempted to attack with ball in hand during the second half of the game.
Unfortunately, these efforts to attack close into the rucks simply allowed Toulon's power to flourish, with Laporte's forwards and inside backs hammering into tackles and ensuring Leinster could not get onto the front foot.
Clearly, the Toulon defensive line operates with an aggressive line speed, making any attempts by the attacking team to shift the ball through the hands dangerous, but again we are more concerned with the type of attacking game that suits Leinster.
The eastern province completed just 91 passes at Stade Mayol on Saturday, easily their lowest total in the Heineken Cup this season. Leinster's best performances in recent years have seen them well above the 100 mark in terms of passes completed [190 when they dismantled Ulster in the 2012 final and 130 when they blitzed Northampton earlier this season, for example.]
We are not concerned solely with the numbers here, but rather what they represent – more often than not, lots of passes indicate a team that plays at a high tempo and shifts the opposition defence around the pitch repeatedly.
That simply didn't happen against Toulon [admittedly, Leinster has a minority share of the possession, but at 45% there were certainly lots of chances to pass the ball].
The sheer size and power of Toulon's players meant that Leinster were always likely to lose a high percentage of the collisions on Sunday, even if they had looked to move the ball a little more in attack with wide patterns and linking passes.
However, the actual process of shifting Toulon's defence around the pitch [particularly that heavy pack] would have challenged them to re-organise more often, sapping a little more of their energy than simply running into them around the fringes of rucks.
Without being able to get our hands on the GPS readings for the Toulon pack, we cannot ascertain for certain how physically stressed they were by Leinster's attack. While Toulon's starting and replacement forwards made a combined 58 tackles, Leinster's made 74.
We had the strange situation where 35-year-old Danie Russouw didn't complete a single tackle according the ERC's stats [although it might be worth asking the Leinster players if they felt his two 'missed' tackles], but was hugely dominant in his six ball carries.
Was the veteran South African really challenged by Leinster's attack to work hard in defence? Did their lack of passing allow him to amble about when in defensive mode, biding his time until called upon to break the visitors' line on his next carry?
Of more importance is the fact that these Leinster players have become accustomed to being a passing team, probably the best one in Europe over the last four years. Did a second half game plan with very little encouragement to pass the ball really suit them?
Similarly, we saw very little from the Leinster backs on Sunday, when it might have anticipated that they would test Bastareaud's defence in the 13 channel [remember, France shoved him in to 12 during the Six Nations].
Yesterday, Gordon D'Arcy said that the colossal French centre had "made a few good reads" against Leinster, but many of those came when the 25-year-old was presented with straightforward defensive decisions.
On the one occasion Leinster's backs did put Bastareaud in a demanding defensive position, Kirchner burst outside him for a clean bust [below].
In this instance, Leinster's backs are showing options with a really simple set-up, but it's enough to beat that aggressive Toulon line speed. Gopperth has O'Driscoll open on a switch, D'Arcy on a flat hard line, and Kirchner out the back door.
This example comes in the 60th minute, with Leinster already trailing 16-9, but it's more like the attacking threat we have seen from the province in recent years. Simple plays carried out accurately and with multiple viable options.
Playing into the hands of the Toulon turnover
Leinster's focus on attacking close to the preceding ruck played into Toulon's powerful hands, as we mentioned above in terms of tackling. Equally, Leinster's game plan was helpful in bringing out the best in the home team's turnover threat.
As we see in the clip above, Leinster move the ball two passes out to the left initially, but hit a runner close to the ruck back on the right on the next phase. Jennings is isolated in his carry, and Toulon's bunched forwards close to the ruck mean they can get over the ball swiftly.
The example below is relatively similar, with Jamie Heaslip carrying the ball tight to the previous ruck and being turned over by Steffon Armitage. While the Leinster No. 8 does initially make positive yardage on this occasion, the bodies are in place for Toulon.
Below, a further example comes as Jack McGrath is hit by a Reddan pass directly from the base of a ruck. Toulon have three bodies in that defensive zone, as ever, and with little option for McGrath other than to truck the ball up, the turnover is foremost in their minds.
Again, it must be stressed that Toulon were superb on Sunday. Their ability to steal ball on the deck was a vital feature of their win and will be something Munster look to avoid in Marseille in the semi-final.
With focus on Leinster though, it is clear that they were a little slower to the breakdown than usual, allowing Armitage and company that split second that they need to clamp down over the ball.
"We just weren't accurate enough," admitted Heaslip after the game, and those words could certainly be used to describe Leinster's rucking efforts against Toulon. Supporting players were just too late in arriving over the ball on the occasions the home team stole possession, or their initial hit just lacked enough venom to remove the jackaling player.
Inaccuracy all round
"They beat us at the basics," said O'Connor yesterday, having reviewed the game in depth. The Australian's statement sums up the issue of lots of the little inaccuracies in Leinster's performance on Sunday.
Whatever about the game plan and how well it suited Leinster's players [although the possibility that a game plan can affect players' mindset and focus levels must not be discounted], if a team does not carry out the basic skills to a high standard, their chances of success diminish.
There were several glimpses of try-scoring chances throughout the game for Leinster [ignoring the actual try they scored late on], three of which came in counter-attacking scenarios.
Below, we see the first of those and it's really only a flicker of an opening, but had Heaslip recovered the loose ball and got a pass away, Leinster had a chance to make big gains down the left-hand side of the pitch.
While Wilkinson is covering across in backfield following David Smith's loss of possession, the chance is plain to see. One can imagine Leinster of yesteryear taking this opportunity with both hands, and Heaslip's disappointment with himself was plain to see.
There was a similar execution error shortly after in the first half, when Rob Kearney counter-attacked from deep and made superb gains up towards the half-way line.
Again, it's not quite of the 'gilt-edged' variety of try-scoring chances and Toulon do have players in deep covering positions, but there are a number of Leinster players in support around the ball when Kearney's attempted switch pass to Richardt Strauss fails.
The most obvious chance for Leinster on a turnover situation in the first half was when Reddan recovered possession following a Toulon scrum on the right-hand side of the field.
In all three cases, Leinster's ability to execute the 'basic' pass [realistically, there is lots of pressure involved throughout a Heineken Cup quarter-final and thus, mistakes are expected] lets them down and the brief chances go to waste.
However, the 'inaccuracy' of O'Connor's players was not restricted to passing and catching. Defensively, those 27 missed tackles were a major contributing factor to Leinster losing the game.
Again, we must stress that it is very easy to criticise things that happened in this game without having experience of playing against Toulon, but the fact is that the players themselves will be angry with some of their defensive efforts.
Any missed tackle in rugby has as much to do with the attacking player as it does with the defender, but in the case above, Devin Toner is presented with a straight-up chance to get a hit on Toulon hooker Craig Burden.
Toner barely missed a tackle during the Six Nations, so seeing him allow Burden to brush past in this instance was concerning. Equally, the instance below in which Rhys Ruddock gets overpowered by the South African front row is uncharacteristic.
Some of the attacking charges by Bastareaud and Russouw were close to unpreventable, but in the cases above [which illustrate some of the more inaccurate Leinster defence], the Leinster players had good chances to halt their man.
O'Connor's men encountered line-out issues at Stade Mayol too; again this kind of inaccuracy is not typical of Leinster's performances in bigger games. The first example [below] comes just before half time and with Leinster having one final chance to attack before the break.
On first viewing, it's a simple overthrow from Strauss, but Leinster fail to get a jumper in the air at all in this instance. It's a total malfunction of the line-out and one that came at an important time in the game.
Even if Leinster had not found a score before the interval, finishing the half on the attack inside Toulon territory would have been ideal. The second example of an inaccuracy at the Leinster line-out [below] proved even more costly.
Toulon compete superbly in the air, but Leinster will look at themselves in this instance, examining what they could have done better. It's sloppy stuff all-round and as a result, Toulon break down field.
Several phases later, Mitchell crosses for a try and the newspapers are flying at Stade Mayol; game over.
Where does inaccuracy come from?
When a team is making basic errors in handling, tackling, rucking and at the set-piece, the most obvious root of the problem is in their mental state. Without being involved in the Leinster set-up, it would be mere speculation to suggest reasons for Leinster's apparent lack of focus.
In examining basic errors, a team's training style and routine must be mentioned too. A number of the Leinster players have made reference to the manner in which those aspects have changed so markedly at the province since Joe Schmidt departed.
"Obviously, there's a change from Joe and how he takes training sessions," said Ian Madigan earlier this season. "I've had to adapt to that. Matt's training sessions would be longer, but probably not as intense as Joe's.
"Joe would pretty much have you running to the water carriers and running back, that kind of stuff. Whereas with Matt, you'd be more talking things through. Joe would be more inclined to do that off the pitch. They're different styles but they both have their positives."
Leinster's style of highly accurate high-tempo rugby under Schmidt was clearly built through their work on the training ground, the manner in which they carried out those sessions. While the players would put their hands up to accept the blame for their basic errors against Toulon, they have faced a shift in style this season.
That shift has come in the form of an altered style of training, as well as different demands on the pitch during games.
Where do Leinster go from here?
It is clear that Leinster face a period of change at the end of the current season. With pillars like Leo Cullen and Brian O'Driscoll retiring, there will be heavier demands placed on other players to step up in leadership roles.
O'Connor has suggested that there will be little in the way of recruitment for the province this summer, meaning the more youthful squad members will take on more importance on the pitch next season.
Tactically, the evolution of Leinster will be intriguing to follow both in terms of attack and defence. O'Connor is less than a season into his three-year contract, but so far no definitive pattern of preferred playing style has emerged.
Losing to a superb Toulon team is an obvious setback, but the Australian head coach has a longer-term project in mind. The Pro12 presents a superb chance of ending his maiden season in Ireland with a trophy, but where Leinster go from there will be of most interest.