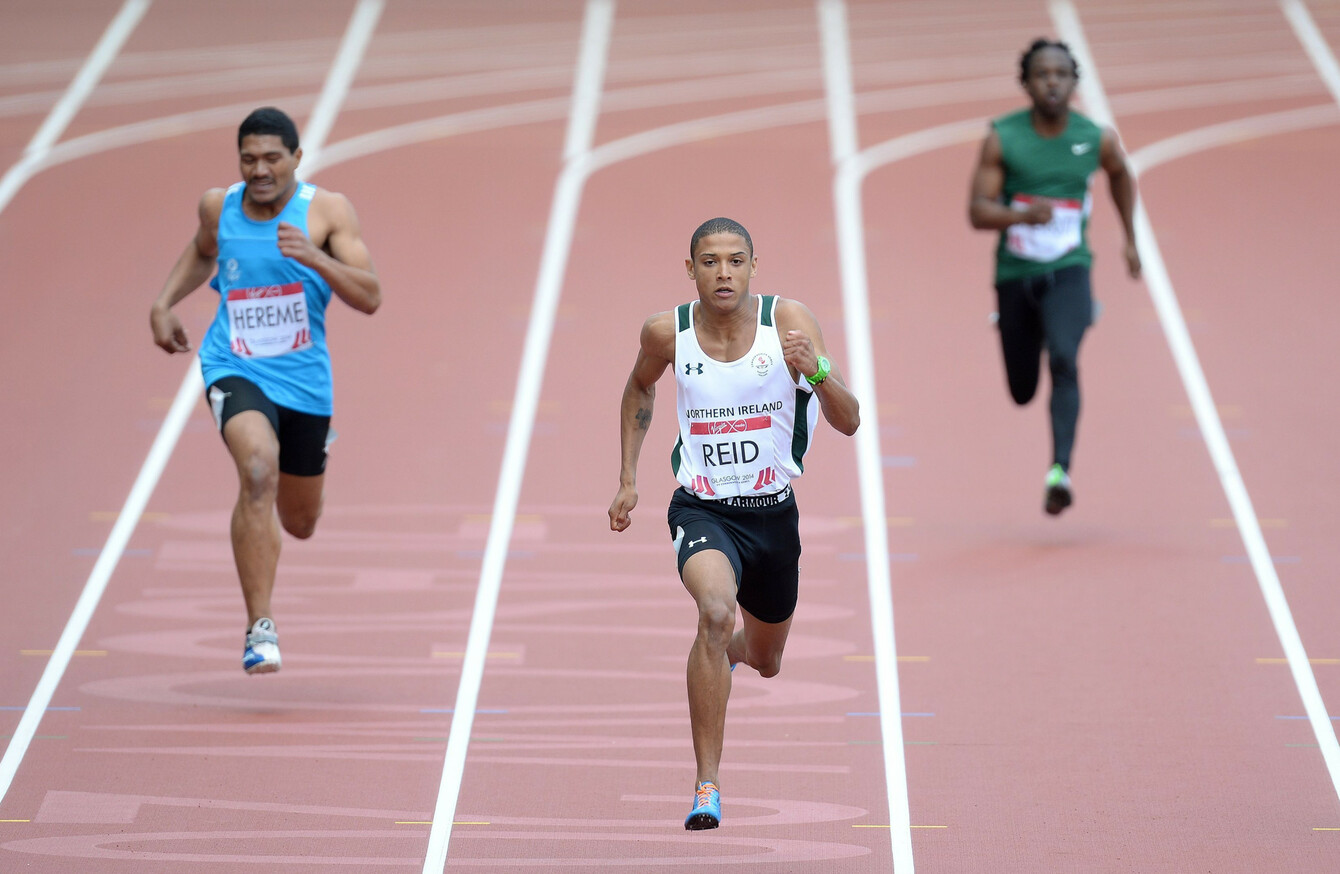 Image: Martin Rickett
Image: Martin Rickett
ENGLISH-BORN SPRINTER LEON Reid has published an open letter to IAFF president Sebastian Coe in which he pleads that he be allowed to race for Ireland at next month's World Championships.
Through his Irish birth mother, who hailed from Belfast, the 22-year-old Reid began the process of switching his allegiance to Ireland over a year ago, but is yet to finalise his move.
At the Great Britain trials in Birmingham earlier this month, the Bath sprinter turned heads when he finished third in the 200m. His time – 20.38 – was six-tenths of a second inside the mark required for next month's World Championships.
The paperwork for his switch in nationality, however, has not yet been dotted and crossed.
Near midnight last night, with less than three days remaining until the deadline for such a move, Reid tweeted the contents of an open letter directed at Coe, explaining that it was his dream to race for Ireland, and that as well as his late Irish biological mother, he has "many Irish family members and strong links and affinity to the country."
Reid, who represented Northern Ireland at the 2014 Commonwealth Games, also asks for Coe to show compassion and allow him to represent Ireland at the World Championships in memory of his mother.
Open letter to the @iaaforg and @sebcoe.
Last ditch attempt to compete in @London2017 #London2017 #letleonrun pic.twitter.com/xGNZOc0DCT

— Leon Reid. (@LeonReid_Woody) July 20, 2017
"Dear Lord Coe," he writes.
"I read in the news today that 8 Russian athletes originally banned from a system tainted with drugs have been approved to compete at the World Championships.
"This has prompted this open letter in an anticipative hope that you will personally look at my case and help me achieve my dreams of competing in London — like you have with these Russian athletes.
"Just over two weeks ago at the British National Championships I ran two big personal bests (one in the heat and one in the final) in the 200m. Ultimately I ran 20.38 seconds and finished third — a time quick enough to qualify me for the World Championships. I won't however be able to take my place on the British Team because I am in the process of transferring to Ireland — an unsuccessful process that has unfortunately already taken over 12 months thus far.
"Despite running the qualifying time, matters outside of my control will jeopardise this chance — ultimately meaning I won't be able to compete.
I was unable to take my place on the Ireland team as my current transfer from Great Britain to Ireland has been held up as a result of the IAAF freeze of movement of athletes from one country to another. I am scared that with the final date for selection this Sunday 23′ July that my international transfer will not go through and I will miss out on competing in London in August.
"This is despite the transfer process starting well before the freeze came into place, and had it been handled diligently it would have been completed.
"I am an extremely dedicated athlete. As a child who grew up in the care system, the concentration of energy, focus and discipline demanded by my dream of becoming a professional athlete proved to be my salvation.
"I train full-time with my coach James Hillier and my training partners who include recent European Under 23 Gold Medallist Cameron Chalmers, World Championship Hurdler Dave King and Olympic Bronze Medallist Emily Diamond. I work three jobs to fund my athletics and whilst I get some support from Northern Ireland Athletics, I have had to put my life and my work career significantly on hold as I try to reach my athletic potential.
"To work so hard for something and potentially have it cruelly taken away from me is even harder to take knowing how hard the past two years have been.
My biological mother is Irish, and my foster mother is second generation Irish. I have many Irish family members and strong links and affinity to the country. It has long been a dream of mine to one day compete for Ireland internationally — a decision which was ultimately made in honour of my mum who passed away last year. This dream became closer to a reality when I formally contacted Ireland on June 22nd 2016 to start the paperwork process. I spoke to Neil Black, Performance Director of British Athletics and he assured me British Athletics would not prevent this move.
Be part
of the team
Access exclusive podcasts, interviews and analysis with a monthly or annual membership.
Become a Member
"When an athlete moves from one country to another the new member federation (in this case Ireland) need to make a request to the current member federation (in this case British Athletics) to request confirmation on matters such as when the athlete last competed for GB and whether they would have any objections to the athlete moving.
"Ireland Athletics formally contacted British Athletics in January of this year after some contact and formalities had been concluded with the IAAF. This was done a month in advance of the transfer freeze kicking in.
Despite having no issues with my transfer, this unfortunate failure by British Athletics in replying resulted in Ireland being powerless to push this transfer through with the IAAF."
Reid then touched upon what he described as Coe's 'duty of care' to him personally, and criticised British Athletics' handling of his proposed transfer to the Irish team.
"As an athlete that has dedicated my whole life to compete in events such as this I don't want to miss out on the opportunity to compete by right on the biggest stage," he writes. "I have run fast enough to be in the Ireland team and I believe that a duty lies with the governing, professional or representative bodies, nationally or otherwise, to help and enable me to compete.
"I have found it extremely hard to get any concrete answers from British Athletics in particular. I have been told that things have been said or that emails have been sent to various people only to subsequently find that they haven't. I feel people within the organisation are not acting in my best interests. My understanding of a governing body is that part of their responsibility is to help athletes. I have given them many opportunities to rectify any mistakes they have made (we are all human) and help me, but they seem to be more interested in helping or protecting themselves and blaming others. They might be 'busy' with other work but this is my life and my future that they are playing with. These individuals who are paid not an insubstantial salary from the public purse seem to be unaccountable and reluctant to take ownership despite the devastating consequences for me.
British Athletics should have replied to Ireland Athletics. They didn't, and they are now unwilling to try and help me or take this to the IAAF to help rectify their mistake.
"This has now crafted an unfortunate chain of events that has concluded with me finding no other place to turn other than this open letter which I hope will encourage those who were negligent in their duties to come forward, and put their hands up to their failure to act in a responsible and timely manner. Had they done so, my transfer would have concluded prior to the international transfer embargo.
"I want to reiterate. All I want to do is compete. I have nothing against British Athletics — I just need them to help me. I did everything I could to get the transfer done in time — I don't want to be a victim of other people's oversights or even a political situation."
The Bath-born racer then explained how his failure to compete would result in a massive loss of funds, while outlining the fact that he is already out of pocket from the transfer process itself, before asking Coe to show compassion and force the move through.
"If I don't compete I could lose tens of thousands of pounds in lost funding, sponsorships and races. That is not to mention the money that I have already lost due to the length of time this process has taken.
"I will also lose the opportunity to compete in the 'best' and most supported World Championships in front of a home crowd. I will lose out on the opportunity to create my own history. That's something that money simply cannot buy.
"Lord Coe you were an incredible athlete. You were one of my heroes growing up. You will appreciate how amazing it is to compete at the highest levels and I know you wouldn't have wanted to miss out because of the actions of others. You will doubtless be all too aware of just how different a route your own life and career could have taken if it had. You saw first hand what was happening politically in the early 1980′s with various boycotts and I'm sure you don't want to see a situation like that manifest itself again. I ask you to look at my case and view it from an athlete's perspective — from my perspective. All I want is to have the chance to compete. If I don't compete I will never know how good I can be.
"I am personally asking you to be compassionate and allow me the opportunity to pursue my dream."
The42 is on Instagram! Tap the button below on your phone to follow us!