– Niall Kelly reports from Boston
PATRIOTS' DAY DOESN'T officially fall until 19 April but given the levels of anticipation in Boston, you could be forgiven for thinking that it is today.
Come 6.40pm local time (11.40pm Irish), all eyes will turn to Foxborough to see if the New England Patriots can clinch another AFC Championship, their eighth in total and the sixth of the Tom Brady / Bill Belichick era in the NFL.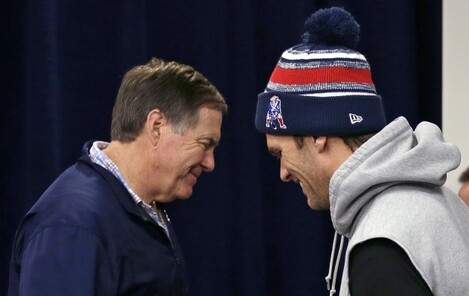 Belichick and Brady trade places for a midweek media day. Source: AP/Press Association Images
It's a familiar feeling — it's the Pats' fourth straight appearance in the conference decider — though that has taken nothing away from the sense of occasion in the city.
Win and they will face either the Seattle Seahawks or the Green Bay Packers in Super Bowl XLIX in Arizona in a fortnight's time, and with it the chance to scratch an itch that has been plaguing them for the last 11 years.
With Brady under centre and quickly establishing himself as future Hall of Fame first-rounder, the Patriots won three Super Bowls in four years in the early 2000s and cemented their status as the pre-eminent organisation in the game.
History beckoned a few years later in 2007 when they touched greatness as the first team to put together a perfect 16-game season with no defeats. Another Super Bowl ring, and the elusive 19-0, was agonisingly out of reach, stripped from them by the New York Giants in a moment of magic by quarterback Eli Manning and receiver David Tyree that has now simply been dubbed 'The Catch'.
Brady watches on as Eli Manning wins a second Super Bowl. Source: AP/Press Association Images
The Giants had their number again in Super Bowl XLVI four years later, and the Patriots' search for that fourth national title goes on. In fact, the three other teams still standing this weekend have all won Super Bowls of their own since they last clinched the ultimate prize.
Be part
of the team
Access exclusive podcasts, interviews and analysis with a monthly or annual membership.
Become a Member
For all of their achievements, Belichick, Brady and co know exactly how it feels to fall short. The bookies make them seven-point favourites on home soil against the Colts, and few pundits have stuck their neck out to pick against them,  but you can be sure that they won't be looking beyond their opponent in anticipation of the Big Dance.
It's a wise approach that Conor McGregor and his fans might do well to heed. McGregor is a 1/12 shot to beat the experienced Dennis Siver — a man who has 22 career wins under his belt — in the main event at the UFC Fight Night 59 in TD Garden.
Source: Ricardo Guglielminotti
At Saturday's weigh-ins, Siver was relegated to a background role as the UFC's featherweight champion Jose Aldo jetted in to take part in a fan Q&A. In an auditorium brimming with Irish fans, the questions almost exclusively focused on what will happen when McGregor beats Siver and gets a title shot against Aldo later this year. No ifs or buts about it.
That is the UFC way — to have fans licking their lips at the prospect of the next fight before this one is even in the books.
But the carrot has clearly caught McGregor's eye too. After he weighed in bang on the 145lbs mark his parting volley was aimed not at Siver, his opponent tomorrow night, but at Aldo.
"That's championship weight," he roared. "Tell Jose I'm coming."
To anyone who knows Siver, or who even took the time to glance at his highlight reel as it played on the big screen, the threat is apparent. The veteran is an accomplished kickboxer, and while one well-timed spinning heel kick might not finish McGregor, it could be enough to redefine the terms of their engagement.
Like the Patriots, The Notorious is one win away from getting the shot he so desperately craves. That will take care of itself in time; he just has to take care of business tonight.