1. Friday Night Lights – Do your best, no matter what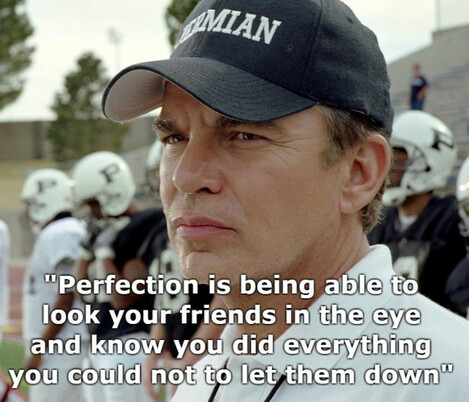 IN FRIDAY NIGHT Lights — the movie, not the TV series — the Permian Panthers of Odessa, Texas watch their season potentially fall apart after the loss of their star running back.
Initially they struggle to cope but, after an inspirational speech from their head coach Gary Gaines, the team realises that, if everyone just does their best, then good things will happen.
So the next time you're tempted to quit camogie training because it's a bit cold outside and you'd rather curl up on the couch and watch Sherlock on DVR, ask yourself what a Permian Panthers player would do and pick up your hurley.
2. The Blind Side – Keep the friends who'll watch your back
The Blind Side is based on the true story of Michael Oher's path from poverty to becoming a Super Bowl champion.
Oher plays what is perhaps the most important position in American football, the left tackle. His job is to protect the quarterback on his 'blind side' and, for that reason, left tackles are often the second-best paid players on the team.
As anyone can attest, having a friend who has 'got your back' is a great feeling, especially the one who taps you on the shoulder and asks you if you really need another pair of skinny jeans.
3. Jerry Maguire – Nobody's going to change your life but you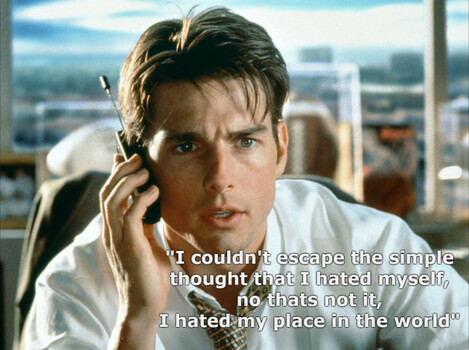 Now you might be forgiven for thinking that 'show me the money' was the moral of the story in Tom Cruise's 1996 foray into the world of American football, but you'd be wrong.
The real message to take from this movie is that, if you're unhappy, only you can change things, there's no point waiting for someone else to do it for you.
Unhappy at work? Update your CV. Jumper a bit tight? Get out for a run. Bitten by the travel bug? Book the flights, don't just think about it.
4. Any Given Sunday – Grasp every opportunity life throws at you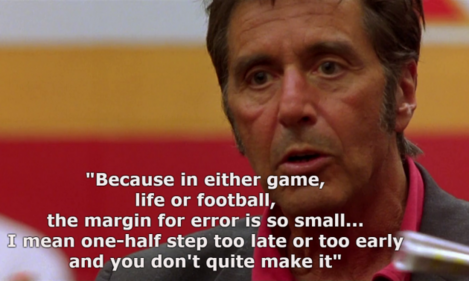 Even if you've never seen a pig in your life, never mind a pigskin, you're probably familiar with Al Pacino's speech from Any Given Sunday.
It has, after all, been parroted in every sports dressing room the length and breadth of the country but the lessons from Pacino's soliloquy extend far beyond the arena of sports.
Life is short, and opportunities don't come along too often, so you have to take your chances and make the most of them.
5. Remember the Titans – You are the only person you have to listen to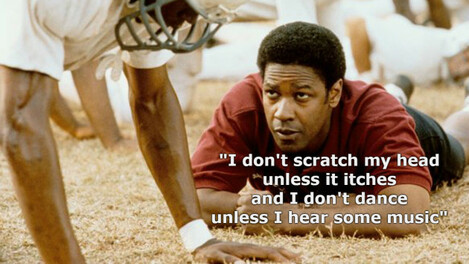 Remember The Titans may well be the best American football movie ever made and, despite being set in 1971, its themes still seem quite pertinent in 2017.
Coach Herman Boone, played brilliantly by Denzel Washington, has many pieces of advice for his players but the one above is a life lesson we could all do with remembering.
Take your own decisions, be your own boss, don't feel like you have to do anything you don't want to do.
Budweiser is a proud sponsor of NFL coverage on The42.