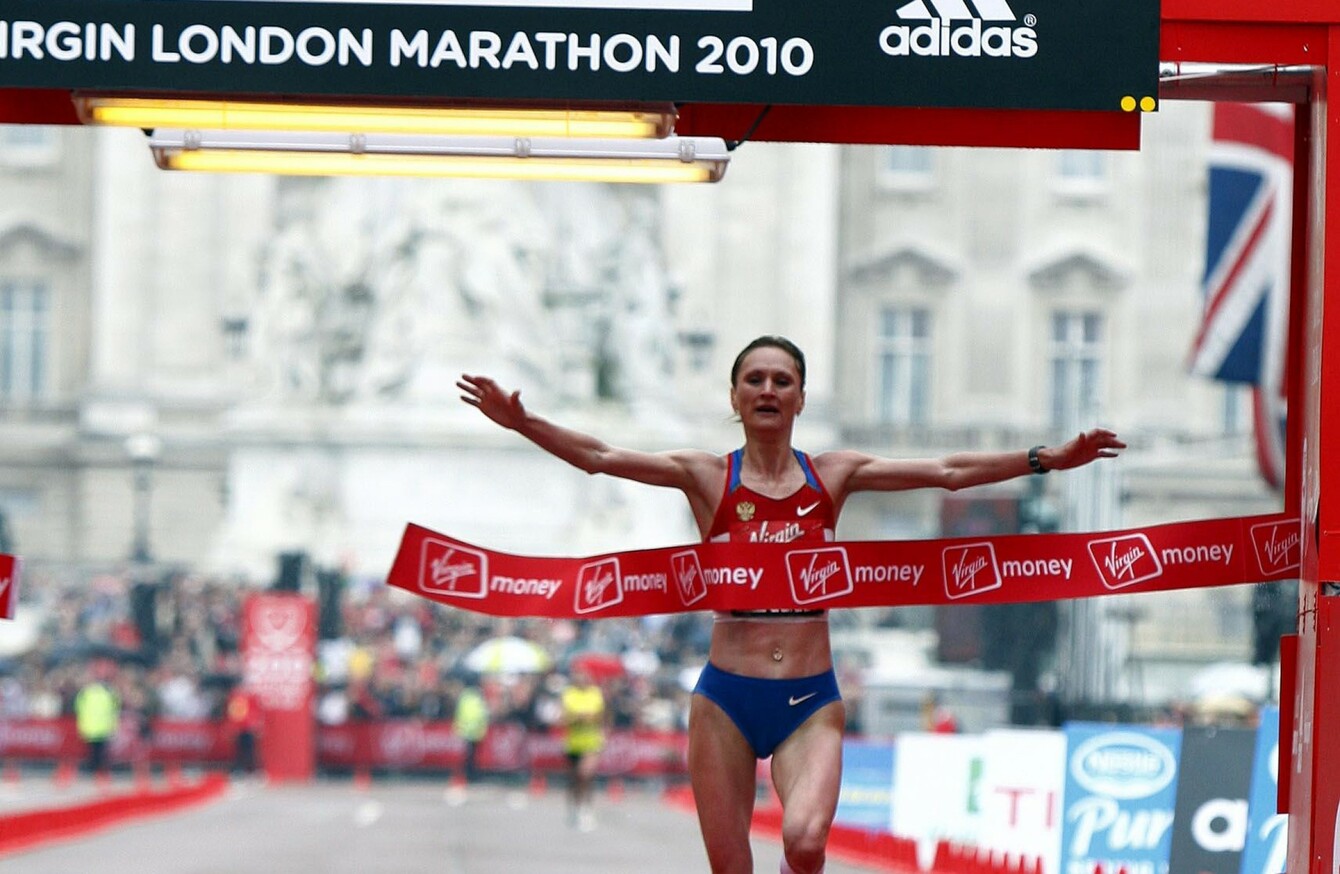 Shobukhova: 38-year-old is banned for life from London Marathon.
Image: PA Archive/Press Association Images
Shobukhova: 38-year-old is banned for life from London Marathon.
Image: PA Archive/Press Association Images
DISGRACED RUSSIAN ATHLETE Liliya Shobukhova will have to repay organisers of the London Marathon almost £400,000 (€476,000), a British court ordered today.
The 38-year-old — who is banned for life from the London Marathon despite having served her official suspension of just over three years which was reduced by seven months — is obliged to return the appearance money she was paid for the 2010 and 2011 editions in which she won and finished second respectively.
Shobukhova, who also had her three wins in the Chicago Marathon (2009/10/11) erased from the record books, was caught out when in April 2014 Russian authorities detected abnormalities in her biological passport.
Despite today's ruling, the London Marathon organisers face the trickier route now of having the order enforced in Russia.
"The next step is to get the judgment enforced in Russia," said Nick Bitel, chief executive of the company London Marathon Events.
"It will be a long and difficult process but we will pursue it as we are determined that cheats should not benefit.
Any money we get back will be redistributed to the athletes that Shobukhova cheated out of their rightful dues.
Bitel said that marathon runners these days faced increasing scrutiny and dope testing not only by the sport's world governing body the International Association of Athletics Federations (IAAF).
"We are determined to make marathon running a safe haven from doping," said Bitel.
"We will continue to do everything we can to ensure cheats are caught and do not benefit from cheating.
"In addition to testing operated by the IAAF and national federations, the Abbott World Marathon Majors has set up one of the largest private testing pool of athletes in sport, with 150 competitors being tested out of competition a minimum of six times a year for their unique athlete biological passport."
Shobukhova is the athlete at the centre of the allegations that Papa Missata Diack, the fugitive son of the shamed former president of the IAAF Lamine Diack, and other IAAF officials blackmailed her over a positive dope test into paying €450,000 euros so she could run in the 2012 London Olympics.
The42 is on Snapchat! Tap the button below on your phone to add!
– (c) AFP 2016