A SNAPSHOT FROM a different era.
When Limerick last crossed paths with Mayo in the football championship, they stood tall throughout and were left with agonising regrets at the final whistle.
A single point short on the scoreboard that day in Dr Hyde Park in 2002, the sense of a missed opportunity was clear in Limerick football circles.
They were regarded as a genuine challenger back then but inhabit a different environment as the counties renew acquaintances on Saturday. Mayo are a figure of curiosity, their football fraternity eager to see can they channel another backdoor comeback to reach an All-Ireland final for the third year on the bounce.
Limerick are the rank outsiders, fighting it out in the depths of Division 4 this spring and summarily dismissed by Clare in last month's Munster opener.
Mayo's David Brady and Limerick's John Quane during their 2002 qualifier. Source: INPHO
Over the winter, Seanie Buckley called time on his days as a Limerick footballer. His last stand was in a qualifier against Wexford last July, a point adrift at the end. He had to admit he was fighting a losing battle with his damaged knee and bowed out after being immersed in the squad since the outset of 2005.
For the Clare game, he was cast into the role of an observer in the Gaelic Grounds, alongside Pa Ranahan, another long-serving stalwart who had departed in July 2016.
"That day and a lot of the evening, that was the first time I really kind of missed it," says Buckley.
"Up to that it hadn't been too bad. But that day in particularly I felt a bit of a buzz and was envious of the lads that were out there.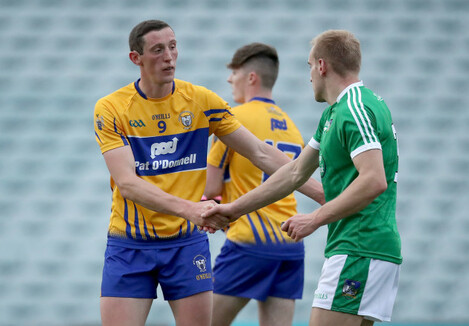 Limerick's Sean O'Dea shakes hands with Cathal O'Connor after their Munster quarter-final last month. Source: Oisin Keniry/INPHO
"My knee, it's cartilage damage really but it's something that isn't going to repair itself. It's stopped me playing anything at all really. I played a small bit of club after that last year but I haven't been able to do anything since.
"There's other things I can do but I don't know is football going to be one of them from hereon in."
The Limerick scene he left was different from the one he arrived to. It's 15 years since the seismic Munster day when Limerick handed Cork a thrashing in Páirc Uí Chaoimh. They would go on to play three Munster finals in the space of 12 months against Kerry and were left with two defeats, one draw and a load of regrets by July 2004.
Buckley landed into a dressing-room coming off the back of those provincial losses and was part of another push for recognition. In 2008 they were mugged by two Cork injury-time goals in the Gaelic Grounds. The following year they were the better side but lost the Munster final to Cork.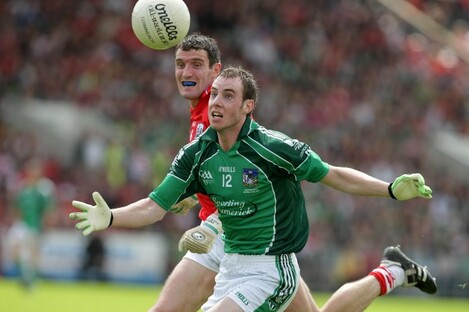 Limerick's Seanie Buckley with Graham Canty of Cork in the 2009 Munster final. Source: Morgan Treacy/INPHO
2010 featured another John Galvin tour de force yet Kerry left Killarney with the silverware. There was still time that season for another killer defeat, after extra-time in a qualifier against a Cork team, that would go on to enter the national winners enclosure in September.
"I remember at the time taking it for granted that we were competing with the better sides," says Buckley.
"If we were beaten, it was going to be by a point or two while trying to get over the line. In the last number of years, I'd have taken that any day, that you were going to be competitive with the best of them. It was in a good place then.
"It can often be taken for granted and not built on. You can very much get caught up on the team that's there rather than building on it and trying to add to it every year. It just probably went stagnant for periods and it changed.
"The original group of players that brought it together, they drove it on. You're hoping for another kind of golden generation period to get going again."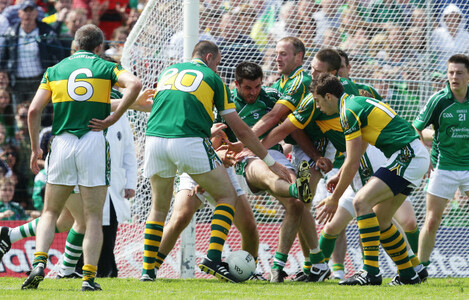 John Galvin was one of Limerick's stars in their battles with Kerry. Source: Cathal Noonan
The roof has caved in since then. In 2003, Limerick lost a Division 1 league semi-final to Kerry by two points. In 2018, they finished second from bottom in the basement tier.
The championship record over the last five years illustrates how it has been an unforgiving environment. Their last win in Munster came in 2012 against Waterford. From the days of pushing Kerry and Cork to the wire, Buckley's last few seasons saw Clare prove to be the immovable object in their path.
Munster senior football championship
2013 – Cork 3-17 Limerick 0-8
2014 – Tipperary 2-14 Limerick 1-11
2015 – Clare 0-15 Limerick 0-13
2016 – Clare 0-16 Limerick 0-13
2017 – Clare 1-13 Limerick 1-12
2018 – Clare 1-23 Limerick 0-15
All-Ireland senior football qualifiers
2013 – Longford 2-14 Limerick 0-9
2014 – Limerick 1-16 London 1-13; Limerick 3-11 Antrim 0-15; Sligo 0-12 Limerick 0-10
2015 – Tyrone 1-14 Limerick 0-8
2016 – Limerick 2-6 Antrim 0-9; Cork 2-12 Limerick 0-10
2017 – Wexford 0-12 Limerick 0-11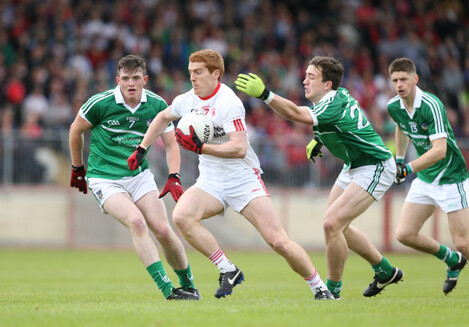 Peter Harte in action against Limerick players in their 2015 qualifier. Source: Presseye/Andrew Paton/INPHO
A clutch of brilliant players and leaders had revolutionised the county's fortunes in that standout era. Replacing them when retirement took hold was never going to be easy.
"It's in a different place now," admits Buckley.
"But if you look at it in a longer picture than the last 15 years, before that it was in a similar place probably to what it is now. There's still good people involved. Billy (Lee) that's there at the minute is doing his best.
"It's quite tough. There is work being done but I just hope the thing turns back around. It'd be good to see it pick up."
Shoots of growth have not been evident at underage level either. Limerick's last U21 final appearance in Munster was in 2005, you have to go back to 1998 for their most recent outing in a minor decider.
The U21 team have produced a few credible displays of late. They ousted Tipperary after extra-time last year before losing out by six points to Cork after being ahead at half-time. In 2016 they gave a highly-rated Kerry team a serious examination before succumbing by three points.
But trying to get the buy-in from players at senior level has been tricky. Current boss Lee has spoken about the issue in enlisting recruits to the Limerick football cause.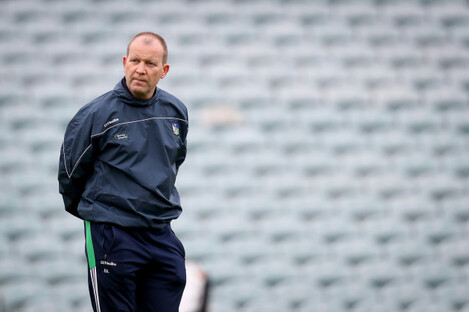 Limerick football manager Billy Lee. Source: Oisin Keniry/INPHO
"I think it's probably an issue for a lot of counties down in Division 4 really," outlines Buckley.
"Lads aren't maybe going to commit if they don't see potential or whatever it is. It's kind of the chicken and the egg situation then because you need those lads in order to compete. Look it's a lot of lads that have opted out. You'd like to be playing from a full hand anyway."
The battle to operate at high standards is also there, as evidenced by the controversy that flared up after their recent loss to Clare.
"I think if you were talk to previous managers, there have been issues," outlines Buckley.
"You're constantly trying to fight the battle to get the resources that you need. That comes with the territory maybe of playing down the bottom.
"I'm not 100% up to date with what happened the last day. But I think we've often fought battles and had to fight our corner."
Other issues crop up. Surveying the club landscape, it strikes the former Limerick captain that improvement is necessary. Ten years ago he was part of a Drom-Broadford setup that hit the historic milestone of a Munster club final win and he's added another three county medals to his collection then.
He wonders as well whether the provincial structure remains fit for purpose at inter-county level.
Seanie Buckley in action against Kerry in the 2010 Munster football final. Source: Lorraine O'Sullivan/INPHO
"I'd be probably more radical than most. I'd have got rid of it years ago. There is probably a lot of baggage there with weaker teams.
"You saw it with Clare and Kerry at the weekend there, I was at that game in Killarney and it just struck me that Clare were after coming up against Kerry for the last few years at the same stage.
"Besides Kerry being a great side, it is tough to overcome that side of things. But if you threw Clare out into an equivalent, bar Dublin and couple other teams, against teams from Leinster or an Ulster team, I think they'd be competing a lot more.
"I think the freshness of a different system outside of the provincial system would be good for all teams."
For all the setbacks over the last few years, there were lots of happy memories from his Limerick football career. Buckley climbed the steps of the Hogan Stand twice in 2010 and 2013 to toast Limerick triumphs in Division 4 league finals.
Seanie Buckley with his Limerick team-mates after the 2013 Division 4 league final. Source: Donall Farmer/INPHO
The 2011 qualifier victory over Wexford sparked riotous scenes of celebration, a Saturday night thriller that guaranteed passage into the last eight in Croke Park.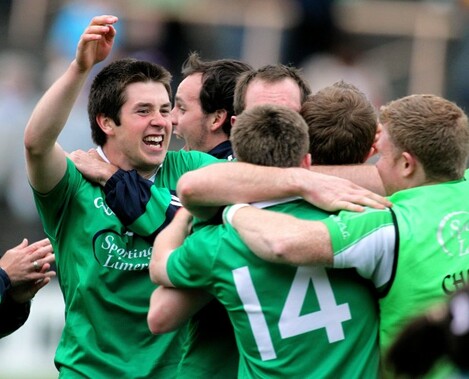 Limerick players celebrating their 2011 qualifier win over Wexford. Source: Lorraine O'Sullivan/INPHO
They'd have liked the novelty of facing Dublin or Mayo rather than familiar foes Kerry but the eventual beating could not conceal the stride made by the county in reaching that juncture.
The road to recovery for Limerick football is paved with challenges. It's a daunting task facing Mayo but it shunts them back into the spotlight for a time as well.
"It's an extremely tough qualifier draw. But I suppose it puts Limerick into a bit of limelight that they wouldn't have got otherwise. It's a huge ask of the lads.
"But I do know they're really looking forward to it. The publicity it's getting lifts the whole thing."
A reminder of the golden days when Limerick football occupied the big time.
The42 is on Instagram! Tap the button below on your phone to follow us!