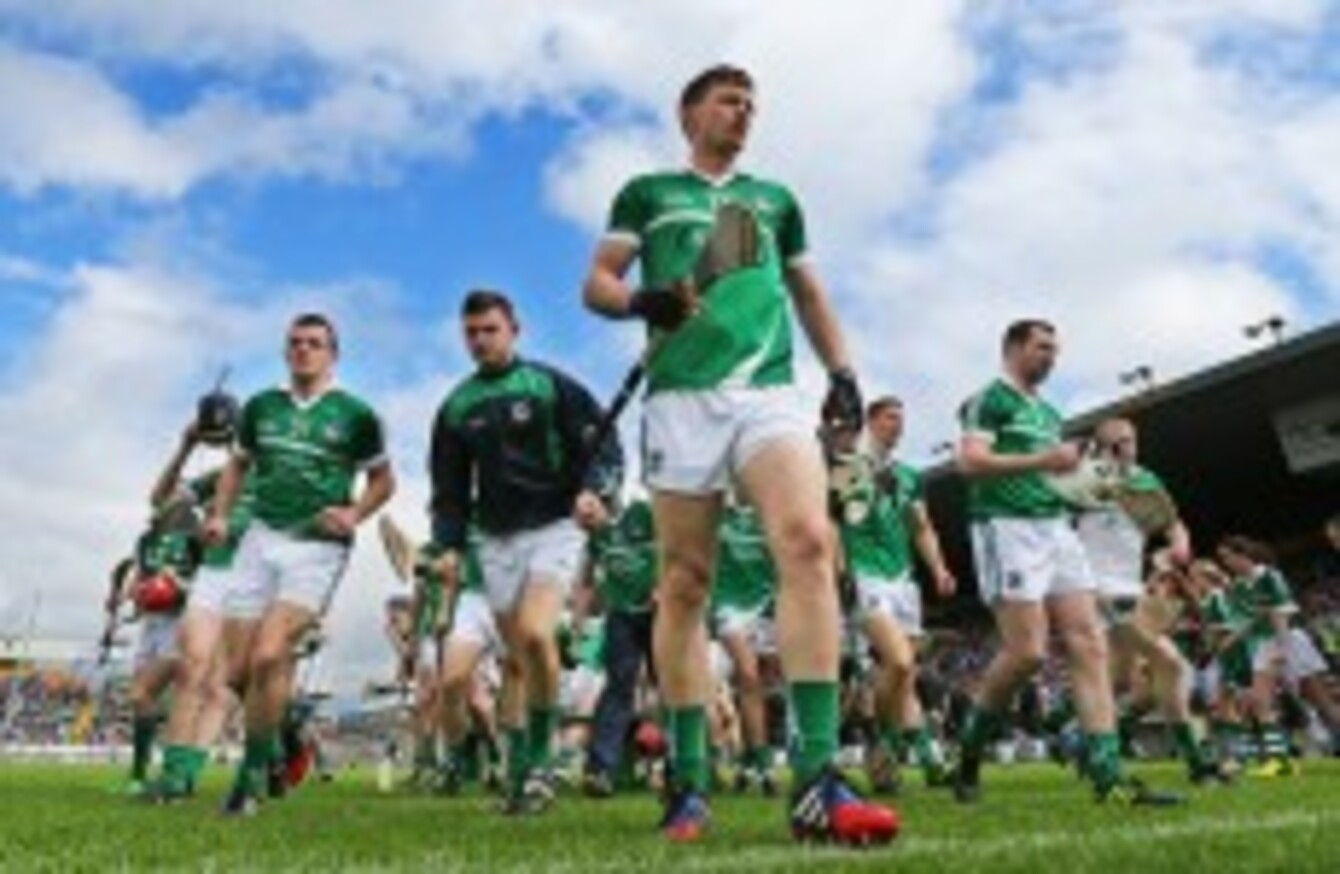 Limerick: "That chip on their shoulder was something they fabricated themselves."
Image: Cathal Noonan/INPHO
Limerick: "That chip on their shoulder was something they fabricated themselves."
Image: Cathal Noonan/INPHO
IF WE WERE to believe last week's pre-match talk, Limerick had adopted a siege mentality before yesterday's Munster semi-final.
But I felt that chip on their shoulder was something they fabricated themselves. They reckoned they weren't given enough credit for their Munster championship title last year. They brushed aside their managerial departure as insignificant.
But most importantly they told us that they were ready for this battle and they were. It was a clever tactic. It worked for them and got them in the right frame of mind.
TJ Ryan will be delighted with his side's attitude. They were never giving up the fight and their tenacity and willingness to work hard for the team was the main feature. I'm sure he will spare a thought for Donal O'Grady from Cork too today. The hooking, blocking and flicking they brought is his trademark and Limerick used this as foundation for their victory.
Tipperary had struggled in the early part of the league to adopt the strategy that Eamon O'Shea was enforcing – a solid defensive unit, a very mobile midfield pairing and massive amount of movement in the forwards. But it looked like the players had nailed it just at the right time with their performances against Cork and Kilkenny in the latter part of the league.
This defeat changes the landscape. All that pressure on Eamon O'Shea at the start of the league will return. They are equipped to rebound in the qualifiers but those games won't be easy and they've to deal with question marks.
The game was a pleasure to watch, an absorbing battle from the start. Tipperary moved everywhere in attack early on to try to create space in the hope that they would catch Limerick's defence out of position.
But Limerick coped with this ploy brilliantly. Richie McCarthy bossed the square and was intelligent with his distribution.
The most outstanding feature of their defence was the art of the tackle. They got close enough to hook, flick and block down on numerous occasions; that deflated the Tipperary forwards but it also gave Limerick the confidence to hurl.
The exceptions were when Tipperary got in for goals. Limerick lost concentration and they won't be happy with how Bonner Maher and Gearoid Ryan found the net.
Tipperary's defenders coped well in the first-half. The fact that Brendan Maher was sitting deep enough in front of Padraic Maher helped their case. But they conceded too many easy frees when they had bodies in positions to defend and this would come back to haunt them at the finish.
Shane Dowling was key to Limerick's overall performance. He kept the scoreboard ticking over for them while his decision to go for goal in the first-half was a huge moment. It was a bullet and had all the hallmarks of a player brimming with confidence. It gave them a massive lift at a time when they weren't scoring freely from open play.
When Tipperary got their second goal, I expected them to drive on and kill Limerick off. Padraic Maher had started the second-half very well while Bonner Maher came out to centre-forward and caused havoc with his lines of running at the Limerick defence.
But Tipperary couldn't put the game to bed. Seamus Callanan was their go-to guy during the league and they would have been depending on a free-scoring performance from him. It just hasn't gone well for him in championship and yesterday followed that pattern.
Be part
of the team
Access exclusive podcasts, interviews and analysis with a monthly or annual membership.
Become a Member
Limerick hung in there. James Ryan pucked an ocean of ball throughout at midfield. Donal O'Grady gave them a big lift at a crucial time. He had been playing in a withdrawn role and was working extremely hard but the two second-half points he popped up with were vital.
I thought Limerick's chance had gone when Graeme Mulcahy's goal was disallowed. It looked a poor decision with Barry Kelly making the call from 50 yards away that Dowling had played Maher's hurley.
But Limerick got another opportunity. What was impressive was the composure from Kevin Downes in taking the correct option to hand pass off while Dowling never panicked to step on to his favoured side and hit the net.
Seamus Hickey hit the insurance point and that capped a great performance for him. He's probably better suited to a man-marker role in defence. Last year he was coming deep from wing-forward to contest puckouts; yesterday he excelled in defence.
It was interesting as well that he consulted with Barry Kelly when frees were being given against Limerick. He urged his side not to panic and got his reward.
Tipperary's performance was not lacking in many areas. I thought they were on the road to victory in the closing stages and despite defeat, they have the capacity to still impact in this summer's championship. Their fans are demanding, they expect success. This was a setback and how Tipperary cope with the reaction will be interesting.
*****
The shock of the day almost arrived in Portlaoise. Three years ago, I was on a Cork team that put ten goals past Laois in the qualifiers. Their rate of improvement since then has been unbelievable. From using outside managers, they really refocused and got their own man in charge in Cheddar Plunkett.
I saw them play Cork in this year's league back in February. It was a terrible night for hurling but I was impressed by how Laois were set up. They're a very disciplined defensive unit and when in possession they try their best to work the ball up through the lines to create scoring chances at the other end.
They carried this out to great effect yesterday and almost claimed a famous win. The warning signs were there for Galway in the challenge Laois posed last year. This time it was even tighter.
Galway can be pleased that they dug out the win but their performance creates doubts about them. You'd fancy Kilkenny to come through next Saturday against Offaly and that will pose a massive challenge then for Galway. They'll need to rise to it.
In the first game Wexford showed the importance of a good start. Antrim tried hard to stick with them but the early goals killed them. Wexford are improving and are a team that aren't getting enough credit. They'll trouble Dublin the next day and it'll be a difficult fixture for them.