NOT TOO MANY people will give Warren Gatland and his Lions a strong chance of success in New Zealand this summer.
The All Blacks are the best team in the world and their record at home is daunting. The last time they lost at Eden Park, where the first and final Tests take place this year, was in 1994.
Maro Itoje, the youngest member of Gatland's 41-man squad at 22, had not even born yet when France pulled off that 23-20 victory. Clearly, the task ahead of the Lions is huge.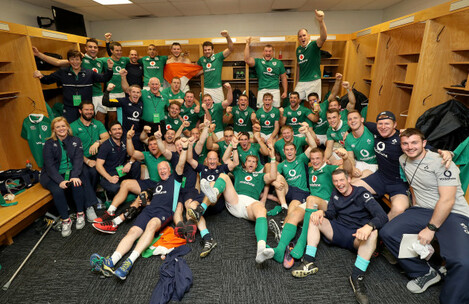 Ireland celebrate their success in Chicago. Source: Dan Sheridan/INPHO
But Gatland believes that there is enough playing talent in his squad to down his home nation on their soil, and he says his players have to understand that the All Blacks are beatable.
Ensuring that such confidence is present is a major part of Gatland's job and he is looking to Ireland's November example in Chicago to strengthen his assertion that the Lions can pull off a series surprise.
"That's kind of the challenge, isn't it?" said Gatland yesterday in London. "As coaches, you're trying to deliver that message sometimes when you're playing the All Blacks, about confidence and self-belief. You're not too sure when you get that glazed look from the players if they honestly believe that.
"So, Ireland doing that in Chicago was pretty special. Especially considering at 27-8 or whatever it was at half-time, you think they're going to comfortably do it and to see the All Blacks come back and almost look like they were going to steal it and then for the Irish to, in that last 10 minutes, put them under pressure…
"And to see some of those world-class players be human, make some mistakes, show some frailties… that gives you that self-belief and confidence.
"Always as a coach you're trying to deliver that message, to put players and teams under pressure and they are human and they will make mistakes. Andy Farrell being a coach with England and Ireland, the Ireland players having won and some of the England players having won in 2012… you've got to go there believing."
There does appear to be renewed optimism on the outside for the Lions after yesterday's announcement of Gatland's squad, coming from the realisation of the possible combinations and the depth of competition in most positions.
Each of Gatland's assistant coaches – Farrell, Steve Borthwick, Graham Rowntree and Rob Howley – spoke about how difficult and "lively" the final selection process had been, with someone like Jonathan Joseph only being a late inclusion on Gatland's insistence.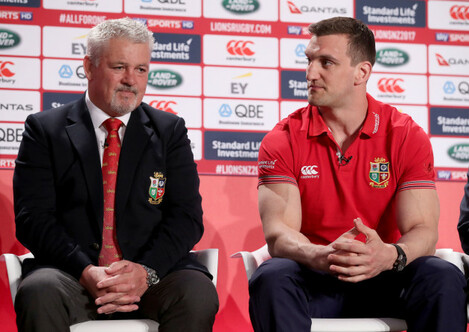 Gatland with Lions captain Sam Warburton. Source: Dan Sheridan/INPHO
While there are likely to be some cruel injuries over the coming weeks to deny a player or two the opportunity to travel to New Zealand having been selected, Gatland is content that his 41-man crew is one of the best Lions squads yet.
He wants them to believe in their ability to upset the odds, but he has also stressed the need for his Lions players to be ready for what awaits culturally in New Zealand. That will involve a bit of choir practice and a couple of movie nights.
"The other thing people don't understand is that there are teams who go to New Zealand and they don't go there culturally prepared," said Gatland. "What I mean by that is, particularly in 2011, teams rocked up there not prepared culturally for what's going to happen.
"The first Sunday, we've got a welcome in Waitangi, a Marae, and to culturally go through the process around that… We'll get welcomed on there, we'll accept some Maori challenges and get on to the Marae. They speak, they sing.
"So every speaker is followed by song, so we'll reply as well.  My hope at the moment is that we have [tour manager] John Spencer to speak, we'll have to sing. Someone will speak in Irish and will sing, someone will speak in Welsh and will sing… so culturally, we'll get some respect by doing that. I don't think the two Scots will be able to speak Gaelic, but maybe they might be able to do that. Teams, they haven't understood it.
"And I've said it to the staff as well; go and watch 'Hunt for the Wilderpeople' with Sam Neill in it, or there's a film called the 'Wild Ride' or another called 'Boy'.
"It kind of gives you an understanding of New Zealand humour, New Zealand culture a little bit.
"If you do that, if we go there prepared and we understand our opposition, understand our enemy a bit better than that little bit of a percentage of what it's going to be like to travel in New Zealand – hopefully we're going to arrive there with a better understanding of the country, of the culture of the people that we're going to.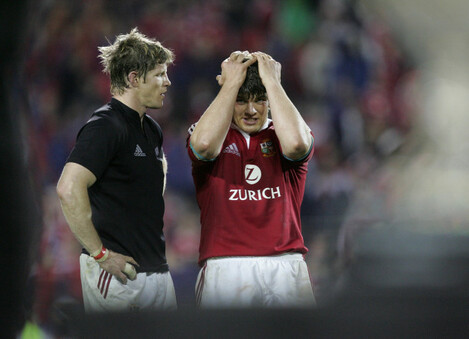 The Lions had a tough time in New Zealand in 2005. Source: Billy Stickland/INPHO
"I think a lot of people in the past who have been there haven't been prepared well enough for that.
"It's a tough place, a really tough place to go to and tour. The intensity, the knowledge of the nation… it's not going to be like Australia in 2013 when we arrived in Melbourne and all of the people were saying: 'Who are the people wearing red jerseys?' They had no ideas the Lions were in town.
"Wherever we go in New Zealand, we're going to be inundated by fans who are incredibly excited about us being there and also very knowledgeable about the Lions, the players and the performances and the expectation as well."
The42 is on Instagram! Tap the button below on your phone to follow us!