FOUR IRISHMEN IN the mix and a helluva lot of big Welsh lads as the Lions looked to win the First Test on their way to end a 16-year series-winning drought.
As always, we'd love to hear your thoughts on the game. E-mail patrick@thescore.ie, tweet @thescore_ie, post a message to our Facebook wall, or leave a comment below.
You may need to refresh the page for YouTube videos and other elements to display correctly.
Lions 23-21 Australia
Good morning one and all – from Mallow to Melbourne, Bruff to Brisbane and everywhere in between.
Here's Jason Robinson's preview for the First Test. The rugby league convert was in scintillating form Down Under in 2001 and got the party started with the opening try in the First Test with the Wallabies:
YouTube credit: HSBC
I'd love to get greeted by Jason Robinson and gorgeous George Gregan when I rolled off a long-haul flight.
Let's have your predictions for the game. No scoreline is too silly, no pessimism shall be shunned. Stories of early-morning beer and bacon sessions welcome…
We have a separate post on TheScore.ie of some of the Irish Lions supporters and their flags but we thought we must share this on the liveblog: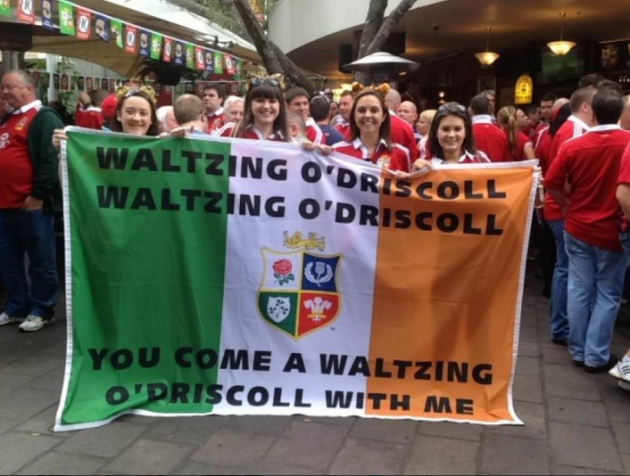 Stirring stuff ladies! (Credit: @RuthGorman_UTV)
On Tuesday, I asked for first try-scorer predictions and was rewarded with four Lions penalties and a 14-12 defeat. I'm much more confident about the Lions XV today so let me know what Lions you think will score the first try. Correct predictions get lavished with praise.
Our Toronto-based chum David Elkin is facing a stiffer task to watch today's match. For him it is a 6am kick-off. Here are his thoughts:
The Lions team nearly picked itself in the end. The key aspect, as in nearly all international tests now, is the bench. Lydiate covering the back row is a major source of concern. Warburton has been back for two games, and a potential injury to the captain would be a game defining moment. Croft, in theory, would move to 7. This just isn't going to cut it against Hooper and the mobile Australian forwards. The breakdown area would be dominated by the home side, and probably make them near unstoppable.
"Anyway, I have that unique mix of excitement and a foreboding sense of dread that comes with every major sporting occasion featuring a team I support. Go Lions."
Let us know if you are following the action from abroad too.
Ian O'Reilly predicts Tom Croft as first Lions try-scorer. The Englishman got a double against the Springboks in 2009. Who else is taking a punt?
Will Greenwood is pumped on Sky Sports. 'Geech' and Paul Wallace look bemused by his finger-pointing antics:
POLL: What Irish player do you expect will make the biggest impact for the Lions today:

Good luck messages on SS1 from a plethora of famous faces including this future Olympian: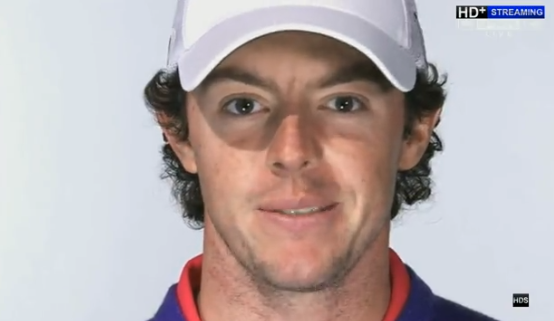 'Kick seven shades of shite out of that Genia bloke' … we're paraphrasing here.
Here are the teams:
Lions XV to face Australia: Leigh Halfpenny; Alex Cuthbert, Brian O'Driscoll, Jonathan Davies, George North; Jonathan Sexton, Mike Phillips; Alex Corbisiero, Tom Youngs, Adam Jones; Alun Wyn Jones, Paul O'Connell; Tom Croft, Sam Warburton (c), Jamie Heaslip.
Replacements: Richie Hibbard, Mako Vunipola, Dan Cole, Geoff Parling, Dan Lydiate, Ben Youngs, Owen Farrell, Sean Maitland.
Here's how the Wallabies are lining up:
Australia XV to play Lions: Berrick Barnes, Israel Folau, Adam Ashley-Cooper, Christian Leali'ifano, Digby Ioane; James O'Connor, Will Genia; Benn Robinson, Stephen Moore, Ben Alexander; Kane Douglas, James Horwill (c); Ben Mowen, Michael Hooper, Wycliff Palu.

Replacements: Saia Fainga'a, James Slipper, Sekope Kepu, Rob Simmons, Liam Gill, Nick Phipps, Pat McCabe, Kurtley Beale.
I'll say this before kick-off — I'm predicting Alex Cuthbert for first Lions try-scorer. For all the flack he has picked up, that lad is an attacking menace.
While the Australian national anthem is being belted out, here is a final good luck message courtesy of Sky Sports and our very own Robbie Keane: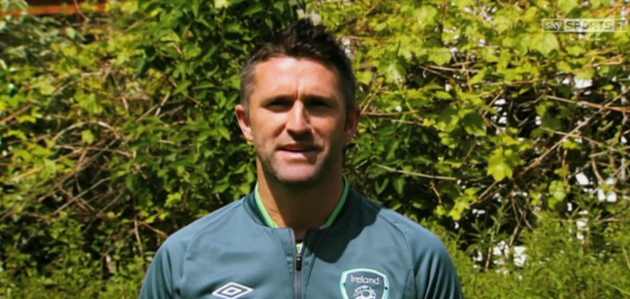 'Smash 'em up the guts lads and let Leigh kick 'em to death'
Chris Pollock the ref says 'Go for it boys'. Jonny Sexton launches…
KICK-OFF!
Early lineout and Tom Youngs with the throw. Heaslip at the front snares it. Confidence builder. We've got a Wallaby down, prone already. Christian Leali'ifano is out cold after getting bashed by Jonathan Davies. The stretcher is on. Clock stopped at 53 seconds.
Thumbs up from Christian Leali'ifano but his game is over: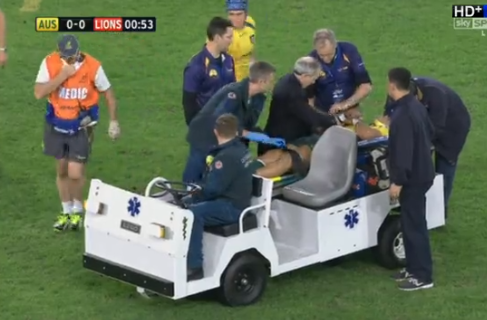 Wallaby captain James Horwill sends his injured teammate on his way with a pat on the shoulder.
Crumbs. Early engagement scrum free-kick awarded against the Lions. That was predicted beforehand. Aussies with their first attack but they are turned over. Sexton takes it into contact, then North does likewise out wide.
Sexton's cross-field kick to Cuthbert goes awry and Ioane claims. He's no Isa. O'Driscoll harshly penalised for going off his feet at the ruck. O'Connor lines it up…
Miss from JO'C. Looked good all the way but he swung it left from 40 metres out.
Another penalty but this one is clearer. BO'D says 'Can I ask you to look at the video?' but that's not going to swing it. O'Connor will hope to have his range at this stage.
47 metres out but to the left again. Here come the jeers. 0 from 2.
Free kick against the Aussies for early engagement. Warburton calls for another scrum. Adam Jones starts the fun. They are DRIVEN back! Penalty awarded. And here are the Lions fans in strong voice. Sexton hits the line.
Not straight but we'll take it. Heaslip at the front again. Lions on the Oz 22. Good hands from Halfpenny. No snipes allowed for Phillips. Aussies on him like hungry dogs. Lions still have the ball. Phases building.
TRY! Lions 0-5 Australia (Folau '13)
O'Driscoll with a beauty of a quick pass to Halfpenny up the right wing. Penalty and advantage called. Lions press for seven points instead. Advantage now called over. Penalty goes to the Aussies. Genia breaks. Finds Folau up the right. Looks forward — maybe a kick through. Try!
CON: Lions 0-7 Australia (O'Connor '14)
Yep it was a kick through from Genia. Amazing assist from the wee man. O'Connor slots the conversion over.
Could have been 3-0 Lions but they fancied their chances, were turned over and stung by some brilliant, opportunistic rugby by Genia.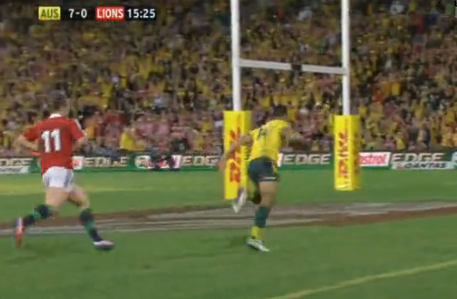 Sexton puts up a bomb. Genia pouches and is swallowed up by Halfpenny and North. Somehow he presents. Aussies back him up at the ruck. Genia backs off and sends a steepler up himself. Cuthbert drops a dolly forward.
Corbisiero crumples Ben Alexander but somehow, somehow it is not a penalty to the Lions. Aussies pound into the Lions 22 but their maul is held up and the tourist's get a scrum. They win it and try to run the ball out from behind their 10m line.

McCabe ambles offside to spare Phillips' blushes for an aimless box-kick.
Penalty awarded to the Lions, just inside the Aussie 10m line. Halfpenny will have a dart.
PEN: Lions 3-7 Australia (Halfpenny '23)
Over it goes. No problem to Leigh despite the heckles from some sections of the home support. Bisects the posts.
TRY! Lions 8-7 Australia (North '25)
Superb solo try from the young Welsh behemoth. Through three tackles and over in the lefthand corner.
CON: Lions 10-7 Australia (Halfpenny '27)
What a try from the Welshman. He takes a Berrick Barnes up and under and launches forward. Busts two tackles, streaks by Barnes and gasses past Genia, with time to point at him on the way, and dives over. Halfpenny's touchline conversion is sublime.
Lines win another lineout. Rolling maul piles forward. Penalty coming up, if the Lions want it. North looks like he's in at the same corner. TMO. Another try? He takes Genia and Folau over the line.
No. Not given.
PEN: Lions 13-7 Australia (Halfpenny '31)
Thought that was given but Folau got an arm under it. We come back for the penalty and Halfpenny slots it over.
TRY: Lions 13-12 Australia (Folau '34)
Questions over a forward pass from Mowen but the TMO says it is fine. Given. Folau streaks clear again. It's Folau vs. North at the moment. Sexton got stepped far too easily there: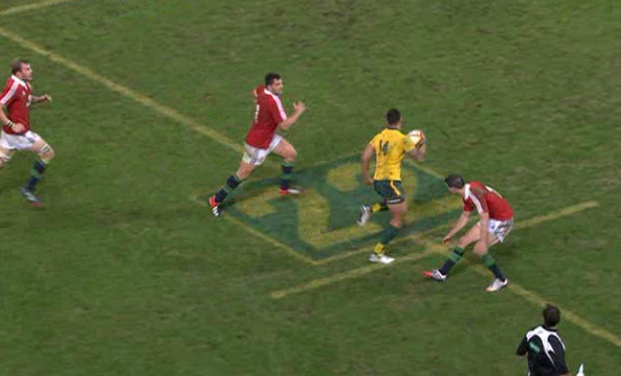 (Credit: Sky Sports)
O'Connor misses a simple conversion and the Lions lead by one point.
Three minutes remaining in the half and the Lions pile forward, looking for one more score. Davies and O'Driscoll pinged for crossing in the midfield. Barnes finds the line inside the away team's half.
Genia is causing chaos out there. Takes the ball off Horwill at the back of the lineout. Heaslip grapples him to the turf. Tom Youngs steals and the Lions try to press up the left through North. The winger pushes Folau into Barnes and skittles them both. Barnes is getting stretchered off too. Good grief.
The bad news: Here comes Kurtley Beale.
Close to a penalty but the Aussies come through the gate and it is penalty Lions. Pollock turns his nose up at a yellow card.
Australia get out of jail as Halfpenny, from 40 metres, goes right and wide. Shame that. If you can track down that George North try, please do. It's a cracker. We'll keep our eyes peeled online too.
HALF-TIME
What did you make of all that?
Words of wisdom from Will Greenwood in the Sky studios: "The forwards have to be disciplined in the breakdown, be wary of when to go and when to not and maintain their composure."
Kurtley Beale gets us underway…
KICK-OFF
God, they are all over Philips like a rash today.
Kick out on the full from Genia so Lions get an attacking lineout inside the Wallaby half. Youngs hasn't missed one yet. Finds AW Jones. Lions maul gets rumbled over the touchline and Moore will get the throw-in. He finds Horwill for the zillionth time and the Aussies bore up the left.
Davies intercepts a Genia pass but can't break the shackles. Philips is then gobbled up by Mowen and the ball is turned over again.
Heaslip with an excellent steal. Phillips launches long. Cuthbert gets stepped by Ioane and the ball remains in yellow hands. Cuthbert has not justified his start yet. Beale nearly gets the Wallabies through on a 3 on 2 but Croft leaps on his like a lion on a gazelles back.
With Davies down for treatment, McCabe knocks on and the chance is lost.
Oh, hold the phone. Cuthbert did well there to force McCabe to hold onto the ball and force a penalty. Hooper is being pushed to inside centre with McCabe crocked and off on a stretcher. Openside flanker Hooper moves to 12 while Liam Gill takes his spot in the back row. Feels… Irish, this injury crisis.
They must be running out of stretchers at Suncorp.
Lions win the next scrum – get a penalty. Sexton hits the line. If they can get the next score they will feel the tide is truly trurning. Lineout — Youngs + Heaslip = success!
TRY! Lions 18-13 Australia (Cuthbert '48)
CON: Lions 20-13 Australia (Halfpenny' 49)
What a ruddy score! Cuthbert busts four tackles along the way and leaves Genia for dead again. Quick TMO to see if O'Driscoll obstructed O'Connor. No, we're grand, Try given. Halfpenny gets the extras.
PEN: Lions 20-15 Australia (O'Connor)
Nice work from the home side as the force a penalty. O'Connell may be the guilty party here. JO'C gets it over. Vunipola and Cole come on to boost the front row. Fresh red meat.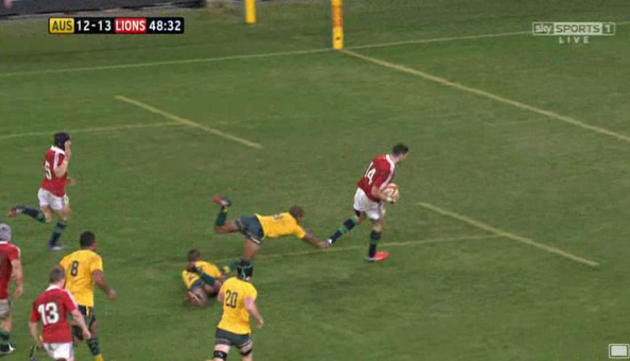 'See ya later Genia'. Cuthbert gets his try.
Moore, ya jammy git. His lineout throw is far too long but it skittles right to converted inside centre Hooper, who secures. 54 minutes gone. Props link up as Alexander finds Robinson but Heaslip is there to pooper-scoop and claim the loose ball. Lost forward anyway so Lions get the scrum. Lets see how the new boys do…
Alexander and Vunipola pop up by the ref says play on. Cuthbert then claims but is tackled mid-air by Beale and gets away with it. North almost set free but it deflects off O'Driscoll's outstretched arms and is adjudged to have gone forward. Scrum Aussie. 22 minutes left.
Lions don't bother contesting the lineout after Beale hits the line (pen conceded at that scrum). Halfpenny then swivels through two tacklers but Australia eventually get the ball back. Line break creates pressure and Heaslip is left cursing as a penalty is conceded. Beale puts his hand up for the long-range kick. Stones.
PEN: Lions 20-18 Australia (Beale '61)
Beale holds his nerve and over it goes from 50m. Phillips is hauled ashore and Ben Youngs is on. They can't sit back on a two-point lead.
Sexton, welcome welcome! Lovely chip, chases and gather up the centre. He finds O'Connell in support. Lions on the Oz 22 and Heaslip is grappled before he can find Cuthbert out wide. Not all lost though as the penalty is conceded for coming in around the side of the ruck.
PEN: Lions 23-18 Australia (Halfpenny '65)
From the same angle as his first half miss. No bother this time and the Lions lead by five. Hibbard on for T Youngs.
PEN: Lions 23-21 Australia (Beale '68)
60 yard streak upfield from Beale. Amazing stuff. Ball is retained, Horwill has a go. Aussies line up on the 5m but O'Connell holds the play up illegally. No yellow for PO'C – lucky. Beale should slot this over…
Hibbard finds Croft. Jumpers at the front has been a staple of the Lions lineout. Aussies reeling in front of their posts as Sexton puts in a dangerous chip. Scrum in front of the posts. Will Sexton drop back for a D.G if the ball is secured?
Heaslip asleep at the switch. Genia steals as the Lions scrum is wheeled. Upfield kick is claimed in the air, brilliantly, by Folau.
Eight minutes to go. Oz scrum on the Lions 10m line. Losing that scrum may prove crucial.
Lydiate on for Croft.
Folau outjumps North.
Disaster! O'Connell at the bottom of a ruck but Vunipola off his feet. Beale with a relatively simple effort from 36m and slightly to the left. WOW! He squeaks it wide and right.
Four minutes to go. Aussies with the ball on halfway. Horwill spills forward. Big, big scrum coming up.
Three minutes to go and we are hearing that Ashley Cooper's shoulder was dislocated in the match but popped back in. No way he will play next week in Melbourne.
Scrum re-set. A minute nearly gobbled up with that. Penalty conceded at the scrum. Heaslip dithered too long, didn't get the ball out. PENALTY coming up…
He misses it!!!!
FULL-TIME
Beale slipped. It was a Beckham penalty job in the Euros.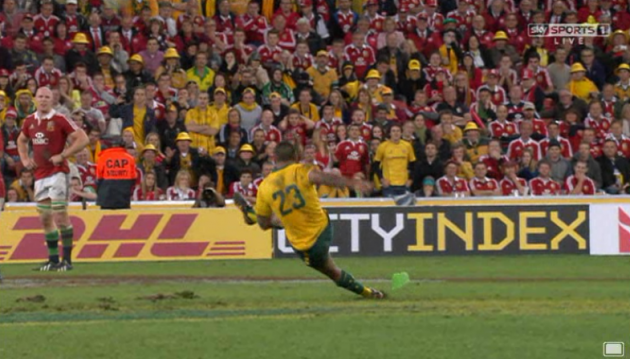 Holy Mother of Mercy! That was so close. Four penalties missed by the Aussies. It was a Stephen Jones versus Ireland for the Grand Slam stuff OR, as our very own Niall Kelly puts it, John Terry in the Champions League Final.
Cheers for all the comments and predictions. We roll on to Melbourne for two more matches in a week. Stay with us for post-match comments, opinion and reaction.
Warren Gatland's thoughts when Beale lined up his kick: "Oh, this can't happen again!"