OUR REVIEW OF the year that was 2013 would not be complete without discussion of the now infamous dropping of Brian O'Driscoll for the third Test of the Lions tour of Australia.
The iconic centre's exclusion from the match-day squad following the return from injury of Jamie Roberts was quite nearly the only focus in Ireland in the build-up to the deciding Test, showing us – if a sign was even needed – how the Lions is still largely about our own players doing well within the multi-national frame.
Jamie Heaslip was dropped too, but the uproar focused around O'Driscoll's 'scapegoating' following the poor team performance in the second Test defeat. Jonathan Davies was preferred at outside centre for the deciding game of the series, something that really should not have been such a major shock in hindsight.
Roberts and Davies were the centre pairing that head coach Warren Gatland wanted all along, the duo that he felt could ruthlessly punish what he believed was a comparatively lightweight Australian midfield. If Roberts had not sustained a hamstring injury in the warm-up game against the Waratahs, he would have started alongside Davies in the first Test.
Did O'Driscoll's exclusion make a difference on the pitch for Test number three?
It's impossible to know with utter certainty, but it was most likely irrelevant who played in the centre, given the dominance of the Lions forwards. With that kind of platform, you or I could have done a decent job in midfield. Gatland's selections up front were 100% spot on and the Lions won the game there.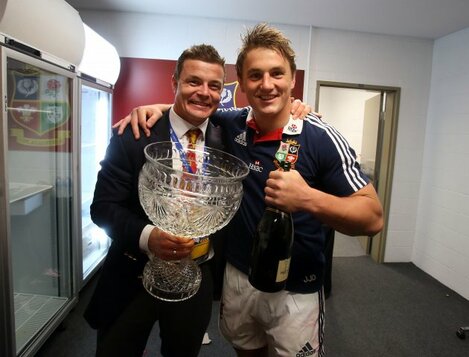 O'Driscoll celebrates the Lions success with positional rival Jonathan Davies. ©INPHO/Dan Sheridan.
We could speculate that O'Driscoll would have used his array of passes and flicks to create even more chances for the Lions, but it's a moot point. Davies had a solid outing in a good team performance, touching the ball 10 times and completing all 10 of his tackles. He was not a decisive influence, but neither was he a negative one.
So Ireland did overreact to his axing from the team?
Not so. Following sport is about more than the tactical, technical and physical functioning of the teams we choose to support, even more so with a concept like the Lions. Sport is also about both reflecting and escaping the experience of being human. A man like O'Driscoll is only a legend because rugby fans make him so.
Ireland's reaction was not truly based on the belief that O'Driscoll was a better pick than Davies, that argument was always irrelevant. Instead, people may have felt it was wrong that the man who was the focus of so many of our feelings was being denied that chance to create history with the Lions, to finally be part of a winning tour after his three previous failures.
It was not only about O'Driscoll's feelings, but rather those of the majority of rugby fans in Ireland. Watching the Leinster centre being part of that third Test success would have made so many people genuinely happy, truly thrilled. It was wonderful to see Sexton, Bowe, O'Brien and Murray playing their parts, but it just wasn't the same experience.
Already deprived of Paul O'Connell through injury, Ireland lost its central focus for the third Test and the reaction was genuine. As with so many other things in life, there was an element of overreaction that spilled into abuse and animosity, directed towards Gatland and Davies on this occasion.
But for most rugby fans, there was simply sheer disappointment at the lost chance to see Ireland's greatest rugby hero making more international history.
Like rugby? Follow TheScore.ie's dedicated Twitter account @rugby_ie >