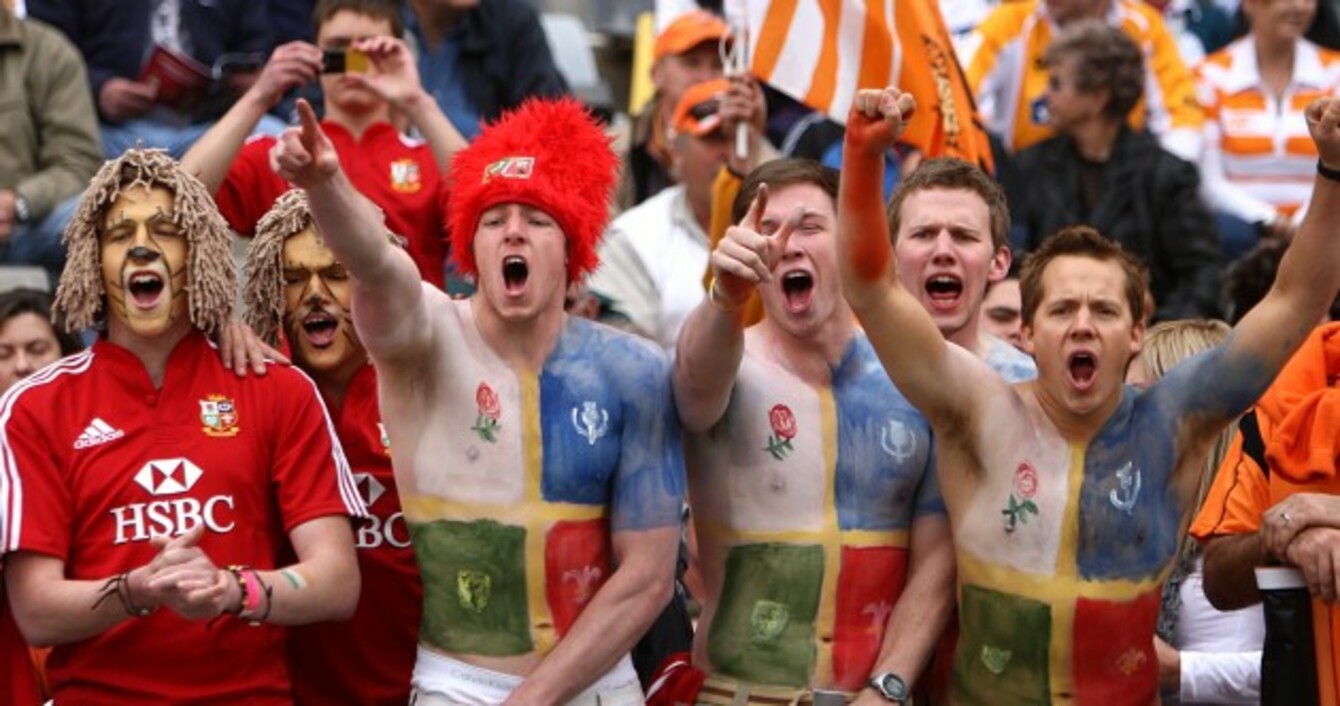 Image: David Davies/PA Archive/Press Association Images
Image: David Davies/PA Archive/Press Association Images
Step 1: Plan ahead
KO – 16 hours: A clear plan of attack is essential.
If you'd like to have a beer during the rugby game, then you'd better bloody have it in the fridge chilling overnight before the kick off.
This goes for pre and mid-match snacks too. You don't wanna be the one running down to the shop when Tom Croft and Michael Hooper are wrapped up in each other's jersey. Every time you hear a team announced, go stock up on salty, fatty foods.
Step 2: Start Get up early
KO – Two hours: You need time to have a two-course breakfast like Hook and Popey. So (for a regular weekend 10.30 or 11am kick off) we want you out of bed by at least 9.30, solider.

YouTube credit: rte
Besides, the lads won't let themselves in – not since 'the incident'.
Step 3: Embrace the unity
David Davies/PA Archive/Press Association Images
KO – 90 minutes: By all means, put on that green Lions jersey, or even your Ireland jersey if you haven't been able to afford another hefty wedge for a big red Adidas jumper. But try to remember that there are three more nations to be roaring on.
Why not a kilt? No, some Welsh shorts perhaps. You look like Jamie Roberts now, we swear.
Your neighbour's bulldog; borrow him.
©INPHO/Dan Sheridan
Scottish flip-flops? Och aye!
Buy them here, flip-flop fans.
Step 4: Know your breakfast
KO – 60 minutes: If there's one meal that all of Britain and Ireland can (almost) agree on, it's breakfast.
Even your moaniest Welsh fellow-fan won't complain on the presentation of some sausage, bacon and eggs. Isn't that right, Donncha?
©INPHO/Hannah Johnston
Step 5 . Know your beer
Always: Now, this is new on us, but apparently there are such things as breakfast beers.
These three come recommended by the Wall Street Journal and, the legend goes, there's a black beer out there that tastes just like bacon.
Pffft, once it's nicely chilled, your regular lager-of-choice* should do the job just nicely.
*Just drink it responsibly and don't ruin for the rest of us, right?
Credit: HoustonPress Tailgating
Step 6: Get pumped
KO – 10 minutes: Aye, aye, Jimbo!

YouTube credit: markoconroy
Barry Aldworth/Sports Inc/Press Association Images
Step 7: Find a spot on the edge of the seat
Step 8. Celebrate a Test victory (or even a humdrum midweek game) with a spot of lunch
KO + three hours: Gotta sober up some time. Unite Ireland and Wales with some leek and potato soup to start.
Kangaroo steak for mains, anyone?
No? Braised Wallaby shanks it is. MMMMMmmmmm.
Here's the recipe via The Australian Women's Weekly