It's the biggest day of the Gaelic football calender. Get in contact throughout the action in the usual ways. E-mail adrian@thescore.ie, tweet us @thescore_ie, find us on Facebook, or leave a comment below.
FT: Dublin 1-12 Kerry 1-11
Are we all here? Then let's do this.
Both Dublin and Kerry panels are on the Croke Park pitch ahead of one of the most anticipated and hyped All-Ireland finals in years.
Mary McAleese is about to meet the players for the last time as president. Then we'll have a parade, anthems and then some ball.
First blood to Kerry and it's a beauty. Donaghy wins a ball in the centre, Darran O'Sullvian drives forward, hands it off to Declan O'Sullivan and he punches it over.
Really bright start in a what's a red-hot atmosphere. I'll run through the teams when we get a moment.
Alan Brogan gets his first shot away but he drags it wide. Moments earlier Brendan Kealy had to save a Diarmuid Connolly effort form under his bar.
The pitch is slippery after that shower witnessed in the tail end of the minor game.
The teams? As selected during the week, which means one P Galvin is on the bench. For now.
Wexford football Aindreas Doyle tweets:
You wont believe this. A kerryman in front of me just got pegged out. He had a hurling final ticket. Not a bother on him sitting there.
Stephen Cluxton hits Dublin's thirdwide from a free-kick. Ger Canning gives a shout-out to the Ireland rugby squad watching in New Zealnd as the Dubs' keeper trots back.
Moments later, Alan Brogan gets Dublin off the mark after he combines well his brother Bernard in the corner. Great score.
Dublin 0-02 Kerry 0-01 Well, well. Dublin go ahead and the Hill finds its voice for the first time.
Killian Young was striding out with the ball when Alan Brogan picked his pocket – legally – turned, and popped the ball over the bar. 15 minutes gone.
Who's this Kerry fan, Patrick Cronin, supposed to be?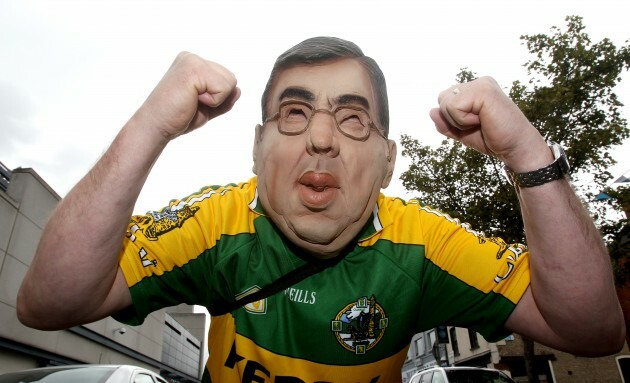 GOAL Kerry 1-01 Dublin 0-02 The first proper bit of football played all day and Kerry score a great goal.
Darran O'Sullivan tore through the centre, laid off a lovely pass to Colm Cooper, and the Kingdom skipper sidefooted it home.Lovely stuff.
Paul Galvin is about to be introduced too it seems.
Dublin 0-03 Kerry 1-01 Bernard Brogan opens his account for the afternoon with a facile kick from a free. Aidan O'Mahoney is booked.
Rory O'Carroll and Declan O'Sullivan then got involved in a bit of a shemozzle off-camera with the result that O'Carroll too draws a yellow. Galvin is on for O'Leary, ladies.
What a save from Kealy. The two Brogans combined again with Bernard ultimately one-on-one with the Kingdom 'keeper. But the danger is snuffed out wonderfully.
Dublin 0-04 Kerry 1-01 Kerry almost grab a second goal. Donaghy plucked a high ball from the sky above the edge of the square, he turned and shot but Cian O'Sullivan blocked it bravely.
Cluxton then goes down the other end and lands a point to level it up. This is starting to get going now.
Dublin 0-05 Kerry 1-01 Bernard's gettin' hot baby. The younger of the Brogans on the pitch takes advantage of a loose Galvin pass to turn over a typically-nice point.
Dublin 0-06 Kerry 1-01 Galvin gives away a cheap free as he takes down Diarmuid Connolly who was driving forward. Is the Finuge man off the pace a little? Bernard Brogan converts the kick on goal.
That's more like it. Galvin kicks his first point since his introduction.
We're in first-half junk time: Bernard Brogan missed a free-kick effort on goal after a mistake by Aidan O'Mahony out on the sideline and then Colm Cooper is left to rue a missed free of his own.
Typically, Kerry would have made that count and went in level at half-time.
As I type, the ref blows the whistle, drawing to a close an intriguing if not a classic first period. Dublin one-point up at the break.
"Dublin have set out a defensive plan and stuck to it, their half forwards doing phenomenal work – it remains to be seen if they can stick to it," says Colm O'Rourke, "Kerry have played their trump card in bringing onPaul Galvin and Pat Gilroy will be very pleased."
Par Spillane reckons Kerry are not prepared for Dublin's intensity. What's your verdict?
The teams are back on – and it's the same personnel that left the pitch earlier, though Donaghy looks a lot closer to the goal.
The GAA tell us the official attendance is 82,300. That's a full house to you and me.
The ref throws it in and we're away. 35 minutes from history, one way or the other.
Dublin 0-08 Kerry 1-02 Bryan Sheehan is booked for a really cynical/clever foul on Michael Dara McAuley on the edge of the square as he headed for goal. Bernard Brogan taps over the point. Bastick adds another as I type.
Dublin 0-08 Kerry 1-04 They haven't gone away you know!
Kerry hit two points in a row – and it could have been worse for Dublin. First Bryan Sheehan stroked over a free, then Donaghy punched over the bar when he could have tried for a green flag.
This is going to be good, one point in it.
Dublin 0-08 Kerry 1-05 Ger Brennan is booked for a hefty tackle on Declan O'Sullivan. He's lucky it's not red.
Colm Cooper converts the free to tie it up again, while a bloodied O'Sullivan receives attention on the line.
Dublin 0-08 Kerry 1-06 Bryan Sheehan puts the Kingdom into the lead with a lovely point after selling a couple of dummies. 50 minutes on the clock.
Dublin 0-09 Kerry 1-06 Bernard Brogan hits another point to make it level again after some confusion and prolonged debate in the gantry. The ref awarded a 13m free for an apparent case of handling the ball on the ground.
Dublin 0-09 Kerry 1-08 Is it slipping away from the Dubs now? Pat Gilroy's inexperienced side are giving away cheap points to a grateful Kerry.
Importantly though, Stephen Cluxton has plucked Bryan Sheehan's latest effort from under his bar. They need to get the next score you feel.
Kerry 1-10 Dublin 0-09 If I may use a technical term, Dublin seem to have lost the head. Colm Cooper has converted the latest of a series of frees to put the breadth of a goal between the sides now.
As I write, the Crokes man adds another from play to bring his tally to a 1-3.
GOAL! Unbelievable. Croke APrk goes nuts thanks to a superb Kevin McMenamin goal. Declan O'Sullivan lost the ball out the field for thosee still interested in technical considerations.
Kevin Nolan levels it up with his first ever senior point.
I had money on the draw in the hurling. Maybe this is the one I should have backed.
Dublin 1-11 Kerry 1-10 Bernard Brogan kicks his sixth point.
Dublin 1-11 Kerry 1-11 A minute left and Kerry are on the attack, a point down. Donaghy took the responsibility and lofted over a great point.
This is it. Cluxton is up for a free-kick to win the Sam Maguire… We're well into injury time.
He puts it over the bar and Dublin are a point up.
DUBLIN ARE ALL-IRELAND CHAMPIONS!
That was incredible. Who scripted that finish?
Stephen Cluxton trotted up, took his time placing the ball, but then flashed it over the bar as if he was out in Parnell Park on a Tuesday night.
Marty's on the pitch with Michael Dara McAuley:
"I don't know what's going on. Unbelievable. Unbelievable. We're going to do it again."
Pat Spillane: "Compliments to Dublin, it's a deserved All-Ireland win. It was a game full of drama, entertainment, talking points, everything that's great about Gaelic football."
The players are in front of the stand for the presentation of Sam to Dublin skipper Bryan Cullen.
"See yiz in Coppers!" roars the Dublin skipper to end his speech. That's Cullen's gold card secured for life.
The Kerry players, meanwhile, look shattered, understandably. Cooper is close to tears while Donaghy watches from the turf. Long trip home this year.
So that's al she wrote. Start queuing for Coppers now, Dublin fans.
I'm going to lie down in a dark room for a little. Keep the comments coming.
What a final.