Hello and welcome to tonight's EFL Cup liveblog.
Here are the teams:
Here's an even simpler graphic for those struggling with Hull's above tweet.
Hull make seven changes from the team that lost to Chelsea, with new recruit Laza Markovic on the bench. It looks like a weak enough selection from Marco Silva but time will tell.
As for United, Jose Mourinho has named what looks like a very strong starting XI. Michael Carrick returns to captain the side and there is no starting spot for Wayne Rooney despite his heroics against Stoke.
United won the first leg 2-0 so are already heavy favourites to play Southampton at Wembley on Sunday, 26 February.
As per usual, feel free to get in touch with us via Facebook, Twitter or the comments section below.
We'll be bringing you through all of tonight's action, which is being screened live on Sky Sports 1.
Remember, away goals will count after extra-time but not a minute before. Kick off is at 7.45pm.
It's been a special day for Mourinho already – the Manchester United boss turns 54 today.
Jose Mourinho, speaking to Sky Sports, says Hull will have to be "perfect" to beat his team tonight.
"Yes we are favourites but yes the game is open. Hull City players have still their hopes and their dreams.
"We have to play to win the match. We cannot be defending a lead. I think the players are really motivated.
"We had a difficult run to get here. We have to be in control and reach the final. It's so important in a club, even one like ours with so many incredible finals and incredible days.
"It's time for [Juan] Mata and [Henrikh] Mkhitaryan to have their rest, for [Jesse] Lingard and [Marcus] Rashford to play, bring their speed and happiness. [Antonio] Valencia also needed a rest.
"Hull have to win but if they are too aggressive, too offensive, they give us chances to score goals. They will try for the perfect match because they need the perfect match to beat us."
Some food for thought, 10 minutes until kick-off.
Just five minutes until kick-off.
17 games unbeaten for Manchester United, will that record continue tonight?
And they're off at the KCOM Stadium.
It's a cold night in Yorkshire, where all of Hull's players will no doubt have Ryan Mason prominent in their thoughts as he begins his recovery from a fractured skull suffered against Chelsea last weekend.
Jan 26th 2017, 7:49 PM
3'
It's been a slow enough start, both teams look happy enough to sit back and ease their way into the game.
Jan 26th 2017, 7:50 PM
5'
Plenty of zip off the surface too.
Jan 26th 2017, 7:52 PM
6'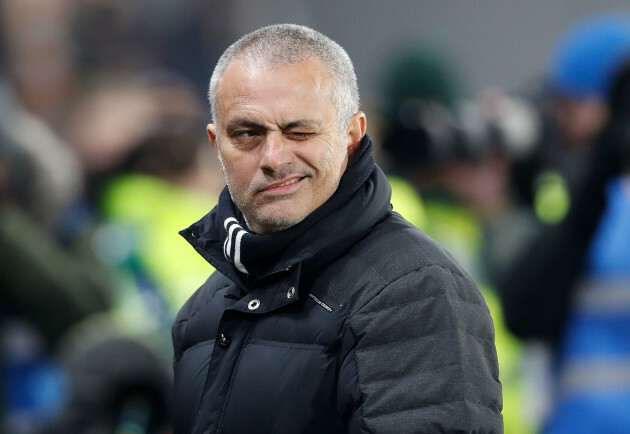 Martin Rickett The birthday boy is in high spirits. Martin Rickett
Jan 26th 2017, 7:53 PM
8'
This has been very slow to get going. Tentative to say the least.
Jan 26th 2017, 7:55 PM
9'
Tymon with the first meaningful adventure forward for the home side, which earns Hull a corner. Maloney's effort falls to Maguire but the defender launches his half-volley soaring into the stands. Oh dear.
Jan 26th 2017, 7:57 PM
12'
United have been very sloppy in possession early doors, they don't look particularly switched on. Perhaps they've drifted off with the boredom?
Phil Jones takes down Niasse on the edge of the area, it's a perfect position for Snodgrass, if only eh?
Clucas takes it and fires it down De Gea's throat and the Spaniard punches clear with ease.
Phil Jones has been booked too for the aforementioned challenge by the way.
Jan 26th 2017, 7:58 PM
12'
United now have their first corner of the game, but predictably, it comes to nothing.
Jan 26th 2017, 7:59 PM
13'
Hull have had 60% of the ball in the opening 13 minutes, which is quite a surprise considering the line-ups selected by both managers.
Jan 26th 2017, 8:00 PM
14'
David Meyler has the unenviable job of marking Rashford — he's already committed one foul against the pacey attacker and will need to be disciplined.
Jan 26th 2017, 8:02 PM
17'
Rojo tries his luck from distance, after some improved build-up play from United, but his effort his deflected wide. Maguire, who impressed for Hull in the first leg, heads clear once more.
Jan 26th 2017, 8:11 PM
25'
Nearly a United chance there but Hull clear it away, again. Quite a few fouls creeping into this but no concrete opportunities as of yet.
Jan 26th 2017, 8:12 PM
29'
Now we're talking, Dawson has a great chance but Smalling makes a great tackle to thwart him. Niasse fires the follow-up at goal but it's straight at De Gea, who deflects it away with his fists.
Jan 26th 2017, 8:13 PM
28'
The Hull fans are in great voice though, and have just had a minute's applause in a show of support for Mason (number 25).
Maloney has a free-kick from just outside the area but sends it well over. This is picking up now with Hull on top.
Jan 26th 2017, 8:19 PM
34'
Better from Hull. Clucas adding good pace to the centre of midfield. Meyler whips in a decent-looking ball into the box but an unchallenged Darmian puts it out for a corner.
Jan 26th 2017, 8:20 PM
34'
PENALTY to Hull. Jon Moss awards a spot-kick to the home side after Maguire goes down.
Jan 26th 2017, 8:20 PM
35'
Hull 1 Man United 0 (Huddlestone '35 pen)
Jan 26th 2017, 8:22 PM
36'
Looking back at the replays it looked a soft penalty, Rojo pulled on Maguire's shirt but he seemed to down easily enough.
Huddlestone dispatches the spot-kick in style, firing low to De Gea's right. Game on, and that's exactly what this tie needed.
Jan 26th 2017, 8:24 PM
39'
GREAT SAVE by Marshall.
Ibrahimovic runs at Dawson who is back-pedalling for all he's worth. The big Swede curls the ball around the centre-half, it's heading towards the bottom right corner but Marshall makes a smart save with his left hand and deflects the effort away for a corner.
Jan 26th 2017, 8:25 PM
40'
Hull are probably fair value for their lead, it must be said.
United aren't really at the races and could probably do with a half-time break to reorganise.
Jan 26th 2017, 8:31 PM
46'
HT: Hull City 1 Manchester United 0 (1-2 on aggregate)
Jan 26th 2017, 8:41 PM
55'
That was pretty poor from United, you'd imagine Mourinho is a very unhappy camper in the dressing-room.
After seeing the team-sheets you would have been forgiven for thinking the result of this was a formality. Not so, it's in the melting pot with the final quarter of this tie to play.
Jan 26th 2017, 8:42 PM
45'+2
Rooney to rescue again? Mata, Mkhitaryan and Fellaini are also on the bench for United so the Portuguese certainly isn't short of options.
Jan 26th 2017, 8:48 PM
45'+6
We're back under way at the KCOM Stadium. No changes to either side.
Jan 26th 2017, 8:49 PM
47'
Good start from United, much more positive.
Pogba goes down in the box and appeals for a penalty but Moss is having none of it and it's a great decision, no contact made at all.
Jan 26th 2017, 8:51 PM
47'
Bit of a stoppage here as Diomande gets treatment on a foot injury. He's now back on the field and looks fit to continue.
Jan 26th 2017, 8:51 PM
49'
Jan 26th 2017, 8:52 PM
49'
Remember United are unbeaten since November, their form line makes for impressive reading – WDWDWDWWWWWWWWWDD
Jan 26th 2017, 8:55 PM
53'
Better from United, they're getting into the groove. Rojo releases Lingard down the left flank with a lovely reverse ball but the winger's cross is cleared wide for a corner. Hull are doing well in the air but struggling to clear their lines and it's now four corners in a row for the visitors.
Jan 26th 2017, 8:56 PM
53'
United are outraged though as Smalling is pushed over in the box by Huddlestone. Moss not having any of it mind.
It would have been soft, but then again so was Hull's in the first half.
Jan 26th 2017, 8:57 PM
54'
Hull finally get a reprieve and are awarded a goal-kick. A bit of afters between Bowen and Rashford but not a whole lot in it.
Jan 26th 2017, 8:59 PM
56'
United are pressing much higher up the pitch in the second half, making Hull's life that bit more difficult.
Jan 26th 2017, 9:01 PM
59'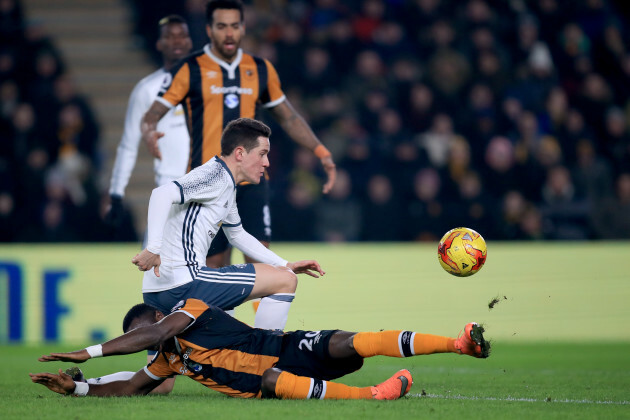 Mike Egerton Manchester United's Ander Herrera runs into Hull City's Adama Diomande. Mike Egerton
Jan 26th 2017, 9:02 PM
59'
New signing Markovic comes on for his Hull debut, replacing Bowen.
Jan 26th 2017, 9:03 PM
61'
30 minutes to go and this tie is well and truly alive.
Jan 26th 2017, 9:06 PM
63'
United nearly catch Hull on the break but Rashford is caught offside after mistiming his run in behind for Lingard's pass.
Jan 26th 2017, 9:07 PM
64'
No sign of a change from Mourinho just yet. But Silva brings on another new signing in Evandro for Maloney.
Jan 26th 2017, 9:08 PM
65'
Hull City 1 Manchester United 1 (Pogba '66)
Jan 26th 2017, 9:10 PM
67'
Carrick, Zlatan and Rashford are all involved in the build-up down the left. The ball falls to Pogba in the area and the world's most expensive player toe-pokes the ball home from 10 yards out.
You'd imagine that will settle the tie.
Jan 26th 2017, 9:12 PM
70'
Silva goes all in and brings on Hernandez for Diomande.
Jan 26th 2017, 9:13 PM
71'
Hull now need three goals to win this, two to force extra-time and they'd need another then as this game now CANNOT go to penalties as away goals would kick in after 180 minutes.
Jan 26th 2017, 9:14 PM
71'
Ibrahimovic seems to be enjoying himself now, pulling out to the left-hand side and showing off his fancy footwork. The United No 9 earns his side yet another corner for his troubles.
Jan 26th 2017, 9:15 PM
73'
OFF THE BAR — Rojo rises highest to meet Lingard's corner but he can only direct the ball on to the top of the crossbar. Good effort from the Argentine.
Jan 26th 2017, 9:21 PM
79'
OFF THE BAR. Anything you can do eh? Niasse rattles Evandro's corner against the woodwork but United survive the scare. Hull are enjoying their best spell in the game for quite some time.
Meanwhile, Rooney is on for Lingard.
Jan 26th 2017, 9:27 PM
85'
Hull City 2 Manchester United 1 (Niasse '85 — 2-3 on aggregate)
Jan 26th 2017, 9:28 PM
86'
Just as this game looked like it was petering out Niasse gives Hull a lifeline with five minutes to go. Excellent work by Meyler in the build-up. Hull just need one more to force extra-time.
Jan 26th 2017, 9:34 PM
90'
Three minutes of additional time at the KCOM. And Fellaini is on for Rashford.
Jan 26th 2017, 9:36 PM
90'+3
FT: Hull City 2 Manchester United 1 (2-3 on agg)
Jan 26th 2017, 9:47 PM
90'+12
Thanks for joining us for tonight's liveblog. Report and reaction to follow.
The42 is on Instagram! Tap the button below on your phone to follow us!
Exclusive Six
Nations Analysis
Get Murray Kinsella's exclusive analysis of Ireland's Six Nations campaign this spring
Become a Member