Liveblog
Here are the panels for tonight's game:
Ireland: Michael Murphy (Donegal, c), Aidan Walsh (Cork, vc), Paddy O' Rourke (Meath), Colm Begley (Laois), Colm Boyle (Mayo), Ciaran Byrne (Louth), Sean Cavanagh (Tyrone), Paul Conroy (Galway), Paul Flynn (Dublin), Finian Hanley (Galway), Lee Keegan (Mayo), Ciaran Kilkenny (Dublin), Paddy McBrearty (Donegal), Jack McCaffrey (Dublin), Neil McGee (Donegal), Chrissy McKaigue (Derry), Kevin McLoughlin (Mayo), Conor McManus (Monaghan), Ross Munnelly (Laois), Aidan O'Shea (Mayo), Ciarán Sheehan (Cork), Michael Shields (Cork), Zach Tuohy (Carlton & Laois).
Australia: Tony Armstrong (Sydney Swans), Dominic Barry (Melbourne), Eddie Betts (Carlton), Aaron Davey (Melbourne), Alwyn Davey (Essendon), Shaun Edwards (GWS), Jarod Harbrow (Gold Coast), Lance Franklin (Sydney Swans), Cameron Ellis-Yolmen (Adelaide), Josh Hill (West Coast), Leroy Jetta (Essendon), Lewis Jetta (Sydney Swans), Nathan Lovett-Murray (Essendon), Ash McGrath (Brisbane), Jake Neade (Port Adelaide), Steven Motlop (Geelong), Sharrod Wellingham (West Coast), Daniel Wells (North Melbourne), Chris Yarran (Carlton), Mathew Stokes (Geelong), Lindsay Thomas (North Melbourne).
In case, you're confused about the rules or any other element of today's game, you'll find all you need to know about it here.
In case you missed it earlier on the site, here's a look back at the most infamous meeting between the sides in recent years.

YouTube credit: smili72
The national anthems have been played and we're almost set to go…
Here's the one crucial point to remember before we start…
A goal (in the net) is worth six points. An over (over the bar between the large posts) is worth three. A behind (between the small posts on either side of the goal) is worth one.
Ireland 3-0 Australia: Michael Murphy gives the Irish the lead, slotting it over the posts without any undue difficulty (1 mins).
Good start for Ireland…
Ireland 7-3 Australia: Ross Munnelly adds to Ireland's lead on just his second cap.
It curls away from the central post at the last minute , so Ireland have to settle for a behind.
Australia then finally get off the mark, before Murphy registers his second over of the game (5 mins).
Ireland have undoubtedly looked the better of the two teams early on.
They're not allowing their opponents to settle on the ball at all.
Ireland 7-4 Australia: Australia register their first behind of the evening.
It's the first score of the game in almost five minutes (9 mins).
Ireland 13-4 Australia: Ross Munnelly extends Ireland's advantage with a free that the goalkeeper gets his fingertips to, but can't stop going over.
Munnelly then sets up Colm Begley to widen the gap between the teams even further (13 mins).
Ireland 16-4 Australia: Munnelly is on target again with another free.
Ireland are well on top and Munnelly, in particular, is having a fantastic game (14 mins).
Ireland 17-4 Australia: Conor McManus does well to strug off a tackler but his attempt drifts away from the central posts for a behind (17 mins). That's his first-ever point in International Rules.
That's the end of the first quarter. Only one team has shown up so far.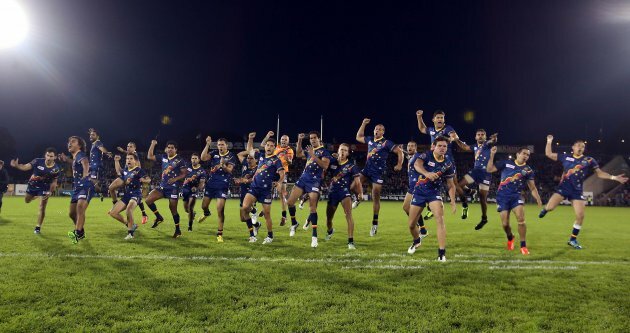 (The Australia team perform a War Cry in front of the Ireland team before the start of the game – INPHO/Donall Farmer)
The second quarter has begun…
Ireland 18-5 Australia: Steven Motlop gets the first score of the half, registering a behind, before Jack McCaffrey does likwise (20 mins).
The Aussies have adopted a man-to-man marking defence in an attempt to change things in the second half.
Slightly wasteful from Jack McCaffrey, who bursts forward with pace, before hitting his attempt wide, when he surely would have been better off passing.
Ireland are still dominant despite those Australian changes at the break.
Ireland register another wide. The hosts could even be further ahead had their finishing been better.
At the moment, Ireland are winning far more kick-outs than their opponents and Australia are being pinned back into their own half as a result.
As I type, Lewis Jetta concedes possession during a rare promising attack for the visitors which encapsulates their ineptitude in attack.
Ireland 24-9 Australia: Colm Begley is played through but carries the ball slightly too far, wasting a good goal chance in the process.
Australia then register an over, before Aidan O'Shea slots over a free to get their first over of the half.
Shortly thereafter, Lyndsay Thomas hits Australia's first over of the quarter, before Ciaran Byrne restores Ireland's advantage (30 mins).
Ireland 28-9 Australia: Sean Cavanagh slots a free between the posts for his second over of the game (34 mins).
The sheert dominance of the Irish is surprising, especially as many people considered Australia favourites for this encounter.
And that's the end of the second quarter…
Ireland have a 19-point lead at the break, with the score at 28-9.
Tadgh Kennelly tells Newstalk the Australians "aren't doing the basics well".
He adds that Buddy Franklin is the only Australia player "showing a bit of intensity".
Another great pic from before the start of the game…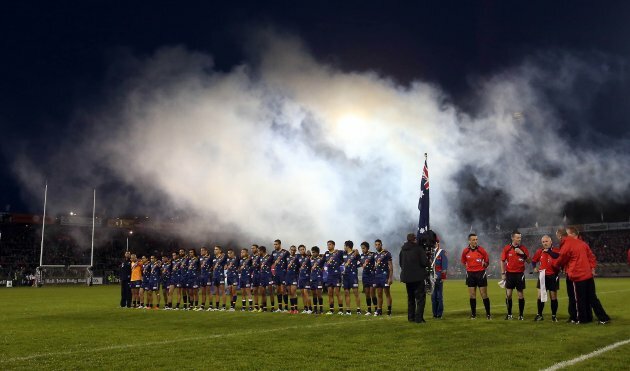 (INPHO/Donall Farmer)
Ross Munnelly and Jack McCaffrey have been among the standout players so far for Ireland.
They got a bit sloppy in the second quarter, after an outstanding first period, so it's been far from a flawless performance — the Australians have just been so poor that they can afford to be somewhat lax every now and then.
The third quarter is underway…
Ireland 32-9 Australia: The visitors were out on the pitch a good three minutes before the start of the second half.
Yet Ciaran Byrne gets his second score of the night, hitting a behind from a free
Paul Flynn then gets a well-taken over. Another great start to the the half for Ireland (39 mins).
Ireland 32 -12 Australia: Steven Motlop stems the Irish onslaught temporarily at least.
That's just Australia's third over of the game (41 mins).
Sean Cavanagh has arguably Ireland's best goal chance of the game, but the Australian goalkeeper makes a great save.
At this early stage, it already looks as if Ireland have the game well won.
Ireland 32 -14 Australia: Finally the Australians show some urgency to narrow the gap in the score.
They register two consecutive behinds, but need to be more consistently efficient in attack if they are to even put a respectable veneer in the scoreline.
Ireland 39-14 Australia: Zach Tuohy bursts through the midfield.
He has options left and right, but backs himself, and it pays off, as he slots the ball into the top corner coolly.
Ciarán Sheehan adds to Australia's misery by adding a behind (49 mins).
Ireland 39-26: Australia: Substitute Jake Neade capitalises after Ireland fail to clear their lines to give Australia a much-needed six points.
Lewis Jetta and Buddy Franlkin then add an over each — much better from the Australians who are finally playing with a bit of confidence (54 mins).
Australia have taken 12 points in the last five minutes. Is the comeback on?
That's the end of the third quarter as Ireland lead Australia 39-27.
Australia have come to life, and it's Ireland who are reeling now.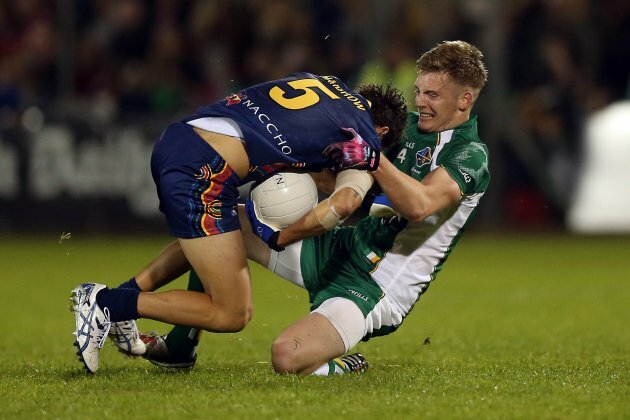 (Jarrod Harbrow of Australia with Ciaran Byrne of Ireland - INPHO/Donall Farmer)
Ireland 39-28 Australia: Lance Franklin scores a behind, as Australia continue to improve.
Meanwhile, Aidan Walsh has suffered a bad injury and is stretchered off the field (57 mins).
Ireland 40-31 Australia: Incredible miss from the Australia player wh0 hits the bar from about five yards out. Pure comedy!
Mathew Stokes, however, gets an over to bring Australia closer still to Ireland's lead.
Michael Murphy then gets a behind — Ireland's first score of the quarter (61 mins).
It's as if Ireland almost decided to park the bus and go all-out defence after Tuohy got that goal.
They have been almost as poor as the Australians had previously been for the last few minutes.
Ireland 43-32 Australia: Ciaran Sheehan gets a well-taken score to give Ireland an 11-point lead.
Better from Ireland! (67 mins)
Ireland 49-32 Australia: The ball falls fortuitously to Kevin McLoughlin and he makes no mistake, finding the top corner.
Game over (69 mins).
Ireland will be slightly disappointed that they haven't won this game by more given how dominant they were early on.
Australia still have a chance to win the overall series next week due to their lack of ruthlessness.
Ireland 54-35 Australia: Leroy Jetta hits an over for Australia, before Paul Conroy gets a behind.
Colm Boyle then adds another over for Ireland with a calmly taken free to put further daylight between the sides (72 mins).
Ireland 57-35 Australia: Conor McManus gets another score (though the Australians are claiming it was wide).
Ireland have kicked seven of the last eight scores, as the hosts finish as strongly as they started (74 mins).
FULL-TIME: IRELAND 57-35 AUSTRALIA
So that's that. Ireland overcome Australia with a score that's probably a fair reflection on how the match panned out.
The visitors rallied in the third quarter, after Ireland dominated the first half. Nevertheless, Paul Earley's side stepped it up late on to secure an emphatic victory.
Only the most optimistic of Australia fans will give them a chance at Croke Park next week.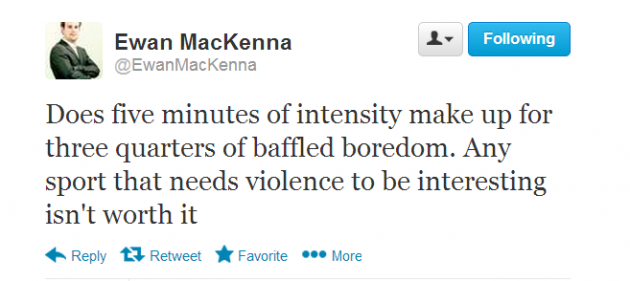 Sean Cavanagh tells Newstalk it took a while for Australia to "settle down".
Cavanagh admits Australia "controlled the game" in the third quarter.
He says it took Australia a while to "get used to the ball" and calls them a "proud bunch".
He also predicts next week's game will be a lot tougher and explains that their war cry was "a great novelty".
Right, that's all from me. Thanks for reading and commenting.
We'll be back next week, liveblogging the second test at Croke Park.
Contribute to this story: