IT WAS FINALLY HERE. Today signalled the start of the track & field and we were ready for day seven of the London Olympics.
As always, we'd love you to send us your thoughts and comments on all the action.
E-mail us at sport@thescore.ie, tweet us @thescore_ie, post to our Facebook wall or leave a comment below.
Who's up for some athletics then?
Ben Blake here, it's the first day of track and field and already they're up and running at Olympic Park. From an Irish point of view, it's yet another busy day and first up is Joanne Cuddihy in the 400m heat at around midday.
The rest of the day looks something like this:
Equestrian: Anna Merveldt is the only Irish athlete competing in Equestrian today, and she features in the Individual dressage at 11am.
Sailing: Annalise Murphy, who has been having a stormer, participates in the women's laser radial at 1.30pm, and Peter O'Leary and David Burrows begin at 12.10pm the Men's Star. Ger Owens and Scott Flanigan are competing at 1.40pm in the Men's 470 Race 4, while Ryan Seaton and Matt McGovern start in the Men's 49er at 1.30pm. James Espey, meanwhile, competes in the Men's Laser, which starts at 12pm.
Athletics: Cuddihy flies the flag first, while Ciarán Ó Lionaird (8.05pm) and Fionnula Britton (9.25pm) are both competing in the 1,500m Heat and the 10,000m Final respectively.
Boxing: In the men's flyweight, Michael Conlon's bout with Duke Micah of Ghana is at 8.45pm and Adam Nolan fights Russia's Andrey Zamkovoy around 9.45pm.
In the heptathlon, Team GB's Jessica Ennis has got off to an unbelievable start in the 100m hurdles.
Roared on by the home crowd, her time of 12.54 in Heat 5 is the fastest ever in a heptathlon – a world best, as opposed to a world record.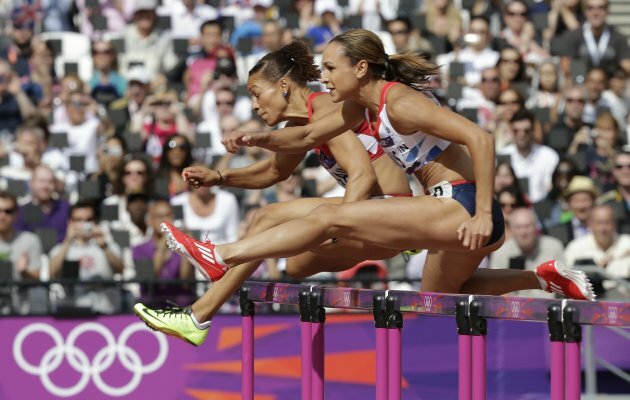 Ennis clears a hurdle. Credit: David J. Phillip/AP/Press Association Images
TheScore's resident expert Ailis McSweeney has given us her thoughts on how she feels the Irish athletes will get on in their respective events. She is backing Cuddihy to secure the third automatic qualifiying spot in her heat.
Our man Will Downing from inside the stadium:
The Olympic Stadium is full and I've never seen that for a morning session before. Already we've had our first world record, of sorts. Jessica Ennis with the fastest 100m hurdles in a heptathalon – 12.54 which is officially a world best."
The men's 100m final, which pits Usain Bolt against his training partner Yohan Blake, is this Sunday and former Olympic champion Maurice Greene is backing Blake to upstage the defending gold medallist.
I'm going to put my money on Yohan Blake," Greene said. "I believe technically his race is better than everybody else out there, so it has allowed him to win. Usain (Bolt) has been having problems technically with his race for the last two years and he hasn't been able to fix them yet, so I can't put my money on him."
And there's Ailis on RTE Two now…
The men's 400m hurdles heats are underway and one athlete to have booked his place in the semi-finals is Mozambique's Kurt Couto, who many have been calling a look-a-like for Chelsea defender Ashley Cole.
Do you see it?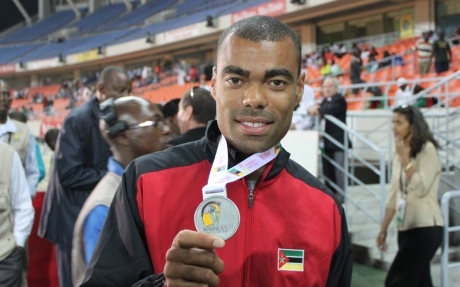 Credit: Twitter
Team GB's Dai Greene is also safely into the semis after an assured run in Heat 3, which he wins in a time of 48.98.
GOLD – Germany have won the men's rowing quadruple sculls final – beating favourites Croatia, who take silver, and third-placed bronze.
Read about Jessica Ennis here:
BRITAIN'S OLYMPIC DARLING Jessica Ennis clocked the fastest ever time for a heptathlete in the 100m hurdles on the opening day of athletics this morning.

Ennis, the current world silver medallist, timed a scorching personal best and new British record of 12.54sec in brilliant sunshine in front of an 80,000-capacity crowd at the Olympic Stadium.
#Team Ireland About 12 minutes to go before Kilkenny's Joanne Cuddihy takes to the track in the 400m. She's in Heat 1 so stick on the kettle.

David Gillick in the RTE studio giving insight into how the track at Olympic Stadium is a fast one. Cuddihy, up against defending champion Christine Ohuruogu and Francena McCorory of the Team USA, will be hoping to qualify with a top-three finish. Just minutes away now.
Here we go then… Cuddihy in Lane 4.
Joanne Cuddihy finishes fourth – Strong first 200m from Cuddihy but she dies near the end and is pipped to the line by Kenya's Joy Sakari. She finishes fourth in a time of 52.09 and will have a nervy wait now as it is the first three in each heat along with the three fastest losers who qualify.
As expected, McCorory and Ohuruogu take the first two spots.
After a beautiful morning, the rain is now pouring down in East London. Cuddihy remains the fastest loser after three heats as Alianna Pompey of Guyana (52.10) and Nigeria's Omolara Omotosho (52.11) finish fourth in slower times.
Four still to go, however.
GOLD – New Zealand's Eric Murray and Hamish Bond have won the final of the men's rowing pair, with France and Great Britain in second and third.
Read about the Saudi Arabia's first ever female athlete:
SAUDI ARABIAN judoka Wojdan Shaherkani became the first ever female Saudi athlete to compete at the Olympic Games today, but her historic debut lasted just 82 seconds.

Looking nervous and wearing a swimming cap-style head covering, she was beaten by Melissa Mojica of Puerto Rico in the first round of the women's over-78kg category.
Russia's Antoninan Krivoshapka runs a tremendous race to win Heat 5 by some margin.
With two heats remaining, Cuddihy is looking good as she still holds the fastest losing time.
GOLD – Belarusian competitor Sergei Martynov wins gold in the men's 50m rifle prone, setting a new world record score with a score of 705.5.
In rowing, Team GB pair Anna Watkins and Katherine Grainger take the women's double sculls and Maje Drysdale of New Zealand wins the men's rowing single sculls.
Phew, Cuddihy qualifies for semis! Cuddihy has been chatting to our man Will Downing and was obviously disappointed with her performance: "It wasn't intended to be such a suicide mission."
She will have the chance to make up for it, however, as her time of 52.09 is quick enough to earn her a spot in the semi-finals as the second fastest loser. That will take place tomorrow.
Our sailors are out on the water again today and James Espey (Laser) finishes 27th in his first race. Owen and Flanigan are 22th after Mark 3 and after Mark 1, O'Leary and Burrows are ninth.
We accept that product placement goes on in sport, but US gymnastics gold medallist Gabriel Douglas has gone too far here.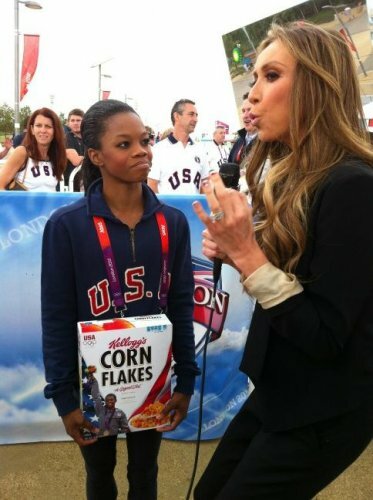 "Oh, hi Giuliana… you've just caught me on the way back from the shops."
Credit: USA Gymnastics
O'Leary and Burrows have recorded a 12th place finish in Race 9 of the star class. Owens and Flanigan, meanwhile, come in 24th place.
Annalise Murphy, currently ranked first in the women's laser radial after six races, is about to start Race 7, while Seaton and McGovern will also begin in the next few minutes.
Defending champion Brimin Kiprop Kipruto of Kenya is safely through to the finals of the men's 3000m steeplechase after a winning time of 8:28.62.
'Ello, 'ello, 'ello. Sean Farrell here to let Ben take a well-earned rest from watching events across the water.
Another man resting up, taking in some top class sport…
By-the-by: That match is currently locked 4-4, Federer on serve has just saved a break point. We'll keep our eyes peeled, it could be a cracker if Fed is not at his best.
In the heptathlon, Jessica Ennis, has failed to make it over 1.89 in the high jump. She'll be pleased with her days work, especially after seeing Hyleas Fountain also dislodge the bar.
Lithuanian, Austra Skujyte did manage to clear and then went on to clear 1.92. Her run-up looks laboured right until the moment of take-off, then she's majestic.
Yana Maksimava next up… and she comes up short.
Katarina Johnson-Thomson is fast becoming a darling of the home crowd. She has cleared 1.89 for a new PB, but failed to cross 1.92 on her first attempt. Two to go.
Never before have the opening stages of a heptathlon commanded so much attention. 80,000 people are rooted to their seats to cheer Johnson-Thompson on, but (after two attempts) Skujyte remains the only one to clear that height.
Seconds before 19-year-old Johnson-Thompson hits the bar on her third and final attempt, Ennis was speaking to the Beeb and said her own 1.86 'wasn't bad'. She'll be happier with her world's best performance over hurdles. Plenty more events to come in this competition.
Whoa. It seemed, that my update of 4-4 was in the second set. Del Potro had taken the first meaning Fed was on the rack.
He now leads in the second set tie-break, so we expect him to march on from here.
Indeed, Big Rog won won that second set decider and it's all to play for in set three.
Over in Weymouth Ryan Seaton and Matt McGovern seem to be slipping out of contention of the 49er class race. They began the day in ninth place and sit 16th in the first race of the day. They go out twice more today (races 10 and 11 of 15) so lets hope they improve that position ahead of the rest-day tomorrow.
Annalise Murphy is also in action. It's early days in her race yet, but she's winning again! First overall, remember, after six races.
The latest update from Murphy's brother (who is manning her twitter feed expertly) is that Annalise is breaking clear of the field with second and third in close pursuit. Thrilling races, these.
In the 49er, Seaton and McGovern have ended race nine (their first of the day) in 14th, a result which pushes them down to 11th place overall.
XU Lijia has just taken the lead from Murphy, but she's still well-clear of third.
BBC have turned their attention to Judo where the women's, ahem, heavyweight semi-final is unfolding. These girls are scary.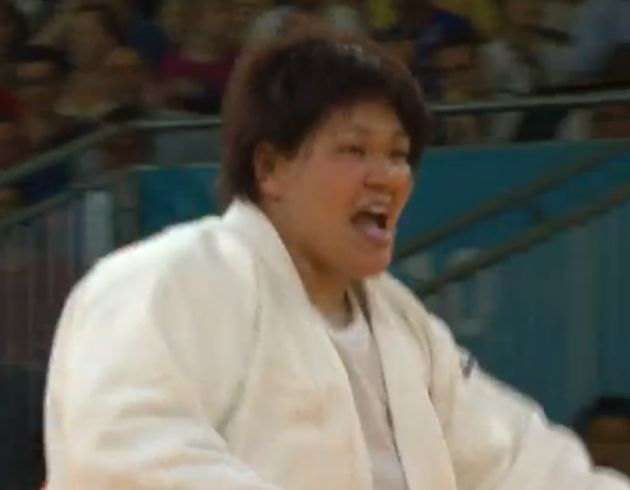 That pic is of Yuka Sugimoto, the world number one who takes her place in the final after beating GB's taller Karina Bryant.
Here's big brother with the latest on Ireland's Olympic heroine:
What I failed to mention earlier is that Team GB current occupy first and third place after the opening events. Jessica Ennis and Katarina Johnson-Thompson on 2249 and 2146 points respectively. Separating them; American Hyleas Fountain on 2224.
In Wimbledon, Juan Martin is not letting the Fed-express go. He has pushed the world number one every step of the way in the third set and leads 7-6. Hold onto your hats…
This one could run and run Federer has just served his way to 7-7. Did someone ask for an epic? We've just switch on our Swiss TV feed and will let you know how it unfolds.
Back to Weymouth and Annalise Murphy has indeed finished second in her Laser Radial race seven. A result which further extends her lead over belgium's Evi van Acker who came in eighth.
We're now up to 8-8 in the third set of Federer v Del Potro, Federer leads 30-0 on the Argentine's serve.
Del Potro took four points in a row to pulled it back to 30-30 and then go a game up. Federer serving to stay in the game now, 9-8 to Del Potro.
Over in the Judo house (is that what it's called?) Katrina Bryant has won the third-place heavyweight play-off with an Ippon, taking bronze for GB.
hot on the heels of BBC's Judo coverage is their live feed of horse dancin.. sorry, dressage.
As it turns out, not only is Gary Neville not a fan, he appears to endorse some brand of corporal punishment to stamp it out altogether. Easy, Gaz.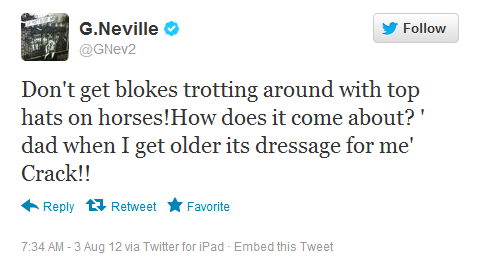 As Gary Neville might say: 'UN- BEE-LIEVABLE!' Federer and Del Potro have traded breaks.
The Swiss must have thought that moving 10-9 in front was game over. JMDP had other ideas, 10-10.
We've moved to 11-11 in Wimbledon.
Annalise Murphy is back on the water. She hasn't enjoyed the best start, though. Currently residing in 12th. What makes it bad news is the position of Evi Van Ecker. If the Belgian can hold onto second she will move ahead of Murphy in the overall standings.
Sneaking under the radar a little earlier were Peter O'Leary and David Burrows. The Star class duo came in seventh in their 10th and final qualification race today.
They will begin Sunday's medal race in ninth place, but by our count an actual medal will be out of reach.
RTE turned attention to some serious cool bouncing up and down action…. Who knew that trampolining could be such a divisive issue.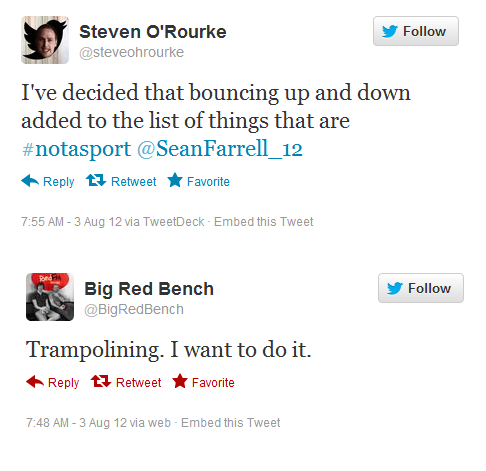 Still no breakthrough in Wimbledon, it's 13-13. We zoned out a little from SW19 an hour ago, but we hear that Federer has been unable to sustain pressure on JMDP's serve.
For the love of Fred Perry… Federer again looked to have made a decisive step, but with two break points allowed Del Potro come back from 40-15 down to take the 29th game of this final set. 15-14 to the Argentine.
Back to the real action in Weymouth and Annalise Murphy has had a storming second half of race eight, moving from 16th up to fourth (according to her brother). Officially she's currently ninth. With Van Acker leading this result would move the Belgian level at the summit.
Come on, Annalise.!
Gintare Scheidt (don't say that out loud in front of the kids) in seventh looks to be the realistic target for Murphy in the closing stages. The top six are over 20 seconds ahead.
Nearing the finish now, Murphy has slipped down to 10th. Van Acker looks like she'll hold onto the lead, so she will take over first place overall with tomorrow bringing the final two races in qualification for Monday's medal race.
And there it is, the final whistle , Foghorn, whatever they use in sailing. Murphy has held onto 10th, but Evi Van Acker has indeed taken over at the summit. One point ahead of the Irish sailor.
TheScore's own Niall Kelly thought he had a day off today. Plans ruined.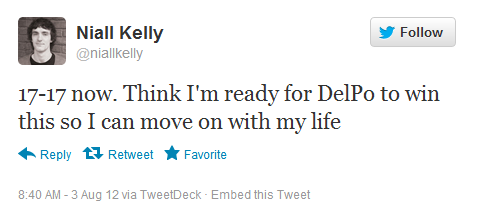 … but hold on, it appears Kelly has put the jinx upon the pride of Argentina. Federer has broke and is now serving to take the third set 19-17.
30-30, can Federer close it out?
Finally!
Del Potro's errors count against him and an advantage down, the Argentine cannot muster the strenght to lift his return over the net cord.
I feel like I've written this sentence before (probably because I was also live-blogging Tsonga v Raonic) but: after three sets, 266 minutes and a marathon 36 games in the final set, Switzerland's Roger Federer is through to the Olympic final.
Well done, tennis. Well done.
RVP knows the score…
Right, we've caught out breath. We're in that time of the day when it's just an intsy, wintsy bit quieter than the rest. All building up toward another massive night of swimming. Let's go for a little jog around the Olympic Park and see what's on, shall we?
No? Nobody wants to break into a sweat? And these athletes call themselves inspirational.
In the Basketball Arena, Turkey's women currently lead China 39-27. A quick look at the stat sheet tells me that Nevriye Yilmaz is having a stormer with six points, one assist and five rebounds. They're in the third quarter.
At the velodrome: the women's team pursuit is going through qualification. An Olympic record has gone to the Netherlands. They currently top the standings, but Germany, the USA, Team GB and Australia haven't had a spin yet.
We'll stick with the women's team pursuit for a while, so. It's live and this is a live-blog after all.
We've just watched Canada and the US, go out and overtake the Netherlands. Three countries remain, each one features a Union Jack in their flag.
Here go Australia… I'll take this chance to mention that the velodrome appears to cough out an Olympic Record symbol for any old time.
The Aussie girls ride in with 3:19.7, it's enough to put them in second.
Team GB have continued their country's unbelievable revolution on two wheels by taking a clear lead at the velodrome.
They've completed the 3km pursuit in 3:15.669. A new world record.
Earlier today, we thought Katarina Johnson-Thompson might have stolen some of Jessica Ennis' limelight. Not so.
Credit: @WillDowningComm
Even the world-record smashing sprint-squad won't dislodge her from tomorrow's rags, I reckon.
This event is much more exciting. The women's Keirin is on track now – a proper race as opposed to a time-trial.
Britain's medal hope Victoria Pendleton storms to victory.
Holy aero-dynamics!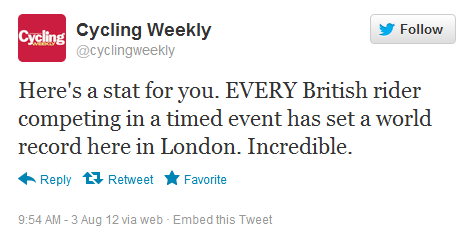 Here's the big battle in the men's team pursuit. The final: GB v Australia. The velodrome goes wild…
GB leading by half a second or so. The crowd really are in a frenzy, urging the Aussies to slow down.
Team GB take the gold! A commanding performance where the led from the off and won in a time of 3:51.659.
Amazing, yet another world record for British cyclists.
Next up is the women's Keirin where Victoria Pendleton will pit her pedals against arch-rival Anna Meares.
Kobe Bryant is doing the rounds today. Earlier he was in Wimbledon to watch the longest tennis match in Olympic history and he's just shown up in time for God Save the Queen at the velodrome's medal ceremony. That's seven gold medals for GB now.
Here goes the Keirin and Victoria Pendleton is coasting in the middle of the pack.
Gold for Pendleton. She went hard with two laps to go and held off Guo of China in the final dart for the line. Excellent stuff and it more than makes up for his team disqualification yesterday. The referees study the videos and … it's all good.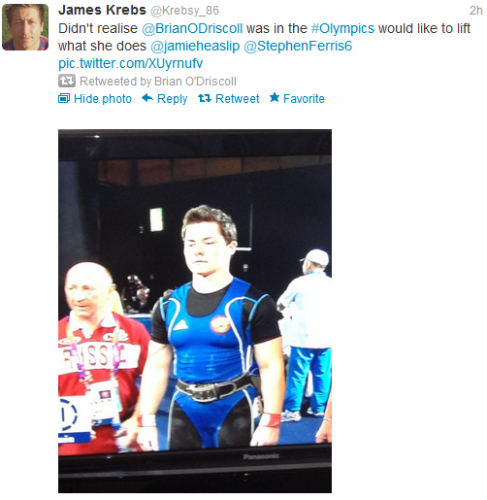 'Drico' will not like this.
Bradley Wiggins tells BBC's Radio Five Live:
Vicky rises to the occasion. She pulls it out when she needs to. To pull out a performance like that in what isn't her strongest event is phenomenal.
As for Pendleton:
(My coach) said 'don't look for their race just go for your own'. I wanted to really show with I got. I'm really looking forward to the sprint. I'm going to take confidence from this race into tomorrow.
Team GB are now up to third overall in the medal table. The sheer amount of golds are helping. Poor Japan keep getting landed with the bronze. What would Ireland give for a bit of bronze in this gloomy summer?
Oh, by the way. It is Patrick McCarry here and I have been quietly with you since the start of that Keirin race. If you have noticed the writing/reporting standards drop since Sean signed off around 7pm, you're welcome.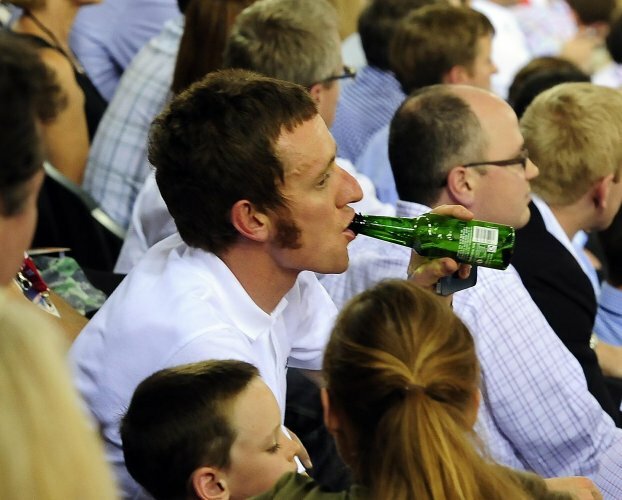 Much deserved for B Wiggins. (John Giles/PA Wire)
Andy Murray, who smacked himself repeatedly on the forward about two minutes ago, breaks Novak Djokovic to win the first set 7-5.
USA are through to the Women's Football semi-finals after beating New Zealand 2-0. Abby Wambach netted her fourth goal of the tournament in the win.
Dong Dong of China won Gold in the Men's Trampoline earlier. When I told a friend about that he said some rude about the Olympics being a farce. I would like to see him pull off a quadruple twist and land it perfectly.
Here we go with the swimming at the Aquatics Centre. Missy Franklin against Elizabeth Beisel and Kirsty Coventry in the backstroke.
Missy Franklin wins the Women's 200m Backstroke Final for Gold and she shatters the world record in the process. Never in doubt. After Phelps and Lochte did great but not fantastic (and they are not finished yet) this is the star the United States have been waiting for.
Her time of 2:04.06 is too good for Anastasia Sueva and her compatriot Elizabeth Beisel.
"I've been working hard on my backstroke," declares a cheery Franklin to BBC. She adds that she hopes she has done everyone in Colorado proud. I reckon so.
Le Clos shoots off but Cavic leads in the 100m Butterfly.
… but Michael Phelps finishes like a Michael Phelps to win yet another Gold. No surprise, he has not swam in almost 24 hours. Chad Le Clos is joint-second with Evgeny Korotyshkin of Russia (they both finish with a time of 51.44).
Rebecca Adlington, the darling of British swimming, goes in the Women's 800m Freestyle.
It's Ledecky (US), Friis (Den) and Adlington (GB) after 200m …
While the race is going on, I thought I would give this – from Three Rock Orienteering Club - a mention:
For the four Tuesday evenings of August, we are organising a novice orienteering league in Dublin's Phoenix Park. On each of the four evenings, 3km and 6km courses are on offer (with 6.30-7.30pm starts).

If you're not great with a map , don't worry – we'll provide a crash course. Families, novices, club runners, scouts, adventure racers and hill walkers/runners are all welcome. First night is Tuesday, 7 August with registration at the Papal Cross car park. Starts on other nights are from the Furry Glen (Aug 14), Magazine Fort (Aug 21) and Furze Road (Aug 28).

Groups are welcome – just let us know so we can have enough maps prepared. Entry is €5 or €2 for children, with all funds from the first night going to the DeafHear charity. More info at www.3roc.net, www.orienteering.ie.
Adlington is second but three seconds behind Ledecky, who is ahead of world record pace. Two lengths to go.
Katie Ledecky of the USA wins Gold! She drops back from WR time but still wins by a distance. Adlington is the bronze medallist and physically spent. "That was so painful," she tells Sharon Davies. Belmonte Garcia of Spain gets silver.
Here's Ian Thorpe, who is starting to win me over as a pundit, on Katie Ledecky, the 15-year-old gold medal winner from the USA:
We didn't know much about her before the games. That speed at the start may have shocked Becky (Adlington) … If we are talking within a year, Ledecky has dropped 20 seconds.
Thorpe reasons that these young swimmers are growing and developing all the time and there should be no 'us and them' accusations about Ledecky or, far that matter, Ye Shiwen of China. What do you think, does the Aussie have a point?
Another Gold Medal for France at the Aquatics Centre and Florent Manaudou wins the Men's 50m Freestyle. He shocks Cullen Jones of the USA to take top spot. The French have been the surprise packages in the pool at London 2012.
Team GB, under Hope Powell, are losing 2-0 against Canada in the Women's Football. Big half-time talk needed in the home dressing room. Andy Murray is tied 5-5 with Novak Djokovic in his semi-final. He is shouting away like a truculent school-boy and pointing at a towel less than two feet away from him to be lifted near his grasp so he can mop his brow.
I blame Greg Rusedski for that annoying practice.
Elizabeth Simmonds of Great Britain reacts to her fourth place finish in the Women's 200m Backstroke Final: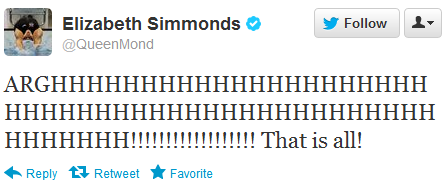 Ciaran O'Lionaird is off in the Men's 1,500m heats at Olympic Park.
O'Lionaird is second to last as the bell rings for the final lap. Nicholas Willis of New Zealand leads.
O'Lionaird will not advance to the semi-finals as he finishes over eight seconds back from the Kiwi heat winner, Willis. His season has been hampered by illness and he immediately bends to support himself on his knees as he drags himself over the finishing line. Ireland's athletics team loses its first member.
Andy Murrays beats Novak Djokovic 7-5, 7-5 to reach the gold medal final, at Wimbledon on Sunday, against Roger Federer. Great effort from the Scot/GBer.
Michael Conlan up next in the boxing. Ireland's day has been so-so but Conlan could lift spirits with a debut Olympics win.
Tears for Murray again but this time they were tears of joy. Well done.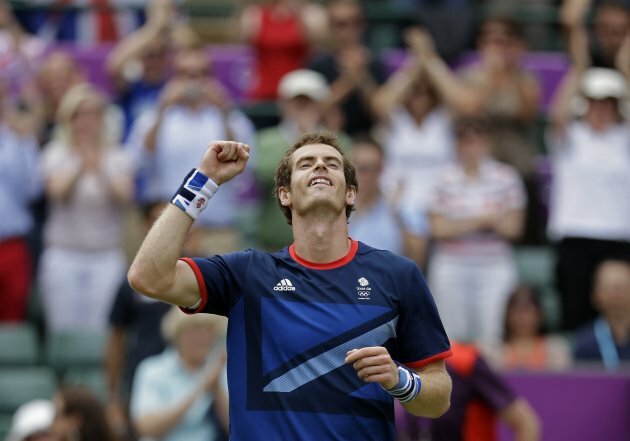 Murray plays Federer in the final on Sunday. (AP Photo/Mark Humphrey)
Conlan from Belfast in the ring now and ready to fight Duke Micah of Ghana. Here we go.
Conlan is three points ahead at the end of the first round. Jimmy Magee must have heard some the criticism about his storytelling commentary style as he gets more technical on his Round 1 analysis. 5-2 Conlan.
Conlan 12-5 up after winning Round 2 by seven points to three. Bill Walsh knows he is on top and his advice for the last round is 'jab, jab, jab'.
Michael Conlan, the young boxer from the St John Bosco Club, gets the win and advances to the quarter-finals. One win away from a medal. His final, winning scoreline was 19-8. Emphatic victory – masterclass.
Michael Conlan has just left the tarmac on his journey to the boxing skies!
- Jimmy Magee, book him on a 2016 plane to Rio now.
"He was having fun out there," says Bernard Dunne.
Adrian Edward Zielinski of Poland gets Gold. He takes the 85kg weightlifting title after lifting a total of 385kg and nearly popping every vein in his head in the process.
Next Irish action for you will be Fionnuala Britton in the Women's 10,000m Final. That starts at 9.25pm.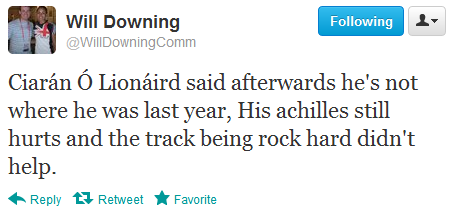 Another unfortunate tale of an injury-hampered Irish Olympian.
Conlan will face French boxer Nordine Oubaali of France in the quarter-final. The Frenchman has a nose like former Sunderland manager Steve Bruce but can he rattle in goals 37 minutes into Fergie Time?
Ciaran O'Lionaird says he can't wait to get out of the Olympic Village. Speaking to RTE after his disappointing 1,500m heat he says 'I'm getting away from it. I've had enough'.
He explains that his Achilles' injury made it like 'running on a flat tyre'. He looks like he is done with running for good as he struggles to contain his emotions. 'Maybe it is time to re-assess and find something else to do with my life'. He adds that he has a Masters to finish at Florida State University but flying out of London tomorrow is his number one priority.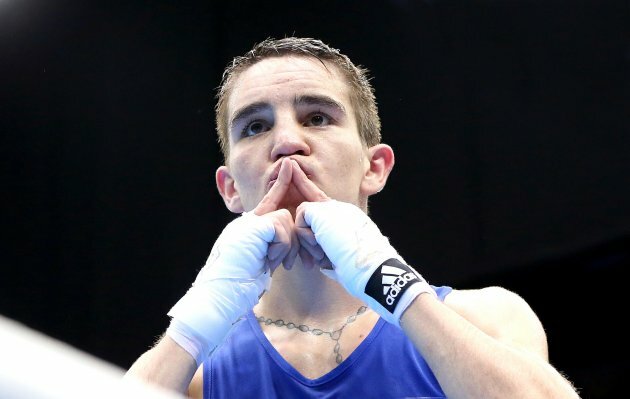 Michael Conlan: A new boxing star emerges. (©INPHO/Dan Sheridan)
Let's be having ya Fionnuala Britton! Here goes the 1,500m Women's Final.
Julia Bleasdale and Jo Pavey are the favourites. Britton fourth place after two laps. Our very own track & field expert, Ailis McSweeney says a Top 12 finish is her main hope.
Big shock in the Men's Long Jump as defending champion Irving Saladino waves a disastrous goodbye to his Olympic title. The Panamanian failed to qualify for the final after getting red-flagged three times in a row.
19 laps to go and Britton and her three Japanese breakaway buddies have been swallowed up. Worth a try. She is still in fourth spot.
A Gold Medal claimed in the shot-put:

Team GB's women are out of the football competition after a 2-0 defeat to Canada.
Adam Nolan is up next in the ring for Team Ireland. The Kenyan ladies are making all the running in the Women's 10,000m now.
Oh no. Fionnuala Britton has been left behind by the main pack. She is now about 15th with 12 laps to go. RTE, get the boxing on!
Jessica Ennis got a personal best in her 200m run this evening and goes into day two of her title tilt a handsome 184 points clear of her nearest rival. The boxing at ExCel Arena has been delayed for a few minutes so no news of Nolan yet for you.
20-year-old Indian boxer Krishan Vikas has beaten America's Errol Spence and lies in wait for Nolan, should he successfully beat Andrey Zamkovoy in his welterweight bout.
RTE are staying with the last lap of the 10,000m Women's and the reigning champ Dibaba retains her title. Gold Medal!
In other news – Adam Nolan's fight has started…
Nolan loses first round 3-2 as Britton crosses the line one minute and 46 seconds behind.
RTE showing 5-minute delayed coverage of this fight. I can tell you now that the Wexford man has lost Round Two. It was 6-4 so he trails 9-6 going into Round 3.
Britton finished her race in 15th position. Magee is waffling again – you can't keep a good man, or story, down.
Zamkovoy is a former world silver medallist and he deserves his lead going into the last round. He loses the last round 9-3 to go out. Adan Nolan loses 18-9 and his Olympics are over.
That is all from me. Stay with us for the Olympic Village wrap and quotes and reaction from Conlan, O'Lionaird, Britton and Nolan. Only one of the four Team Ireland members has something left to fight for at London 2012.
Join us for another day's action tomorrow. Aileen Morrison is first up at 9am in the Women's Triathlon. Good night.