We went minute-by-minute at Lansdowne Road for a clash of Megasaurus proportions — Ulster v Edinburgh in the Heineken Cup semi-finals.
As always, we'd love to hear your thoughts on the game. E-mail ganz11@campus.ie, tweet @thescore_ie, post a message to our Facebook wall, or leave a comment below.
You may need to refresh the page for YouTube videos and other elements to display correctly.
Ulster 22-19 Edinburgh
Greetings from a lofty perch at the Aviva. Lovely blue skies linger an incalculable distance overhead but a chilly breeze mean the Ulster and Edinburgh scarves have been wise purchases.
Here are the teams for this evening's semi-final:
Ulster: Terblanche; Trimble, Cave, Wallace, Gilroy; Jackson, Pienaar; Court, Best, Fitzpatrick, Muller (c), Tuohy, Ferris, Faloon, Wannenburg.

Replacements: Brady, McAllister, Macklin, Stevenson, Diack, Marshall, Humphreys, D'Arcy.
Edinburgh:Brown; Jones, de Luca, Scott, Visser; Laidlaw (c), Blair; Jacobsen, Ford, Cross, Gilchrist, Cox, Denton, Rennie, Talei.

Replacements: Kelly, Traynor, Gilding, Turnbull, Grant, Leck, Godman, Thompson.
To get you in the mood – here is Craig Gilroy's wonder-try against Munster in the quarter-final.
YouTube credit: eurorugby2012
20 minutes to kick-off so make your predictions on who you think will emerge bloodied but unbowed.

Paul Marshall is directing drills on the pitch while Laidlaw, on the Edinburgh side, is landing the majority of his practice kicks. A couple have drifted to the right so he will have noted that.
A journalist has been loudly proclaiming that he put a bet on Edinburgh to win the Heineken Cup earlier in the season, getting odds of 250/1. I'm not sure if they still take 10p bets in Scottish bookies but he could be onto a potential earner of £25.10.
Before we get stuck into the rugby, take a moment to click here and enjoy the stunning pictures of Taoiseach Enda Kenny and Giovanni Trapattoni at Croagh Patrick. Stunning and flabbergasting pictures!
Currently sitting at 89% of readers voting in favour of an Ulster win.
Absolutely amazing noise coming out of the Ulster fans and the ground is only two-thirds full. For now.
Peter Searson, on our Facebook page, has predicted a 24-15 win for Ulster.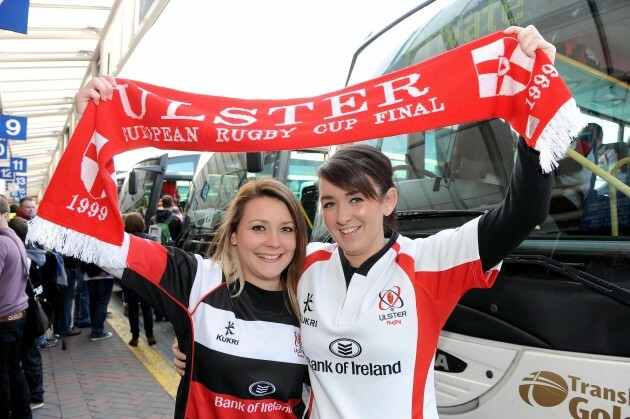 "SUFTUM" – Victoria Gibson and Claire Ogle from Dromore. (Credit: ©INPHO/Presseye/Stephen Hamilton)
We just had 20 souls in tailored suits and bowler hats shooting sparks out of walking canes – perhaps they're trying to flog tickets for the final in London. Yep, I'd say so.
Here come the lads.
Holy heck, they know how to lay on the opera music to build up atmosphere. Paddy Jackson gets us underway.
Mike Blair makes a good break right up the middle but is taken down by Jackson. Tim Visser then kicks and chases and his theatrical fall on the run is ignored.
Muller gets exposed at the breakdown and the ball is stolen but Edinburgh almost immediately knock-on.
Early penalty attempt for Pienaar as the Edinburgh scrum is forced backwards. Tough kick from the halfway line but the South African lands it. Ulster 3-0 Edinburgh.
Must give a quick mention to Munster A, who beat Cross Keys in the final of the British & Irish Cup yesterday.
Edinburgh get the three points back moments later as Ulster infringe at the breakdown. No arguments and Laidlaw does well, against a slight breeze, to knock it over from 40 metres out.
Stephen Ferris got his first meaningful bit of action as he breaks free and offloads to Trimble. Nothing comes from the attack and Ulster are pinged for not releasing at the ruck. Laidlaw just inside the Ulster half and straight out. Gets it and it is Ulster 3-6 Edinburgh.
David Denton drops a simple pass on his '22 and Ulster have an attacking scrum. They peel off the back and Cave throws up a good decoy run. Pienaar can see the line but he is held up. Good pressure sees a penalty awarded to the men in white.
TRY! Pedrie Wannenburg crashes over.
Concerted pressure pays off as the big flanker burrows over the line. Pienaar lands the conversion and it is Ulster 10-6 Edinburgh.
Ferris puts in a nice, slightly late, hit on Denton. Edinburgh consolidating here and slowly working their way up the pitch. 20 phases are run through with Visser and Sean Cox the main carriers before a Laidlaw chip through is covered and touched down by Terblanche behind the Ulster tryline. It will be an Edinburgh scrum five metres out.
Lee Jones is two metres out from the Ulster line but Gilchrist loses the ball in the next phase. Pienaar boots Edinburgh back to the halfway line.
French referee, Roman Poite is getting a nice round of boos after missing a clear Edinburgh knock-on.
Andrew Trimble is employed as Ulster's shooter from the defensive line, much in the same role Brian O'Driscoll carries out for Ireland and Leinster. He dashes out here to snaffle up Netani Talei.
28 minutes gone and Poite has called over Johannes Muller to have a calming word with Terblanche for some slaps as he was trying to get the ball from a ruck. And it is a yellow card to the full-back.
Edinburgh had the numbers out wide but Laidlaw unwisely decided to go it alone. Knock-on by Talei and Ulster will get a chance to clear their lines if they can scrum solidly.
To my right, a supporter is returning from the bar with two trays of four drinks. His mates will love him for it.

It did look like a weak punch. Weak yellow card too.
Denton is blown up by Poite for disengaging from the scrum and Pienaar kicks Ulster into the Edinburgh half for the first time since their try. The Scots give up a penalty for a marginal offside and Pienaar gets a chance to extend the lead with a kick 40 metres out on the left flank.
No doubt about it. Solid connection and it is Ulster 13-6 Edinburgh. He is in the first-half form that knocked Munster out.
Poite accidentally obstructs Ross Rennie at the back of the line-out but the bouncing ball eventually finds its way back to the Edinburgh number seven. Another great tackle by Cave prevents a try but Ulster don't release at the breakdown and a penalty is awarded. Laidlaw's kick is good and it is Ulster 13-9 Edinburgh.
A frantic start to proceedings but things have settled down, with Edinburgh doing most of the running. Ulster have not had a chance to get Gilroy and Trimble in space out on the wings. Stephen Ferris was nursing his knee in the final minutes of the half and has hardly run back on the pitch for the second-half.
Laidlaw gets us going.
Paddy Wallace does enough to force Lee Jones to knock-on. Early scrum to Ulster and a solid one too. Nice work from Tom Court. Cave finds Trimble on the right before Wallace takes play into the Edinburgh '22.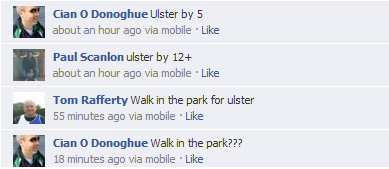 Things are heating up on TheScore.ie's Facebook page.
Massive defensive hit by captain Johann Muller on Matt Scott but Poite brings play back for an Edinburgh penalty. Laidlaw doesn't look like missing one today and he nails it. Now Ulster 13-12 Edinburgh after 47 minutes.
Andrew Trimble is about an inch from picking a ball up from his ankles but knocks on. Ulster destroy the Edinburgh scrum but Poite does not approve of Fitzpatrick's methods and gives a penalty to the Scots.
Massive cheers moments later as Pienaar hauls Tom Brown over the line following a kick and chase. Ulster deep in enemy territory and vEdinburgh concede a penalty. Pienaar advised to kick for the corner and obliges.
Ulster can't make the breakthrough after five minutes camped on the Edinburgh line. Fitzpatrick was just held up. Three big scrums followed – Edinburgh dragged one down intentionally – and Wannenburg was nearly under the posts. Edinburgh forage and get the ball clear but Ulster come straight back.
Edinburgh collapse at the scrum again and Poite plays a brief advantage before halting play an allowing Pienaar another kick at the posts. Wind is against him in this half but the kick is successful and it is now Ulster 16-12 Edinburgh.
Pienaar has been sharp today and darts up to chip a kick into touch five metres from the Edinburgh line. It has been all Ulster since Laidlaw's early penalty. 20 minutes to go.
Another penalty conceded after Ulster roll a maul 20 metres and Edinburgh come in from the side. Pienaar grabs some water off the H2O man and sizes up his kick from the left flank, near the touchline. What a kick! Straight down the middle. Ulster 19-12 Edinburgh.
Ross Ford knocks on near the Ulster '22 and Terblanche opts to run it out. Jackson finds Cave before getting crunched by Jones and Darren Cave hoofs Ulster back into the Edinburgh half.
Adam Macklin comes on for Fitzpatrick in the Ulster front row.
Craig Gilroy gets free on the left but can't replicate his Munster try. Stephen Ferris then gets the ball on the right and takes it 15 metres before being tackled into touch. Big Stevie is really struggling out there but he will be determined to last the 80 minutes. A true tough guy.
Young Lee Jones has not had the best of games for Edinburgh and knocks on. He is substituted straight after as Tom Court receives treatment to his neck. This ditty is being roared at the moment.
Stand up for the Ulster Men.
Darren Cave, what a tackle. He flattens the sub Jim Thompson. What a boost for his teammates. The hit is compounded when Talei knocks on. Scrum to Ulster on the Edinburgh 10-metre line. Six minutes to go. Court and Macklin then get the plaudits for battering the Scots' scrum and earning a penalty.
This could clinch it – Pienaar straight in front of the posts and 40 metres out. No doubt about it. Ulster 22-12 Edinburgh.
Pienaar gets man-of-the-match and the attendance is more than 45,000. Anything else? Yes, Ulster are three minutes from the Heineken Cup Final. Brian McLaughlin withdraws Stephen Ferris to a rousing reception.
TRY! Matt Scott feeds Jim Thompson to score after a great burst from Talei but it will be too late. Ulster 22-19 Edinburgh
The conversion is missed by it matters not a jot. Poite blows the whistle for full time and Ulster are through to the final in Twickenham.
FULL-TIME.
It was looking dicey after 43 minutes but Ulster upped their performance and never looked like losing afterwards. Muller, Pienaar and Cave were all fantastic and Tom Court was fantastic at the scrum.
SUFTUM indeed!
Stick with us this evening as TheScore.ie brings you player ratings, match reactions and comments from the Ulster heroes.
Exclusive Six
Nations Analysis
Get Murray Kinsella's exclusive analysis of Ireland's Six Nations campaign this spring
Become a Member