BEING A FOOTBALLER isn't as easy as many would believe. For a young up-and-coming player in particular, life can be tough, as the decisions made in a relatively short period of time can essentially make or break a career.
At 21, Sean Maguire is already relatively accustomed to the highs and lows of the game. Having scored 13 goals in 24 appearances in the League of Ireland with Waterford in 2012, the forward secured a big move to West Ham in January 2013.
However, less than three years later, Maguire is back in the League of Ireland. He moved to Dundalk last July, but struggled to break into a team that was winning relentlessly during the 2015 season.
Earlier this month, after Maguire's brief spell with Dundalk came to an end, it was announced that he had signed for Cork.
"It wasn't easy leaving Dundalk," he tells The42. "Being there for six months, I made a lot of friends on and off the pitch. I know it didn't work out for me on the pitch — it was obviously hard."
And Cork were far from the only club interested in the young striker when he became available once the season ended.
"I had other options in Ireland, I'd rather not say who.
I was over in Accrington. They were going through a transfer embargo and they weren't sure if they could sign me in January or not and told me I 'probably won't find out until then'. I spoke to (Accrington manager) John Coleman. He said: 'I like you as a player but I don't know if it's worth taking the risk of staying until January and if it doesn't work out, you might not have the opportunity to sign for (a team such as) Cork.'
"When I met up with (Cork manager) John Caulfield a couple of weeks ago, he told me his ideas for next season. I jumped straight (at the chance) and I just can't wait to get started now."
A strong side defensively, Cork were a little short in the final third at times last season, and Maguire believes he can be the man to provide the team with a greater goal threat.
I just want to be playing games, and once I'm playing games and enjoying myself, I think the goals will take care of themselves. When I'm playing regularly, as I was with Waterford and Accrington, I play well and score goals.
"I'm not saying I'm going to be walking straight into the team — you see the players that are down in Cork — but once I'm given an opportunity, I'm sure I'll take it."
And having spent six months with Dundalk, does he feel Cork are in anyway close to matching the reigning league champions' level?
I don't think there's that much of a difference between the two sides. You look at the past two seasons, they've been going neck and neck for the title and played in the FAI Cup final last season. It's just a bit of luck — Dundalk were obviously superior in the league last season, only losing one game, but Cork weren't too far behind.
"The past two seasons, Cork have been the second-best side in the league. Next year, John wants us to go one further — and I think I can bring the extra cards to the table.
"I know Gearoid Morrissey has signed as well – I remember playing against him in England last season — he's a great player and I've heard a lot of good things about him. He was one of the best players in the league when Cork finished second to Dundalk two years ago — that's what we need, a couple of more players and we can definitely battle it out for the title."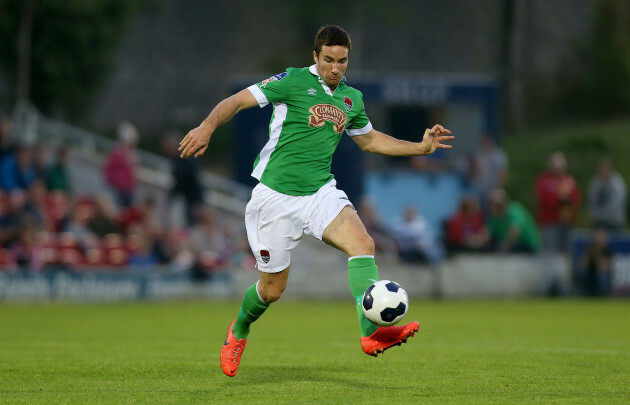 Gearoid Morrissey's return to Cork was announced recently.
One player who Maguire got see close up during his brief time with Dundalk was Richie Towell. The 24-year-old has joined Brighton in the close season and Maguire feels the absence of the 2015 League of Ireland Player of the Year will give Dundalk's rivals hope next year.
He's a great lad on and off the pitch — he's down to earth and he's still young as well. I really hope he takes his chance (at Brighton). I suppose teams are going to be look at (his departure) and think: 'This could be our chance to catch Dundalk.'
"Richie will be a big loss to Dundalk, but they've signed a couple of good players like Robbie Benson and Patrick McEleney. There are a couple of other teams — Pat's are going to be up there, as are Shamrock Rovers and ourselves, of course, so I think it's going to be really competitive next season."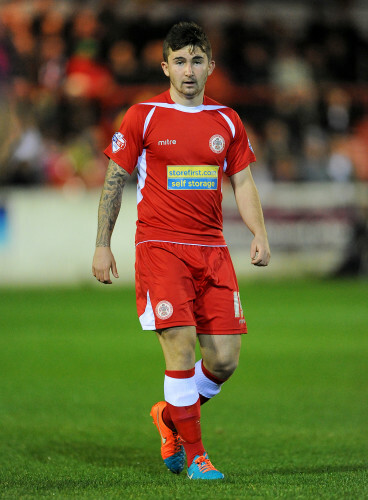 EMPICS Sport Maguire pictured during his loan spell with Accrington Stanley. EMPICS Sport
Reflecting on his relatively short stint in England, Maguire admits it was "a bit of a rollercoaster".
When I first went over there at 18, I was a Liverpool fan thrown into a dressing room with the likes of Andy Carroll and Joe Cole — it was very surreal. I coped with it well. The first few months were very hard — I had a bit of homesickness. My pre-season two years ago was the last pre-season I had."
Having signed a two-and-half-year contract, Maguire could not find a way into the Hammers' first team and went on loan twice, to Sligo and then Accrington Stanley, scoring seven goals in 33 appearances for the League Two side.
"It was a great experience overall playing in League Two in England," he says. "League Two is very similar to League of Ireland — and it was great playing against the likes of Portsmouth away in front of 18-20,000 fans.
Obviously, playing with West Ham is a massive difference to playing in Ireland, but there's not much of a difference playing with the likes of Accrington to Dundalk. If you put the top four teams in Ireland into League Two, I reckon they'd do very well.
"In League Two, there's a lot of long-ball football and not many teams that get it down and play — I played against one or two. Exeter tried to play and they didn't finish very highly. If you try to play football, it's (probably) not going to work out."
Maguire also had occasional dealings with then-West Ham manager Sam Allardyce, who he remembers fondly.
He's a great character. He always keeps you on your toes and has a bit of banter with you, or gives you a bit of an insult as a way of banter. On the training ground, he's great to have around. His tactics are good, he's doing well at Sunderland.
"I obviously caught his eye when I went over there on a two-week trial. He's a good man and a great manager, as you see in his record with a lot of clubs, he's done very well."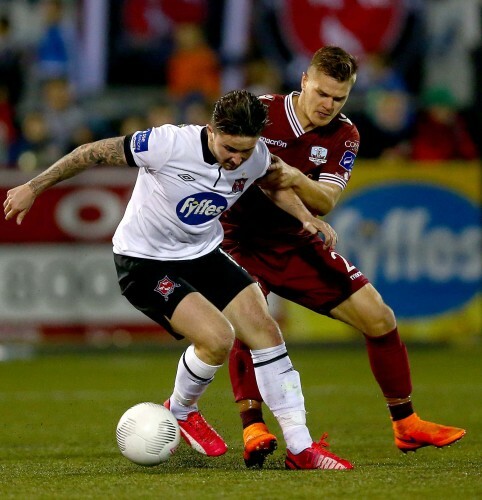 Donall Farmer / INPHO Maguire had a short spell with Dundalk before joining Cork. Donall Farmer / INPHO / INPHO
Maguire, who was born in Luton but moved to Ireland a few months after his birth, has spent some time around the Ireland underage set-up, having been capped at U19 and U21 level.
Substantial efforts have been made in recent times at grassroots level to encourage young Irish players to learn to love the ball and improve their technical ability, with many coaches suggesting the current standard is not good enough. So, with that in mind, does Maguire feel more needs to be done to produce better players?
I was a bit of a late developer," he recalls. "I only started getting into the Irish set-up and in the team at around 18 or 19. Ireland are always a hard team to play against. I think countries, when they come up against us, we're always organised and tactically very good. When we go away, we usually don't get bashed, so I think we're a very hard team to play against at all ages.
"I think we've a lot of technical players that we've brought in over the years. I think we're improving as a country and at underage as well — our 21s are doing very well. I know losing to Lithuania was a bit of a knockback, but we've been doing well in our campaign. I know the U19s didn't have a great time down in Limerick and Galway, but things are looking up (overall)."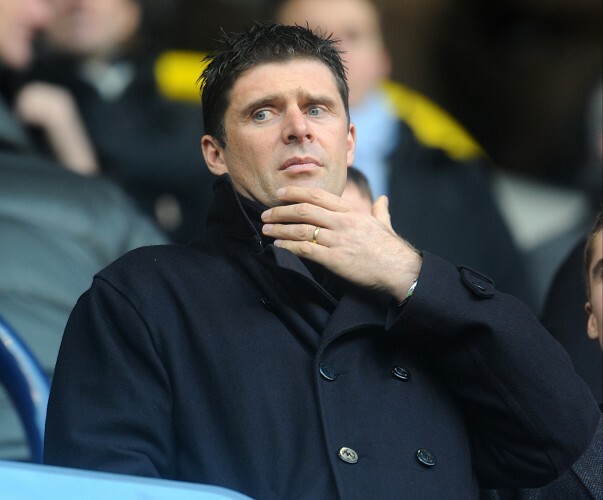 EMPICS Sport Niall Quinn believes young Irish players are often better off staying in the League of Ireland rather than moving to big English clubs. EMPICS Sport
On a similar subject, in an interview with The42 earlier in the year, Niall Quinn claimed far too many Irish youngsters were being lost in the system to top English clubs. He consequently feels players with potential would be better off working their way up from the League of Ireland or a lower-tier English club. And having experienced both sides of the coin, Maguire agrees that Irish players are moving to big clubs at too young an age.
I'd been playing for Waterford for a year, a year and a half — I think even that was a bit too soon to go into a massive environment. Going over at 14, 15 or 16, only a handful actually make it to the big stage. When you're going over at that age, you're going over to the big cities in England — Manchester, Liverpool, London — you're obviously going to get homesick, you're away from your family at an early age and get taken out of school just after your Junior Cert.
"I think the perfect age to go over to England is 19 or 20 — look at Richie Towell, he's 24 now and I'm presuming he's got a good deal at Brighton. There's a number of players who have gone over at that age and I think it works out better.
"I say I went over a bit too soon, but I don't regret anything I've done. Going to West Ham at my age, I had done well at Waterford — I thought that was my time to go over. The perfect age is after doing a couple of years in League of Ireland and then you have some experience going over to England."
And while the young striker admits that he still dreams of playing for a top English side some day, the priority for now is making a name for himself at Cork.
The short-term goal is to do well at Cork and help John, because I like the way John has spoken to me. His ideas have really caught the eye — it's really interesting the way he's planned it out for the season.
"But I'm only 21 — it only takes a couple of months of doing really well. Look at Brian Lenihan — he had a good few months in Cork, he got a good move to Hull. I know Richie's been doing well with Dundalk and he's been patient, and he's got a well-deserved move. So I suppose my long-term goal is to get back to England on a big stage."