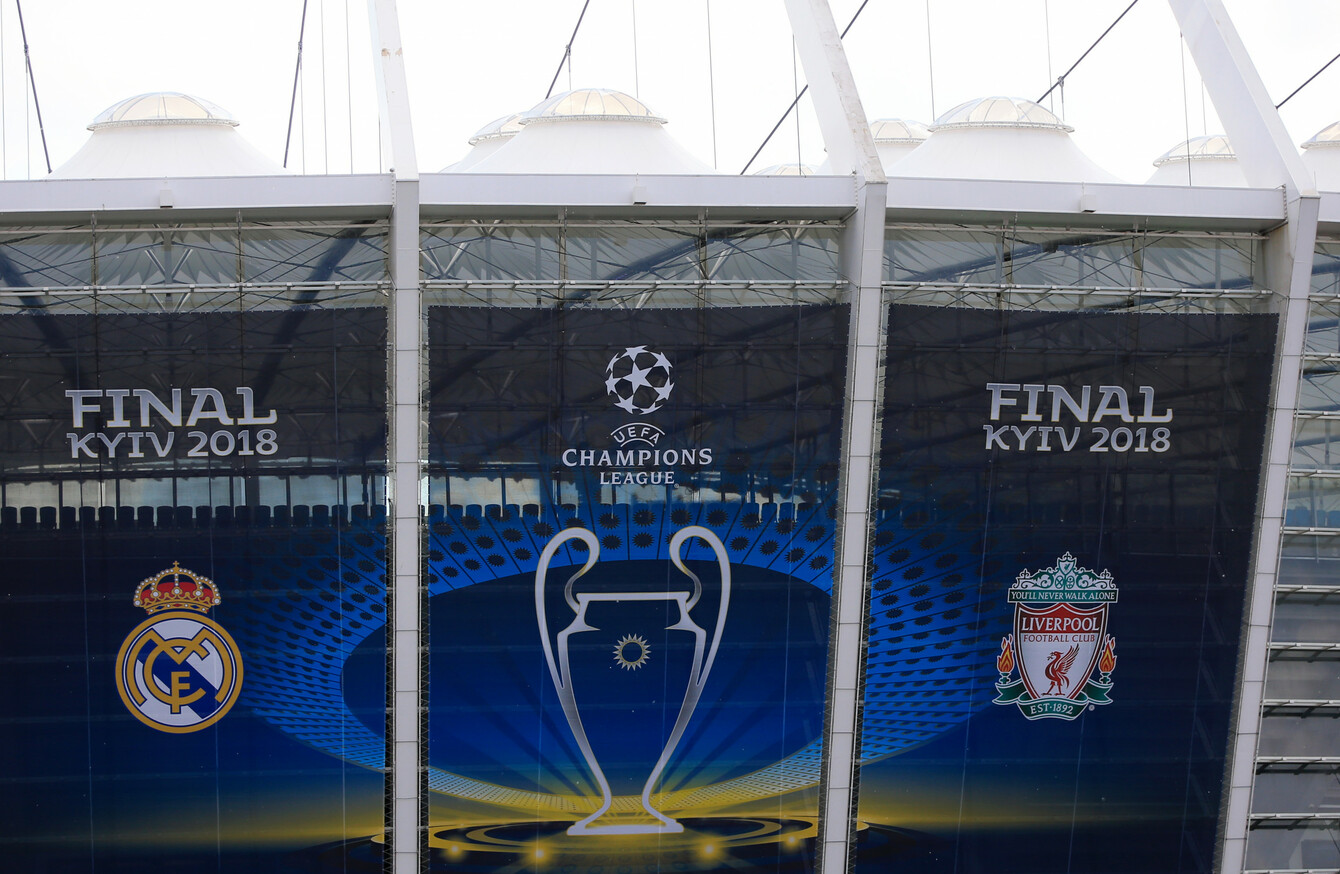 A general view of the NSK Olimpiyskiy Stadium in Kiev where Liverpool will play Real Madrid.
Image: Peter Byrne
A general view of the NSK Olimpiyskiy Stadium in Kiev where Liverpool will play Real Madrid.
Image: Peter Byrne
1. Can Real cope with Liverpool's intense pressing?
LOOKING BACK ON their Champions League campaign, it's notable how often Liverpool have ran riot against opposition teams.
The Reds beat both Maribor and Spartak Moscow 7-0 as well as Porto 5-0.
Even their first-leg 3-0 victory over Premier League champions Man City was strikingly one-sided.
The main reason for Liverpool's success has been their opponents' failure to cope with the intense pressing style they favour.
This approach has been more successful in Europe than in the Premier League, where a failure to open up the so-called 'weaker' teams proved costly on occasion — they dropped points against West Brom (twice), Everton (twice) and Stoke City among others.
The fact that teams invariably try to play out from the back in Europe more so than in English football arguably suits Liverpool better, as they usually thrive when the opposition has the ball in their own final third.
Even in the semi-final, Roma were incredibly tactically naive in their approach, and found themselves 5-0 down at Anfield in the first leg before belatedly threatening a comeback.
Real boss Zinedine Zidane, an astute tactician, will be no doubt be aware that harrying and hassling the opposition into mistakes is something the Reds do arguably better than anyone.
However, whether the France legend can actually do anything to stop the same result from happening again is another manner.
Real Madrid aren't suddenly going to emulate the lower Premier League sides and play pragmatic long-ball football, and so the game's outcome will likely depend on how well the Spaniards hold onto the ball and avoid mistakes.
2. Will Madrid's experience count?
Despite reaching the final, Madrid have rarely played exceptionally in the Champions League this season.
Indeed, they were somewhat fortunate to beat both Juventus and Bayern Munich in the quarter and semi finals over two legs.
Even in the group stages, there was a conspicuous lack of scintillating football from Zidane's men. In two matches against Tottenham, most people would agree that the North London side were the better team on both occasions.
Yet what Madrid do have is a steely determination to get the job done somehow.
They possess the kind of experience and confidence that comes with winning three of the last four Champions Leagues.
Without dominating games, Los Blancos have come alive during big moments of key matches, and it is that quality primarily, which has got them this far in the competition.
By contrast, as impressive as Liverpool have been this season, they are in relatively unfamiliar territory.
While Jurgen Klopp has transformed the club into one of the best sides in Europe, they have yet to win a trophy under the German boss, losing two finals — the Europa League and League Cup (both in 2016).
It is for these reasons that Liverpool go into tomorrow night's match in Kiev as slight underdogs.
3. The Ballon d'Or subplot
Since Kaka's success in 2007, only two players — Lionel Messi and Cristiano Ronaldo — have claimed the illustrious Ballon d'Or prize in the last decade.
The duo's dominance could be about to come to an end, and Saturday's game will likely be important in deciding the forthcoming winner.
Salah has already had an incredible season, winning the PFA Player of the Year and setting a new record for Premier League goals in a 38-game season.
Yet should the Egyptian finish this campaign without a trophy, despite all his impressive individual feats, it would surely count against him in the voting.
Ronaldo's season has been similarly remarkable, scoring 50 goals in all competitions, including 30 in 2018 alone.
Even Lionel Messi can't be discounted despite Barcelona's embarrassing Champions League exit at the hands of Roma.
The Argentine superstar has 48 goals from 58 games, and a good World Cup will strengthen his claims for the prize.
Yet there is no doubt that either Salah or Ronaldo will be in pole position to secure the honour depending on the outcome of tomorrow night's game.
The42 is on Instagram! Tap the button below on your phone to follow us!