"THIS IS YOUR Everest, boys. Very few ever get a chance in rugby terms to get to the top of Everest… you have a chance today.
"Being picked is the easy bit, to win for the Lions in a Test match is the ultimate. But you'll not do it unless you put your bodies on the line, every jack one of you for 80 minutes.
"They don't rate us, they don't respect us. The only way to be rated is to stick one on them, to get right up in their faces and turn them back, knock them back. Out-do what they can do; out-jump them, out-ruck them, out-scrum them, out-tackle them!"
___________________
Most rugby fans will recognise the words instantly. Jim Telfer's unforgettable speech to his forward pack before the Lions' first Test against the Springboks in 1997 has been watched over and over in the rugby world in the 20 years since.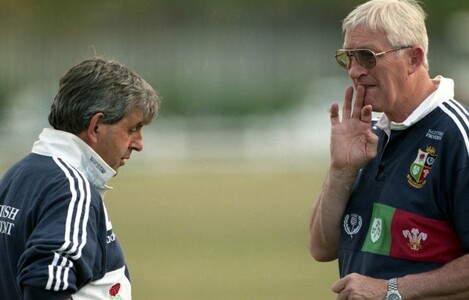 McGeechan and Telfer's speeches have gone down in history. Source: Billy Stickland/INPHO
It's a truly iconic moment that the vast majority of us have seen only on screen, but Duncan Humphreys was there.
He was one of the co-directors of the classic Living with Lions, the tour documentary of that trip to South Africa that has become one of the great pieces of rugby history.
Humphreys and his co-director Fred Rees were the brains behind the film and even in those very moments in South Africa as Telfer spoke, they knew they were witnessing something special.
"If you watch the film, you see Jim in the room before the players come in and he is beginning to mutter, and I'll never forget it," says Humphreys.
"Dave Brill, our soundman, just said, 'Jim is off on one,' so we had a listen and just shot the wall for a minute. He was mumbling and grumbling and just rehearsing that speech over and over again.
"Then it was incredibly powerful."
The list of memorable speeches in Living with Lions is long, with Telfer and head coach Ian McGeechan providing many highlights. Interestingly, both coaches were initially adamant that the tour would not be documented by Humphreys and the small crew.
Beyond being a brilliant film, Living with Lions is a slice of history for the fact that it was the first major documentary on a Lions tour, with each subsequent trip having been recorded. In 1997, though, it was an unknown and the coaching staff were wary.
"The funny thing was that Ian and Jim were both insistent that they didn't want it to happen," explains Humphreys. "They thought it was a distraction, they thought it was wrong, but on the very first day out in South Africa at training, we put microphones on them.
"They never asked if we had permission to do it, and we didn't, but they never questioned us. By the end of it, part of their ritual in the morning was to come see us, get their mic and when the little bleep sounded, they would come over and say the battery was gone."
The results are pure magic and even today, Living with Lions bursts with the energy and passion of McGeechan, Telfer and a wonderful squad that claimed Test success against the Springboks.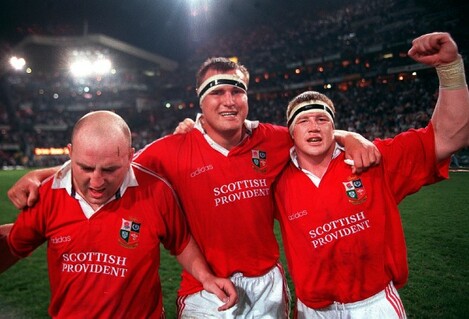 Keith Wood, Jeremy Davidson and Paul Wallace. Source: INPHO
Humphreys and Rees' idea was formed over a pint in the Star & Garter pub on Poland Street in London, from where they emerged with a plan to make a film about the Lions' tour, a rather radical one at that time.
Humphreys – then directing a lot of adverts – had played rugby to a good level with Harlequins and Randwick in Australia, and he had a connection to Lions tour manager Fran Cotton, meaning they could pitch the idea.
Cotton came back positively, but Humphreys says the Lions' willingness to at least discuss the idea was due to their fading stature.
"You do forget that the Lions were on a knife edge at the time, whether they would survive," says Humphreys, who has worked extensively within sport and is now head of production at Stream TV Networks.
"You can't quite believe it now but there were serious questions whether the Lions would end up a bit like the Barbarians. So it was the right place at the right time."
They had to pay the Lions £30,000 for the privilege – with Rees' father, Clive, who was himself involved in film production – helping to finance the project. The Lions had said they would get the film commissioned by a TV station, but that fell through.
"So we had paid the £30,000 but ITV and BBC then said they weren't going to buy it because the Lions were going to lose all the matches, weren't going to be successful at all."
Humphreys and Rees ploughed ahead, with Clive joining their crew, and they tacked onto the touring party that flew to South Africa in May of 1997.
Watching Living with Lions now, it is clear that Humphreys and his colleagues became deeply embedded in the squad, flies on the wall who the players and coaching staff came to respect.
"You break down barriers and earn trust as you go, building those relationships," says Humphreys. "We had to truncate that process into an eight-week period and you have some who are more open than others, with some being very reserved.
"Jeremy Guscott, for example, wasn't really part of it. He distrusted the media because he was the superstar and he felt that we were only after getting a bad story."
But the majority of the Lions squad were receptive to, or at least willing to ignore, the cameras and that meant wonderful footage of what a rugby tour is really like. Never again has that level of access, honesty and sheer realness been repeated.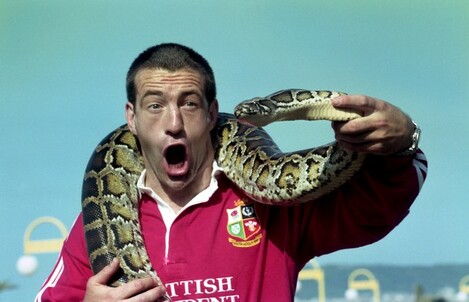 John Bentley is one of the stars of the show. Source: Billy Stickland/INPHO
The documentation of tour-ending injuries to players like Doddie Weir and Rob Howley are vividly emotional, while the scenes when Will Greenwood swallowed his tongue after he was knocked out during the unofficial fourth Test against Free State are truly harrowing – the genuine fear having been that the England centre would die.
"I know that Will has probably never forgiven us," says Humphreys of, but shooting those incidents was part of the job and an important part of conveying the reality of life on tour.
"I knew my job was to just push it until someone said 'Stop'. With Doddie, he was distraught – he's a lovely man. The same with Rob Howley, he was just distraught and you could see he was hiding the tears from the camera, but you've got a sense of the emotion.
"He was nailed on at scrum-half and never had a chance to prove it, and that tour probably elevated Matt Dawson into legendary status. Those moments are very difficult to film because you've developed a bond with these guys. But if you don't film them, you don't get that emotion."
In that Greenwood scene, the sheer concern on Lions doctor James Robson's face is obvious and the humorous Scot emerged as one of the stars of the documentary in his own way.
Others like John Bentley, Weir and Rob Wainright came to the fore too, while Scott Gibbs' dancing in the gym was a hilarious moment.
"James is a very gentle, eloquent and intelligent man," says Humphreys. "He loved a little bit of distraction from the day-to-day routine, so he engaged with us early on. Bentos was the same – he was coming out of professional rugby league and he was one of the first ones.
"Bentos was just fantastic, Doc was brilliant, they all were. We honoured what they hoped we would honour in not demeaning the game or the players, but we showed what life on tour is really like. That's what the rugby fraternity really got drawn to."
Even for the players who were involved in that 1997 tour, Living with Lions provided insight.
Telfer's speech to his forwards about "two kinds of rugby players – honest ones and the rest" is another example of that. Humphreys remembers the first screening of the film in Soho, when 15 Lions or so players turned up and were "gobsmacked."
"Matt Dawson says that his memory of the Lions tour is actually influenced by watching the speeches. He would never had heard that forwards speech at all otherwise."
And for Lions to come, the film was hugely inspirational.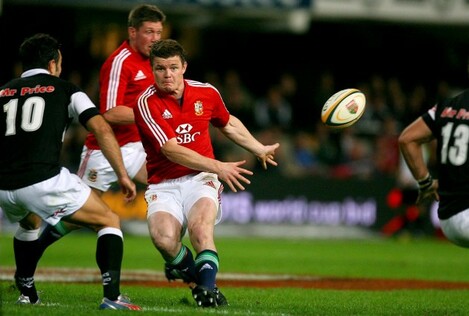 O'Driscoll was inspired by Living with Lions. Source: Dan Sheridan/INPHO
The greatest compliment Humphreys could have got came from none other than Brian O'Driscoll, who he ended up interviewing in the build-up to the 2005 Lions tour of New Zealand, when the Irish centre was captain.
Humphreys had just finished speaking with Martin Johnson at the same promotional event, and the English lock stood to the side listening in.
"I had just interviewed Johnno and then BOD came over," recalls Humphreys. "We started talking about what it's like to put on the Lions jersey. BOD said that being a Lion was all he had ever dreamt of and to captain the tour was fantastic.
"He said that he had played a number of sports when he was younger but he said, 'That 1997 documentary Living With Lions was one of the reasons I went for rugby, I wanted to be part of that.'
"Johnno laughed and Brian asked what he was laughing at, so then Johnno told him that I had been one of the people who made it. BOD shook my hand and said, 'Thank you very much, you've given me a career!'
"To be told your film had a tiny, tiny part to play was the biggest compliment you could have paid me."
Humphreys has many of his own fond personal memories of that tour – the celebration party when the cameras were turned off, drinking beers with Keith Wood on the beach in Durban after the second Test win, watching Cotton hand out the first Test jerseys – and its effect has been long-lasting.
In his speech before the second Test, McGeechan had promised his players that "in 30 years, you'll meet on the street and there'll just be a look and you'll know how special some days are."
Even for Humphreys, that message became a reality.
"That is absolutely true, even for us. I bumped into Doddie Weir in Murrayfield one time and he just smiled.
"In 2003, I was doing the England-Scotland match and I walked out of the tunnel and was hanging around there and Jim and Ian were looking around the pitch. Jim turned around and saw me and this smile came over his face.
"We were chatting away and there is definitely a truth in what Geech was saying. Just imagine what it must be like for a player. It was a special time."
- This article was updated at 10pm to correct 'Alan Bentley' to 'John Bentley'.
The42 is on Instagram! Tap the button below on your phone to follow us!