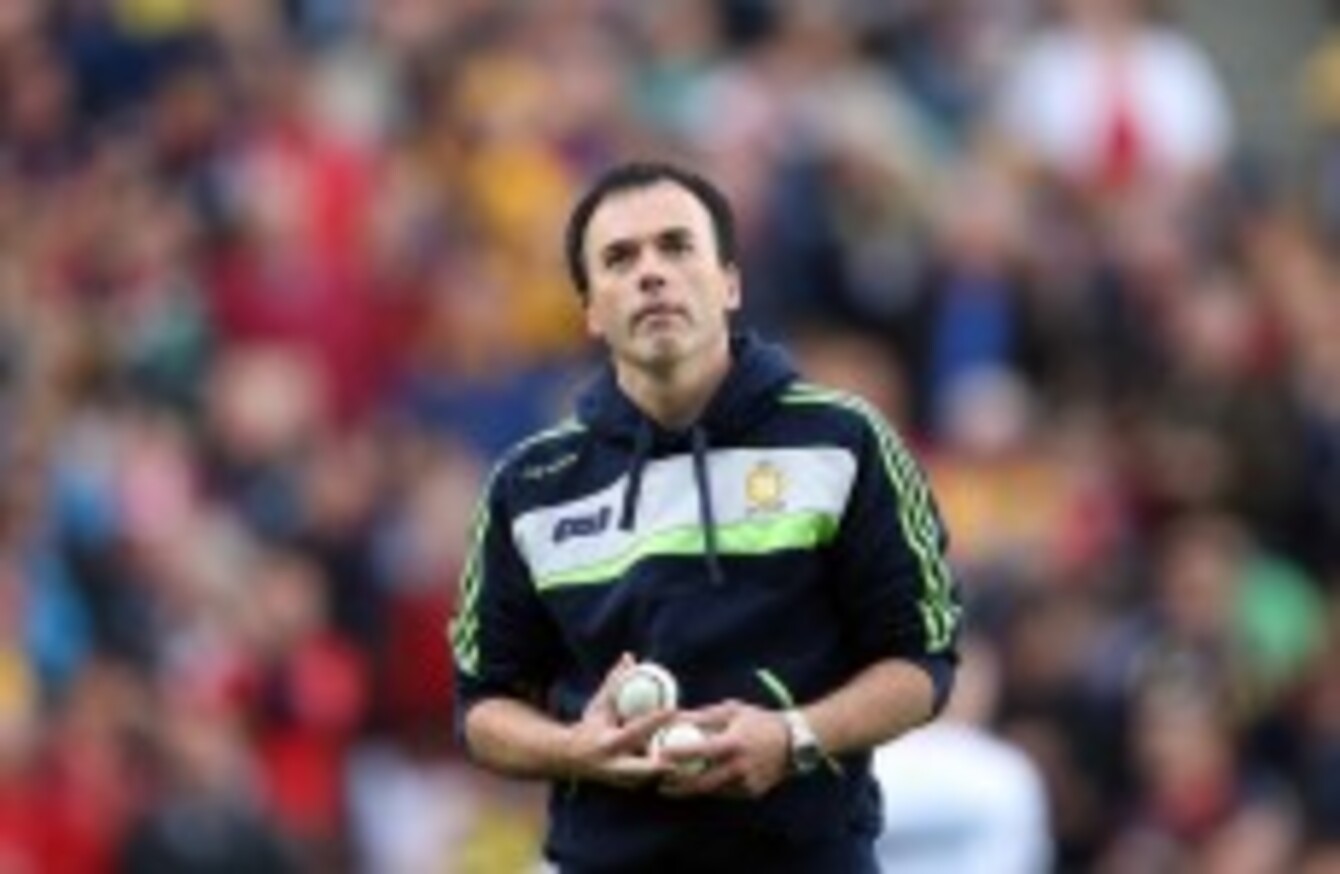 Louis Mulqueen: expecting improvements from both teams.
Image: INPHO/Cathal Noonan
Louis Mulqueen: expecting improvements from both teams.
Image: INPHO/Cathal Noonan
CLARE'S YOUNG HURLERS may well be on the brink of a golden era, but they need to get over the line this weekend to kickstart it, says selector Louis Mulqueen.
The Banner snatched another chance at the Liam MacCarthy cup with a dramatic last-minute point against Cork last time out.
And though it's not quite now-or-never for Davy Fitzgerald's young team, Clare are determined to make their second chance count on Saturday.
"Nothing 'happens' until you win," says Mulqueen. "I still think if they could win the All-Ireland [on Saturday] we'd be talking about the golden era. But they still have to make the breakthrough and the quicker they make that breakthrough the better.
"They are playing with great confidence, agreed. But you could quite conceivably lose to Cork and be beaten by Tipperary next year and people will be baying for the heads of the manager which is what happens in GAA."
Both teams have been cooling their jets while the country's focus switched to the big ball and the meeting of Dublin and Mayo. Does that lay-off change the build-up to the second game?
"Total change in three weeks," says Mulqueen, who was a selector when Clare last reached an All-Ireland final in 2002.
"Light is gone, wetter grass, simple things like that, colder at training. It's like a new ball game starting again, the idea of lights, a new concept."
With the novel timing of a 5pm throw-in on a Saturday evening, the game will be decided under Croke Park's floodlights. Did the Clare backroom team consider pointing the bus towards Drumcondra for an evening training session over the past fortnight?
"It wasn't offered," reveals Mulqueen. "I read JBM say it wasn't offered as well. It wasn't offered to us. I read it that it was offered; I checked with Pat Fitzgerald and he had heard nothing, Davy had heard nothing.
"Looking at it, the ordeal of going to Croke Park is a long journey. Fellas are taking a half day at work. Is it worth it in the end in the balance of it? We have played Cork twice under lights this year. I know they wouldn't be the same lights as Croke Park. At this stage of the campaign both teams are just putting their final preparations together. I don't know would it be as beneficial to go to Dublin for a training session."
Most fans filed out of GAA HQ last time out pondering how Clare failed to win, having played so well. Mulqueen insists however that the Banner, as well as Cork, have areas on which to build.
"I think both teams have room for improvement. We have some fellas who would like to have done better on the day. As pointed out we leaked three goals, we didn't score a goal. If you look at that in context we have serious room for improvement.
"We haven't played our ultimate game in my view. We played well, no doubt, we played well in Croke Park with a young, developing team but there is serious room for improvement from what I know and from what we want to do.
"It would been a serious downer from the point of view of giving everything we had, you would look back at the ifs and buts of the day but we have got a second chance which was great, we felt we had done enough to win it at the start, we felt we had worked hard to win it and it just didn't happen. Sometimes that happens, that's sport, it's cruel, you are leading for 71 minutes and it's taken from you."