WITHIN AN HOUR of being named on Ireland's left wing for the Six Nations finale against Scotland, Luke Fitzgerald was looking back on a time when he might have taken a different path.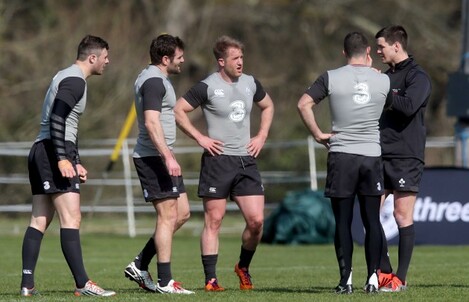 Source: Ryan Byrne/INPHO
The Leinster man has always maintained a positive outlook throughout a nightmare run of injuries since his last Test start in 2011. Yet behind that exemplary forward-looking stance, there were doubts – however brief – that he would ever be able to play again.
It's for that reason that, rather than trying to appear bashful as he prepares to wear the number 11 jersey again, he's willing to credit himself. He's put in far too many hours on the physio room floor to deny himself that.
"It's any guy's dream to be involved in the starting XV. I'm lucky enough to pull on the green jersey this weekend," says the 27-year-old before checking his stride.
I say lucky, but I probably don't believe that. I've worked really hard to get back in this position and I feel all that hard work is vindicated. It's hard when you feel like you're a million miles away and you're close to retiring because you just can't figure out injuries.
"I find it really hard to say 'it's lucky' to be in. I'm blessed to be in the position, but I've worked really hard and I'm delighted to get the opportunity."
Fitzgerald's mental strength is legendary. After heading out on the road to recovery so often and, particularly with the more recent hip and abdominal injuries, a less steadfast mind would surely have refused to endure further suffering.
"I was pretty close [to retiring], with some major injuries, and I didn't really see a way back and I couldn't figure out what the problem was.
Be part
of the team
Access exclusive podcasts, interviews and analysis with a monthly or annual membership.
Become a Member
"It was funny that, given all the major, structural ones I have had that it was a soft tissue one that I was close to calling it a day on. I couldn't figure it out.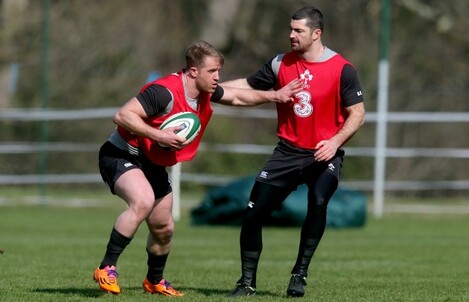 Source: Ryan Byrne/INPHO
"It was too frustrating, coming in two or three times a day and working really, really hard and getting no results. I have worked really hard and I feel it is a nice result; I have been rewarded today."
He will hope for an even greater award on Saturday evening if he can help Ireland breach the Scottish defence over and over again to set England a tough target in their home clash with France.
Though Simon Zebo is undoubtedly hard done by to be left out of the squad to make way for the 2009 Lion, Fitzgerald's character shines through as he pictures what he can bring to the fray as opposed to what the champions lose with the absence of the Corkman.
"I don't think I can do what Simon does. I can do what I do," says the wing who has waited 16 months between his 27th and 28th cap.
That is what I am in the team to do: bring that lateral movement. It is the strongest part of my game – that footwork, beating guys, drawing in defenders, creating opportunities for myself and for others. That is what I am in the team to do.
"50% of the game is defence, is it not? That is a really huge part of my game. I feel like I am really strong in that aspect. They are the things I feel I bring to the game. I feel I am working really hard and I can't try to bring anything else, other than what I am. That is what I'm going out to do."
Throughout his 10 minutes speaking to an ever-encroaching press pack Fitzgerald refers to Saturday's game in three simple words: The Big One. The Blackrock man has been included as injury cover for both the win over England and the loss to Wales. Now, he truly believes, is his chance to shine.
And it can't come soon enough.
"Obviously it's a big game. For myself, I feel I've nothing to prove. I've played a good few times for Ireland at this stage. People know what I'm about I just have to go out and execute what I'm good at.
"The basics in internationals become a bit more important, especially in the big one. I think I'm pretty experienced  – I'm not really nervous at this stage, looking forward to it more than anything else."