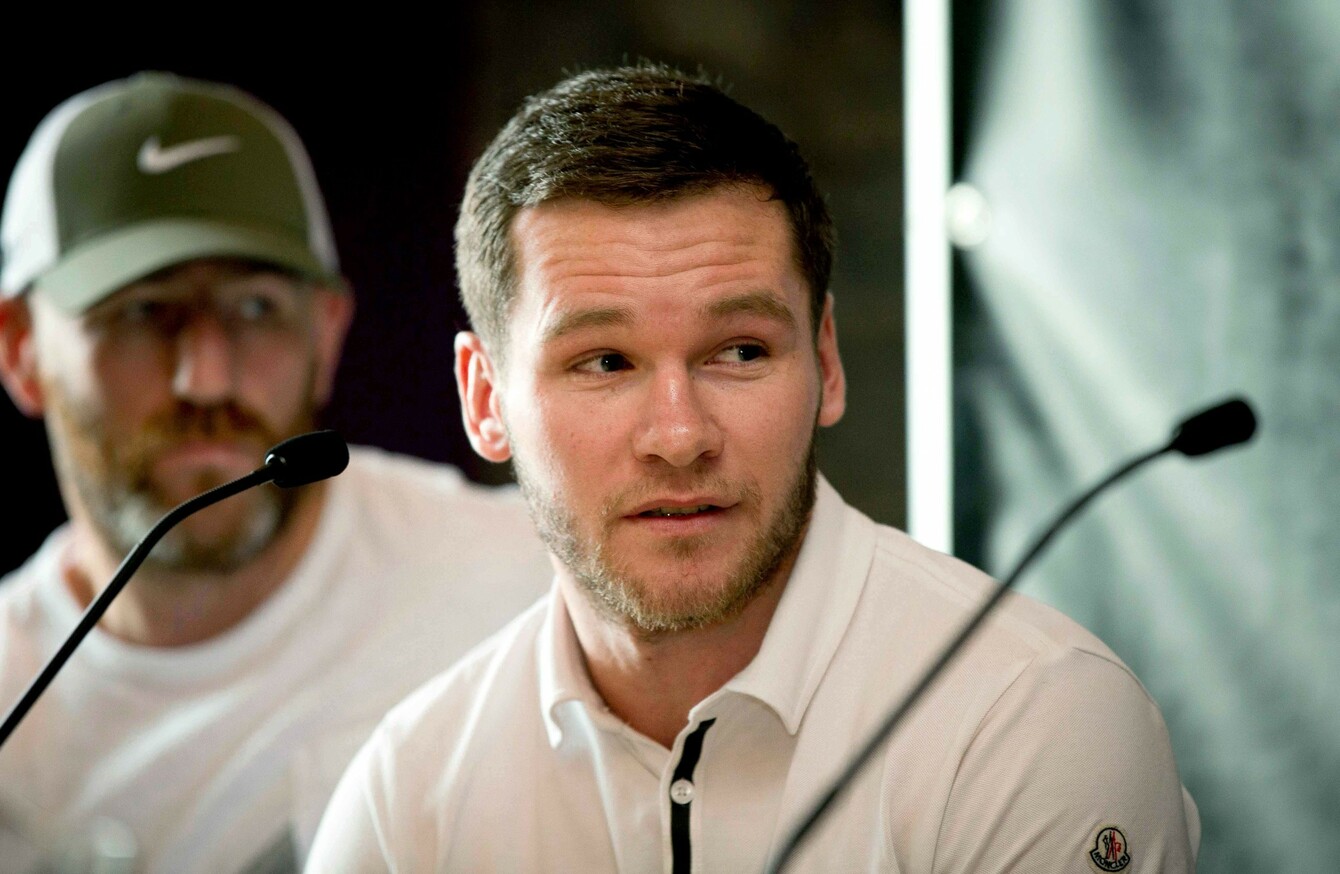 File pic of Luke Keeler.
Image: Morgan Treacy/INPHO
File pic of Luke Keeler.
Image: Morgan Treacy/INPHO
DUBLIN'S 'COOL HAND' Luke Keeler won the vacant Irish middleweight title with a narrow decision victory over Roscommon's Darren Cruise at the National Stadium.
The popular 30-year-old Ballyfermot slugger suffered a broken right hand after four rounds of action, but persevered through the pain en route to a win by the narrowest of margins.
Keeler, whose two career reversals arrived versus Tom Doran of Wales in 2015 and 2016, began in a dominant mood.
Incidentally, both men had previously agreed on Facebook to put their purses on the line for their title contest, with Keeler even suggesting they work it into their respective contracts, only for Keeler's trainer Paschal Collins, along with Cruise's team and the Boxing Union of Ireland to intervene.
Collins was back in the corner for Keeler's scrap, as was former two-weight world champion Steve, with both having witnessed Steve Collins Junior's debilitating defeat to Paddy McDonagh in a cracking Irish light-heavyweight title scrap earlier on the card.
Sheila Moylette, sister of Mayo fighter 'Sugar' Ray who was victorious prior to Collins' defeat, sang Ahmrán na bhFiann to a rapturous reception, a cacophony of 'come ons' naturally punctuating the final line, which few have ever heard at an Irish sporting occasion.
Moments later, we were underway, with both men stating their intentions early; a sharp Keeler right hand was met almost instantaneously by a Cruise left, prompting loud chants of 'Cruiser' from the Rossies on either side of the squared circle.
After some neat body work from Keeler and a nice finish to the round from the westerner, we were treated to our first chorus of Sweet Caroline; try as he may to steer clear of the limelight these days – more difficult while managing Katie Taylor, of course – Brian Peters' imprint on the sport in Ireland remains.
Keeler let loose in the second, stunning Cruise with a sharp left uppercut having tested him with it moments earlier. Cruise responded in the third, however, with a fine left hook of his own halting the Dubliner's momentum much to the excitement of his fans.  He continued to find success within the same stanza, his left hand a heat missile versus a target which, by Keeler's own admission, rarely moves too far out of range.
'Cool Hand' took the fourth with a plethora of more thudding shots, his left hand again potent, as Cruise struggled to land anything of note. But the Castlerea man fired back a round later, landing the better work, including a beautiful straight right hand which he planted upon Keeler's kisser.
It was then apparent that Keeler wasn't launching his right hand with the same fervour, and Cruise again had his supporters on their feet at the beginning of the sixth, snapping the Celtic Warrior-trained Keeler's head backwards with a sharp jab-straight right combination. Keeler, though, regained the ascendancy, rocking Cruise with a three-punch combination of his own - injured paw or not - and sending him dancing across the ring with his follow-up assault.
Back came Cruise again, extremely composed, and he took a quieter seventh with more accurate work than Keeler, who raised his arm as the bell sounded – a surefire sign he knew that particular stanza had slipped away from him. The next one followed a similar pattern, and entering the final two rounds Keeler would have been more than aware that there remained work to do in order close the contest out.
But likely still chasing the fight, it was Cruise who launched himself into the ninth, frequently piercing Keeler's porous guard as the latter retreated. In the tenth it was conspicuously evident that Keeler's most potent weapon had long-since been disassembled, and the Connacht man finished the bout with sufficient dominance to stake a claim that he had indeed defied the odds and edged Keeler in an intriguing back-and-forth clash.
Nonetheless, referee David Irvine scored the contest 96-95 in the Dubliner's favour. A rematch may well beckon, but Keeler will have an eye on European honours after a testing occasion on Dublin's South Circular Road.
The42 is on Instagram! Tap the button below on your phone to follow us!