THOUGH THE LOWER tiers of North American football are dealing with an uncertain future currently, Major League Soccer continues to go from strength to strength.
It's been announced that the league will add a further six teams over the course of the next four years – a remarkable increase of over 25% in that period.
Currently with 20 teams playing across two conferences, Atlanta FC and Minnesota United will compete from next season onwards. Another Los Angeles franchise, LAFC, will join in 2018 while plans are still in place to welcome a Miami team (which will be co-owned by David Beckham) as MLS's 24th club.
After that, there's a string of interested investors right across the United States: markets like Charlotte, Detroit, Nashville, San Antonio and San Diego have all publicly expressed an interest in joining MLS.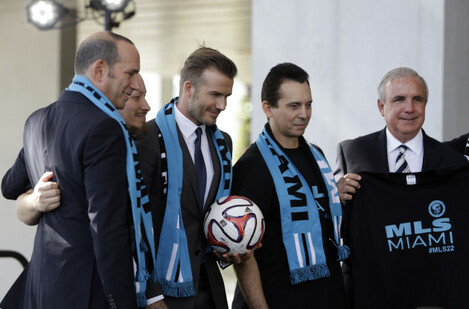 David Beckham will co-own a team in Miami, though the project has taken a long time to get off the ground due to issues with finding a suitable location for a stadium. Source: Lynne Sladky
The 25th and 26th teams will be officially confirmed later in 2017 and will pay $150 million each for the privilege of joining.
But MLS aren't interested in stopping anytime soon and want to expand to a 28-team league sooner rather than later.
Going by the rapid growth in recent seasons, they won't have any trouble in doing so with many businessmen across the United States desperately wanting a piece of the MLS pie.