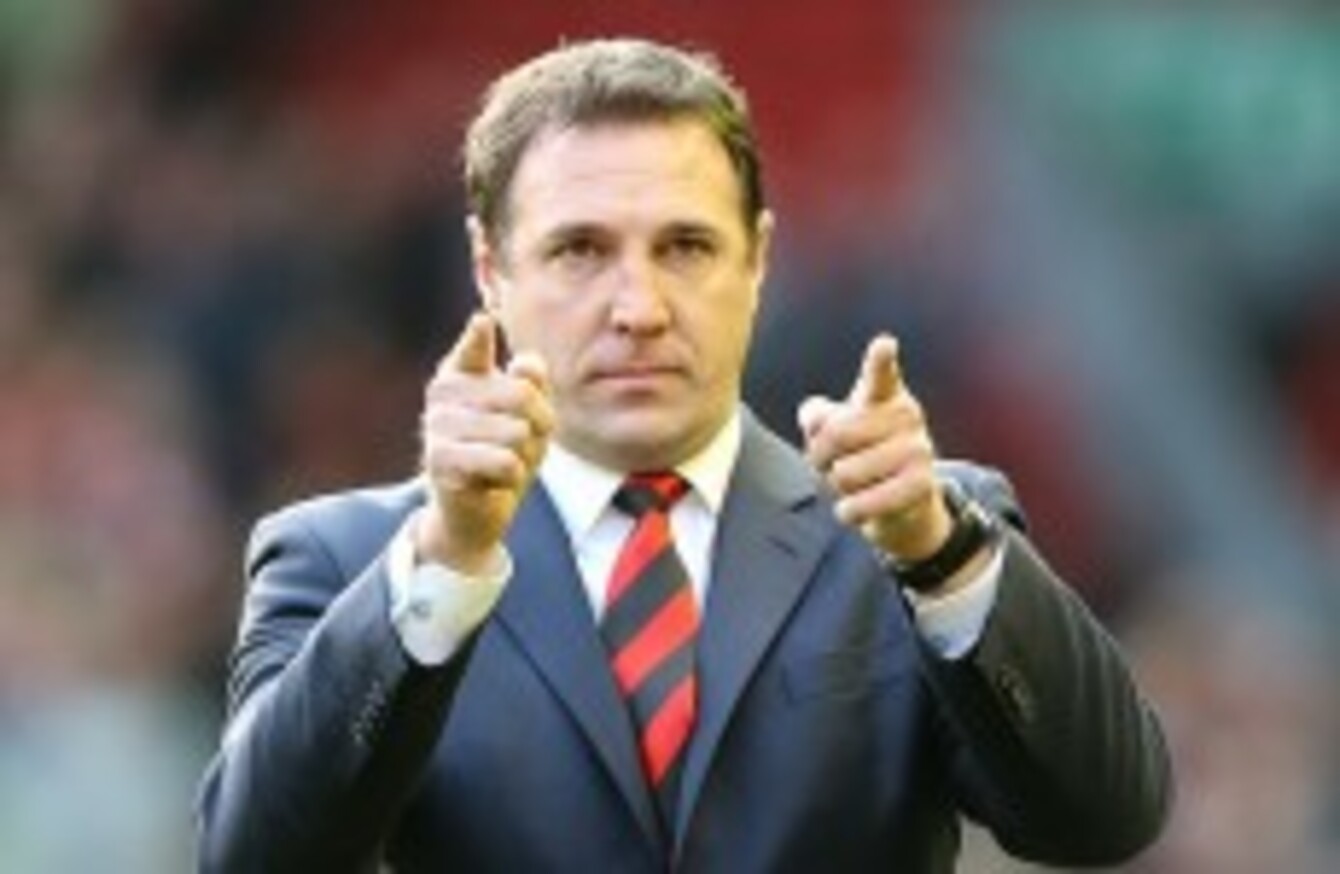 Malky Mackay has blamed work pressure for the controversial text messages.
Image: PA Wire/Press Association Images
Malky Mackay has blamed work pressure for the controversial text messages.
Image: PA Wire/Press Association Images
MALKY MACKAY HAS apologised for "unacceptable" text messages sent while he was Cardiff boss after his former club called on the chief executive of England's League Managers' Association, Richard Bevan, to resign over his handling of the affair.
The LMA spoke on behalf of Mackay on Thursday after the 42-year-old Scot and his right-hand man Iain Moody were alleged to have shared racist, sexist and homophobic texts when they worked together at Cardiff in a report published by Britain's Daily Mail.
Mackay's conduct was explained by the LMA as a matter of "letting off steam to a friend during some friendly text message banter".
That prompted widespread criticism, with Cardiff calling the 'friendly banter' defence "reprehensible".
The LMA apologised Friday and Mackay subsequently gave an interview to Sky Sports News, saying:
"Out of 10,000 text messages in and out of someone's phone I sent three and that being the case, looking at them they are completely unacceptable, inappropriate and for that and for any offence I've caused I sincerely apologise for that.
"That's something I did and there is no excuse for that."
He added: "I did it in a period where I was under immense pressure and stress in terms of the relationships that were possibly not going too well at my football club at the time.
"I'm a manager, I'm a leader of people and it should not have happened. But before all that and foremost, I'm a human being and I made a mistake."
"I've been in a multi-cultural football environment for 20 years.
'I am not racist'
"I love British football and I am not racist, I am not sexist, I am no homophobe and I am not anti-Semitic, and the people that know me know that and I do understand that it's the people that don't know me that I've got to convince of that."
Earlier Cardiff, in a statement released through their lawyers, Mischon de Reya, slammed the LMA's initial stance by saying: "We…find it entirely reprehensible that the LMA should itself put out a statement which seeks to dismiss deeply offensive racist comments as 'friendly banter'.
"If that is the view held by the LMA, as appears from its statement, we consider that Richard Bevan's position is untenable and we call for his resignation."
The LMA's statement was published following Moody's resignation as sporting director of Premier League side Crystal Palace on Thursday after a file alleging misconduct during his time with Cardiff was sent by the Welsh club to the Football Association.
Mackay was sacked as Cardiff manager by Malaysian owner Vincent Tan in December 2013. Two months after Mackay's departure, Moody was fired by Cardiff before going on to join Palace's staff.
The LMA statement questioned the timing of the Mail's revelations, which appeared to have scuppered Scottish boss Mackay's hopes of succeeding Tony Pulis as manager of south London club Palace.
However, Cardiff hit back Friday by saying: "That the LMA has sought to criticise the club for the timing of the report to the FA is preposterous, because the offensive communications have been in the knowledge and possession of the LMA for many months.
Earlier on Friday, the LMA apologised for its original statement, saying it had not meant to "trivialise" issues of racism, sexism and homophobia.
But there was support for Mackay from veteran QPR manager Harry Redknapp.
"I am not condoning what he has done but he is not a bad person," Redknapp said. "He has not murdered someone, is not a rapist or a paedophile, he has made a mistake but that should not finish his football career."
Mackay guided Cardiff to the Premier League after a 51-year absence from English football's top flight.
After he was ditched by Cardiff, Mackay launched a £7.5million ($12.4 million, 9.4 million euros) legal claim against Tan for compensation but dropped the claim in May and apologised to the Bluebirds' owner.