1. Manchester United give city much-needed lift
ON A WEEK in which football has paled in significance to the tragic events in Manchester, the city's most famous football team showed admirable character to deliver an accomplished performance that contained plenty of nous and enough quality under difficult circumstances.
Football both is and isn't important within the context of what has happened. Talk of trophies and the Champions League feels irrelevant compared to the disturbing events of Monday night. Yet at the same time, the fact that life and football keeps going despite what has happened and provides ordinary people with a sense of escapism and routine in such surreal circumstances feels hugely significant.
The game itself felt somewhat subdued with a shortage of thrills, perhaps partially due to the unsettling backdrop over which the encounter took place, but despite the inevitable emotion of the night, the Red Devils deserve enormous credit for delivering such an assured and controlled performance.
Mourinho has now won 12 out of 14 cup finals in his career, including all four European finals he has been involved in, and the team produced the type of clinical display with which his sides have long been renowned.
As is often the case with the Portuguese manager's teams, the performance wasn't pretty to watch, but it was highly effective. Every player on the pitch knew precisely what was required and from the minute Paul Pogba's deflected effort found the back of the net, the outcome rarely looked in doubt.
For all Ajax's possession and territory, they could not find a way past a superbly organised and tactically superior United side.
The Dutch team, who had just three shots on target, could have played all night and not scored, so toothless was their attack, which had been much-vaunted ahead of the game. And it was United's resolve, more than anything else, that made their opponents look so tame.
2. Ajax inexperience shows
There was plenty of hype surrounding this exciting young Ajax side prior to Wednesday night's game, but in the end, they delivered an underwhelming performance in a final that was far from a classic.
Jose Mourinho sides don't tend to surrender leads too readily and this United team were no exception.
Ajax toiled continuously with little reward, but their passing simply wasn't sharp enough and their movement lacked the intelligence and speed required to eclipse a well-drilled backline.
For all the talk of the occasion getting to the Red Devils, given the additional pressure created by outside events, it was in fact the Dutch side who seemed a little overwhelmed and ill-equipped for the magnitude of their season's climactic game.
Six of Peter Bosz's team were 21 or under and with an average age of 22 years and 280 days, they were the youngest 11 ever to start a European final. In 17-year-old centre-back Matthijs de Ligt, they also had the youngest player ever to feature at this level.
And while United themselves once disproved the notion that 'you can't win anything with kids,' Ajax's nervy start and consistently poor decision-making suggested Wednesday night was a step too far amid a hugely impressive season overall for their burgeoning side.
3. Fellaini has been the unsung hero in this Europa League campaign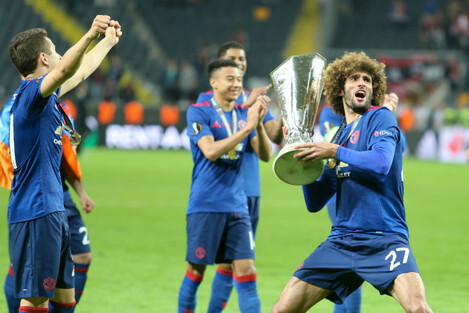 Marouane Fellaini celebrates with the Europa League trophy. Source: SIPA USA/PA Images
Marouane Fellaini has received plenty of ridicule from Man United supporters since joining the club from Everton for £27.5 million on Deadline Day in September 2013.
Yet having at one point been in danger of forever being associated with the ineptitude of the David Moyes era, he may now come to epitomise the pragmatism of the Jose Mourinho years.
Last night, Fellaini was an important presence in the United side, justifying his selection ahead of the more experienced and technically gifted Michael Carrick by delivering a performance full of endeavour, with his imposing presence regularly upsetting a physically inferior Ajax team.
Henrikh Mkhitaryan, five of whose last six goals have come in the Europa League, and Paul Pogba, also made important contributions, but more so than on Wednesday, the Belgian international's influence in the home quarter-final tie with Anderlecht was especially crucial.
In that tie, with United struggling against the resurgent visitors, Fellaini came on in the 60th minute and was deployed in an advanced role. The visitors simply couldn't deal with the big midfielder's presence in the final third, and the 29-year-old ultimately was vital in turning the balance of the tie back in his team's favour and helping to secure a hard-fought extra-time triumph.
He also scored the crucial opening-goal in the semi-final second leg against Celta Vigo, and while he will never be thought of in the same class as midfield greats such as Paul Scholes and Roy Keane, the Belgian has repaid Mourinho's faith in him with a series of committed and effective displays.
Arguably more so than anyone else, Fellaini has been the unsung hero of this Europa League campaign and a symbol of Mourinho's preference — for now at least — of substance much more so than style.
4. Can this now be considered a successful season for United? 
If you offered Man United fans two (or three if you count the Community Shield) trophies at the start of the season, most would have gratefully accepted this outcome, particularly in one of the most competitive seasons in English football's history and given the club's relative lack of success following Alex Ferguson's retirement.
Yet this year's triumphs come with a caveat. United have spent astronomical sums on players, so notwithstanding the acquisition of the Europa League and EFL Cup, the campaign has been a failure in some regards.
Finishing 27 points behind Chelsea is not good enough for a team with their aspirations and wage bill.
Struggling to beat clubs with a fraction of their resources, such as Rostov and Celta Vigo, is far from an unqualified success.
But what last night's victory does provide is hope — a foundation to build on, and a glimpse of a more promising future.
Alex Ferguson's side were renowned for winning when not playing especially well, and Mourinho's men have done likewise on occasions when they have been under intense pressure in recent months.
This pattern needs to become more of a habit than it has been in the overall context of the season and Wednesday night's success certainly papers over a considerable number of cracks at the club, but after everything that has happened, it is enough for now to keep Mourinho in a job and to ensure fans remain cautiously optimistic after a gloomy few years.
The42 is on Instagram! Tap the button below on your phone to follow us!