Sherwood has been out of a job since his departure from Aston Villa.
Image: PA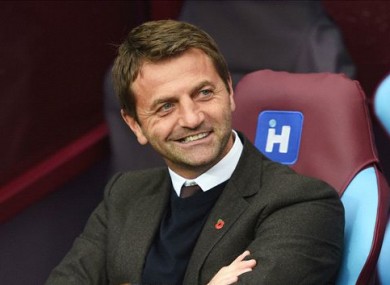 Sherwood has been out of a job since his departure from Aston Villa.
Image: PA
MANCHESTER UNITED WOULD be better off appointing Tim Sherwood to save their season than Jose Mourinho, claims former defender Paul Parker.
The Red Devils are on course to win fewer than 60 points in the Premier League this term and record their lowest-ever total since 1991, as Louis van Gaal's struggles continued with a 2-1 defeat by Sunderland on Saturday.
Mourinho has been widely reported as a possible recruit ever since his sacking by Chelsea earlier this season but Parker believes that the Portuguese would be the wrong kind of personality to improve performances at Old Trafford.
"To suggest that he could walk in to a crisis situation at United and turn it around is absurd," Parker wrote of Mourinho for Eurosport. "That's something he's never done in his career and this really wouldn't be the time to start.
"He's lost a huge amount of respect in the game and I suspect the players at United hate the idea of him taking over.
"Frankly, given how unhappy the players are right now, they'd be better off bringing in Tim Sherwood between now and the end of the season: someone to soft-soap the players, give them a bit of a cuddle, get them feeling good about themselves once again.
"Sadly, as we've seen with Tim, those sorts of managers don't work long term and United need to start thinking about the long term as soon as possible because, if not, they face the ultimate danger: turning into the new Liverpool."
The42 is on Snapchat! Tap the button below on your phone to add!