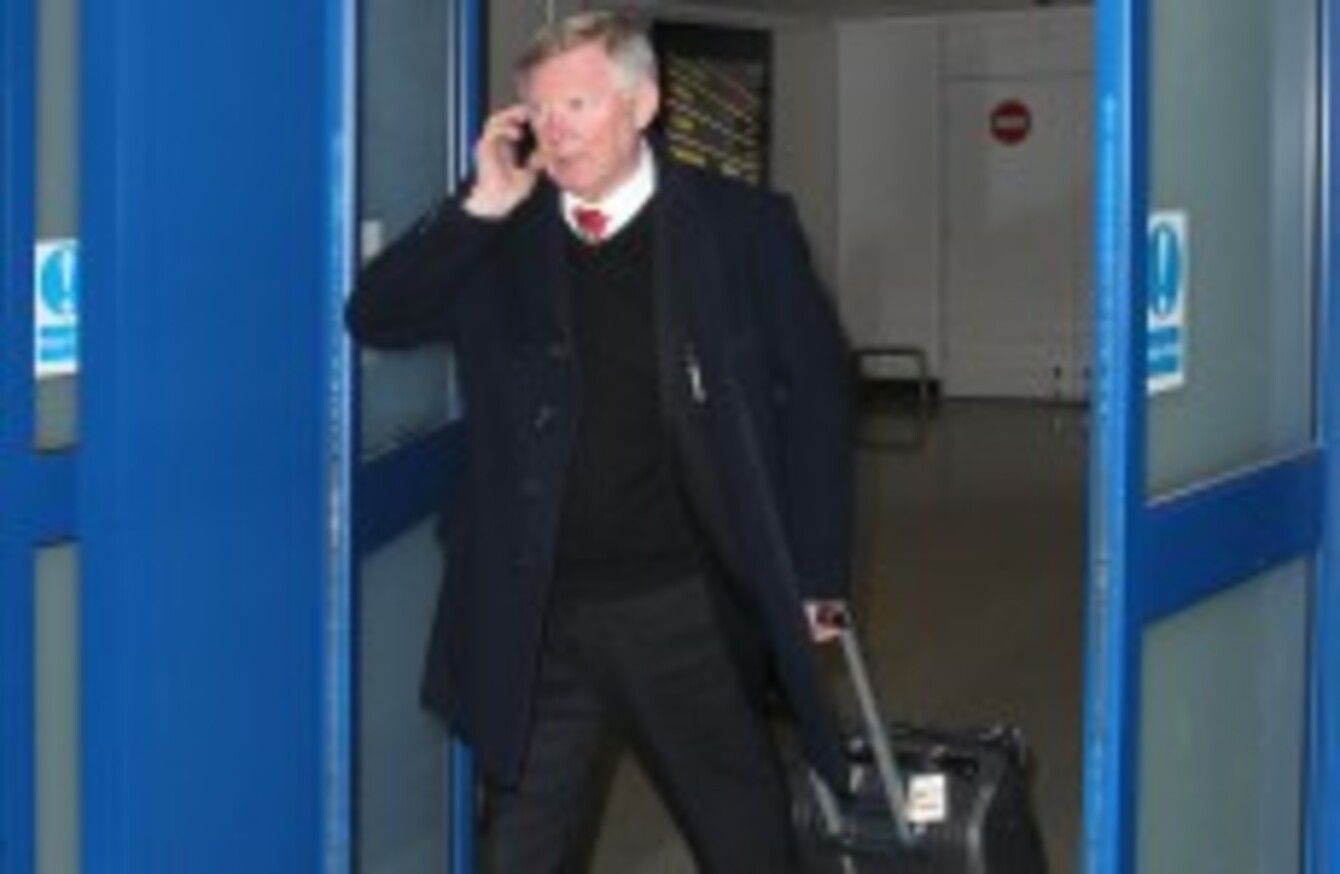 Alex Ferguson returns from Madrid last week.
Image: Eamonn and James Clarke/Eamonn and James Clarke/EMPICS Entertainment
Alex Ferguson returns from Madrid last week.
Image: Eamonn and James Clarke/Eamonn and James Clarke/EMPICS Entertainment
ALEX FERGUSON BELIEVES he has a stronger Manchester United squad at his disposal than the one that won the club's historic treble in 1999.
But that has not prevented the veteran United manager from handing out a stark warning to his players ahead of their FA Cup fifth round meeting with fellow Premier League side Reading at Old Trafford tonight.
United have a commanding 12-point lead at the top of the Premier League and a solid 1-1 draw at Real Madrid on Wednesday has given them a slight edge after the first leg of their Champions League last 16 tie.
Ferguson, in charge when United swept the European Cup, English league title and FA Cup 14 years ago, refuses to talk about the prospect of repeating that remarkable feat. But he does believe the current crop of United players is, overall, superior to the 1999 vintage.
"Yes, numbers wise, this is a stronger squad," said Ferguson. "When we went to the Champions League Final, Roy Keane and Paul Scholes were suspended, but Henning Berg was the only injury.
"And I still had to pull in a player, Jonathan Greening, who had only played once or twice and he actually got a winner's medal for sitting on the bench. That gives you an idea of the respective strength of the squads. It's not just the four strikers I could change, you could change the entire team now.
"There were good internationals who weren't even involved on Wednesday," the 71-year-old Scottish boss added.
In United's 1999 campaign they lost to Middlesbrough in the league in mid-December but then ran through the rest of the season without defeat.
Currently, United are unbeaten since going down to Romanian side Cluj in a 'meaningless' Champions League group game at the start of December while their last league loss came at Norwich three months ago. But Ferguson refused to draw parallels between this season and 1999.
"We lost to Middlesbrough and we never lost again," he said. "It was a tough FA Cup run that season, really tough. We were up against Premier League teams in every round.
"I think it's nice to look back at these things and how it was done in that particular time with the squad of players I had, which is not nearly as strong as the one I have now. I think the reality is don't get carried away by it, particularly in the FA Cup, anything can happen. You don't want to be a shock, that's for sure.
"So Monday, in many people's eyes, it's Reading, 'yeah, we've just been to Madrid, it was a great night and Monday will take care of itself'.
"Monday can't take of itself. We have to take care of it, we have to have a performance which respects our opponents and the fact that the FA Cup can produce shocks. We've suffered them ourselves and we don't want another one on Monday."
United reported no fresh injuries from Madrid although a knee problem will sideline 38-year-old midfielder Scholes for two weeks.