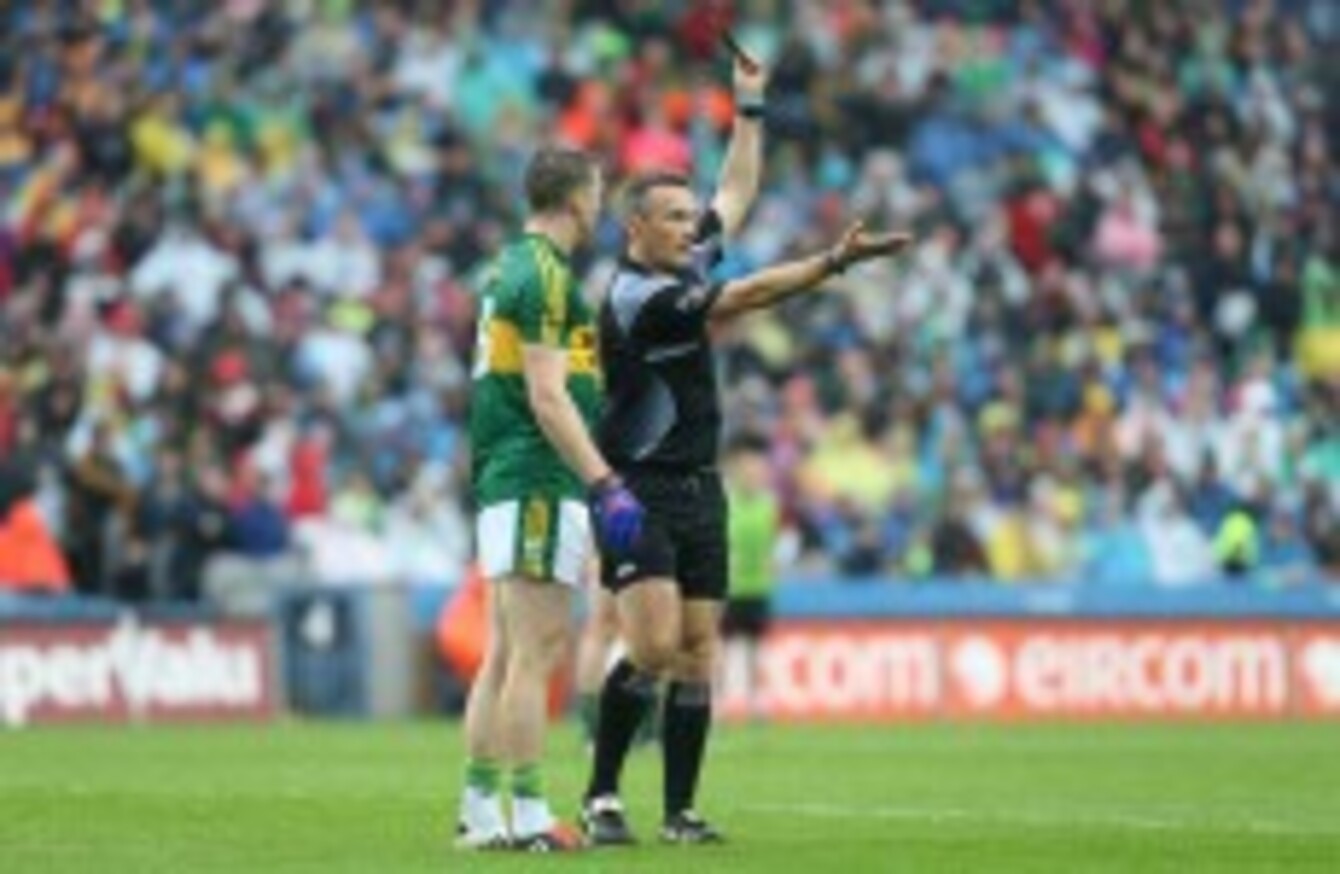 Marc Ó Sé is shown to the line by referee Maurice Deegan.
Image: Andrew Paton/INPHO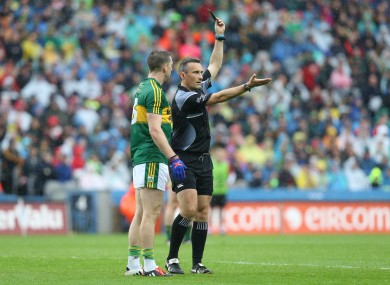 Marc Ó Sé is shown to the line by referee Maurice Deegan.
Image: Andrew Paton/INPHO
WHEN KERRY FINALLY scratched their Tyrone itch at Croke Park, Marc Ó Sé was watching on.
His All-Ireland semi-final last month did not pan out as he envisaged, whipped ashore after 14 minutes when a black card was brandished in his direction.
"I was disappointed in myself. I felt I deserved a black card.
"At the time I didn't feel it was justified because to be fair I did go to break the ball away from him.
"What I didn't do was I should have pulled my hand back straight away and left it there but I definitely left the hand in.
You've no control on the sideline and you're disgusted with yourself and you've left the boys down, especially after 14 minutes.
"I was very disappointed because I was delighted with the way the game was going for me personally and the team."
Ó Sé had another irritation in the run-up to that clash with Tyrone. He had little time for attempts to spice the rivalry between the Kingdom and the Red Hands.
"Everyone was making a big deal about the Tyrone game but the reality is that there were only three players who played in those three games – 03, 05 and 08 – myself, Gooch and Sean Cavanagh.
"I thought the media were making such a big deal about this game, could Kerry beat Tyrone?
"And if nothing else, I'm glad we beat Tyrone just to put that to bed. It had no relevance whatsoever. You had most of the Kerry players on that team, they've never lost to Tyrone and I think James even said that in an interview afterwards.
It's something I'm glad is put to bed because it was one of those things that was lingering.
"I just think it was fuelled by the media because it's important to have some angle going into a game and it had nothing to do with the game that was before us the last day."
A five-time All-Ireland medalist, Ó Sé shunned the chance to ease himself into retirement last winter. The chance to overtake Tomás and match Darragh in the senior medal stakes didn't an extra incentive though.
"To be honest it doesn't make any difference. there'll be players that will come on and break all those records in a few years without a doubt. Look I felt good.
"I'd an injury but once it cleared up, I felt I was going to go again and it did clear up.
"I don't know what the story is with next year but you know, I'm just looking at the next game now.
"I'm not even thinking about anything else. I'm not thinking about retiring. I'm not thinking about staying on. I'm just thinking about this game."