MARIA SHARAPOVA FELT like she had no right to beat Simona Halep as the former world number one celebrated her winning return to grand slam tennis at the US Open.
Sharapova made a triumphant comeback to the major scene after upstaging second seed Halep 6-4 4-6 6-3 in the opening round of the US Open at Flushing Meadows on Monday.
The five-time major champion was making her first slam appearance since testing positive for a banned substance at the 2016 Australian Open, having returned from a 15-month suspension for violating anti-doping rules in April, but was denied a wildcard for the French Open and then pulled out of Wimbledon qualifying through injury.
Sharapova – who missed the Western & Southern Open and Rogers Cup due to injury – was granted a wildcard for the year's last slam and she took full advantage, outlasting world number one hopeful Halep in an absorbing clash approaching almost three hours.
"When I found out that I received the wildcard, I was obviously extremely excited," 2006 US Open champion Sharapova told reporters. "I realised how long it had been since I played at the US Open.
"Just the thought of being back here. When me and my coach first scheduled my practice on centre court, actually it got moved because they had some maintenance issues. I was upset about it because I really wanted that first practice on centre court. Those little things you kind of take for granted. From the moment that I've been here, I've really understood what this means to me, to be back and to be playing.
"Then when the draw came out, I knew what a difficult matchup this would be, how much excitement was behind this matchup and the hype. That all goes to the fact that we've just competed so well against each other in the past. Really produced some good tennis.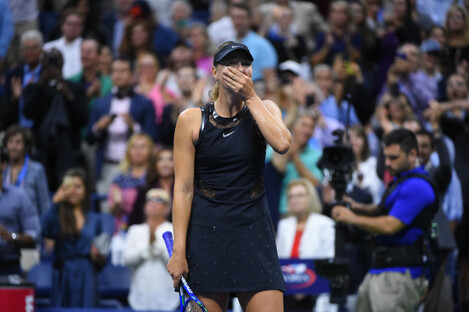 Source: Dubreuil Corinne/ABACA
"Despite not playing a lot of matches coming into this, it almost seemed like I had no right to win this match today. And I somehow did. I think that is what I'm most proud of."
Sharapova added:  "I was looking forward to it. From the second I found out I was playing Simona, I was actually getting my nails done, I got my phone out and I pulled up YouTube videos of our matches and started studying our matches.
"I felt like going into this match, I knew my game plan. It's one thing knowing what you want to do and it's another thing executing it. I haven't been on court much in the last few weeks, not as much as anyone that's in the draw this week.
"The fact that I was able to come out and play that way, beat the number two player in the world in the first round of the US Open, it's been a while, I think those are definitely the emotions that I was feeling."
Sharapova was greeted with an ovation from the Arthur Ashe crowd before the match and afterwards, and the Russian continued: "[It was] so special. I felt the support in the States, I mean, even just the first match in Stanford. It's a smaller event, a smaller venue, it's a little bit more intimate. This is obviously a different scale, completely different calibre to anywhere you play in the world. It's electric.
"As much as I want to be in the zone, focus in on what I have to do, execution and all those things, I definitely felt the energy. I felt the crowd. I felt it for both of us, you know. That's what makes this great. I love that feeling, that there's fans cheering for both players, that it's a great match and a great level. They're getting their evening's worth."
Subscribe to The42 podcasts here: