THE CLOCK IS ticking now.
Tickets are selling, excitement is building, the form book is taking shape, players are sweating buckets and the countdown reminders are flowing through their WhatsApp with ever-increasing frequency.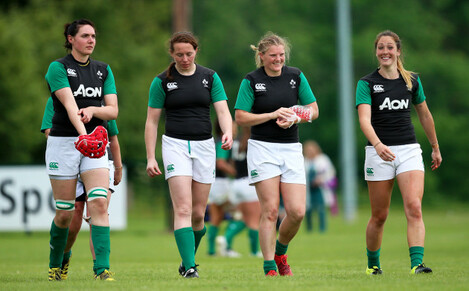 Source: Tommy Dickson/INPHO
The Women's Rugby World Cup is just 45 days away and the hosts have a squad digging deep to ensure they make a carnival out of UCD and put themselves in the thick of things  when the big knock-out games come in Belfast.
Tom Tierney's training squad was whittled down from 48 to 37 at the start of the month  with further cuts and additions to come before the tournament 28 is settled upon.
Yet for those lucky enough to still be involved, the road to the 9 August opener still isn't as straightforward as day-in, day-out systematic building to that singular goal.
Today, Ireland are back in the National Sports Campus for another weekend camp where Tierney can get the squad together and put them to work as a unit.
"It's great because you're up in an elite area," says Marie Louise Reilly, 'Maz', before mentioning a sighting of Martin O'Neill's Boys in Green around Abbotstown.
The clean lines of the new campus have that tendency to make you feel closer to the big time even when in between tournament. It's a sense of occasion, almost, that training in full view of anybody willing to pop their head around a corner doesn't quite hold.
Source: Craig Watson/INPHO
There's plenty of time for that when the squad break off to their regional centres in Dublin, Galway, Belfast, Limerick and Cork. That's when the workload is a real hard graft. And, as any inter-county GAA player can testify, it's all the harder as an amateur.
Professional women's rugby players are few and far between, so building a training regime around a regular working day is a necessity. Pre-work, post-work, weekends; they're torching through the candle from all sides.
"We'll have about eight (weekend camps) in the lead up the World Cup. You go in Saturday morning, have two sessions on the Saturday and two on the Sunday.
"In Leinster (regional centre), we base ourselves in the Aviva and the gym there and we do conditioning here (Donnybrook) in the evening. You're looking at three morning gym sessions at 6am and then four evening sessions at half six or seven."
For second rows like Reilly, a sports officer with Dublin City Council by day, the demands are taxing on the brain as well as the body. She must take control and responsibility for how the line-out functions. It's a role she picked up after the retirement of the inspirational Fiona Coghlan after the last World Cup, a tournament that saw Reilly named in the WRWC Dream Team.
"A few of us put our hands up to take it over. I managed to secure that position of calling the line-out. It was something new for me, something you have to work on prior to matches same as you would with fitness and  core skills.
Line-out calling is its own little kind of chess game that you have to  work out in your head before you get on the pitch.
"I would try to make things as simple as possible. Not only for myself, but for other players. Under fatigue you need to be sharp in your calls and reduce the chance of somebody forgetting something."
Reilly was speaking as eir announced that broadband customers can now cast the eir Sport app through chromecast to their TV. Eir will broadcast the Women's Rugby World Cup. Source: James Crombie/INPHO
Thinking and acting with clarity is precisely what intensive training camps are trying to achieve in players. Fatigue cannot be avoided in a rugby tournament run over a short space of time and Ireland know they will have to think tired bodies through tough situations.
After their two warm-up games this month, Ireland will face into a pool stage of Australia, Japan and France in the space of eight days. The entire 28-woman squad will be called upon, but there will be no gimmes in store. The strength in depth Tierney has tried to build through the Six Nations and the weekend camps all summer long will be vital to making August a success.
"Same in the men's game, strength in depth is so important. In a tournament you can't be relying on five or six players. you have to have strength throughout."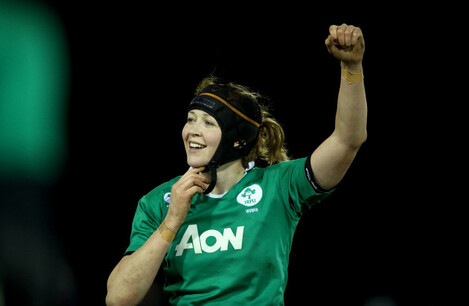 Source: Dan Sheridan/INPHO
Once the tournament starts, vast swathes of training and preparation time will be taken over by recovery work. So on top of fitness, it's essential to have set-piece and core skills nailed down in these approach weeks. In rugby there is so much you can work on, but if you hear Joe Schmidt complaining about a lack of preparation time, just think of the task for amateurs. It's not the money, facilities or structures that make Reilly a touch envious of England and their ground-breaking professional women's setup, it's the time.
"The main thing is rest and recovery. We're putting in the same amount of sessions and training as England are, but the difference is we're doing a gym session at six in the morning and then racing out the door to go to work.and back again to train in the evening.
"Rest and recovery is something that, as individuals we have to take responsibility for and try to up our game in it."
45 days to go, and these women already have every last minute accounted for.
The42 is on Instagram! Tap the button below on your phone to follow us!