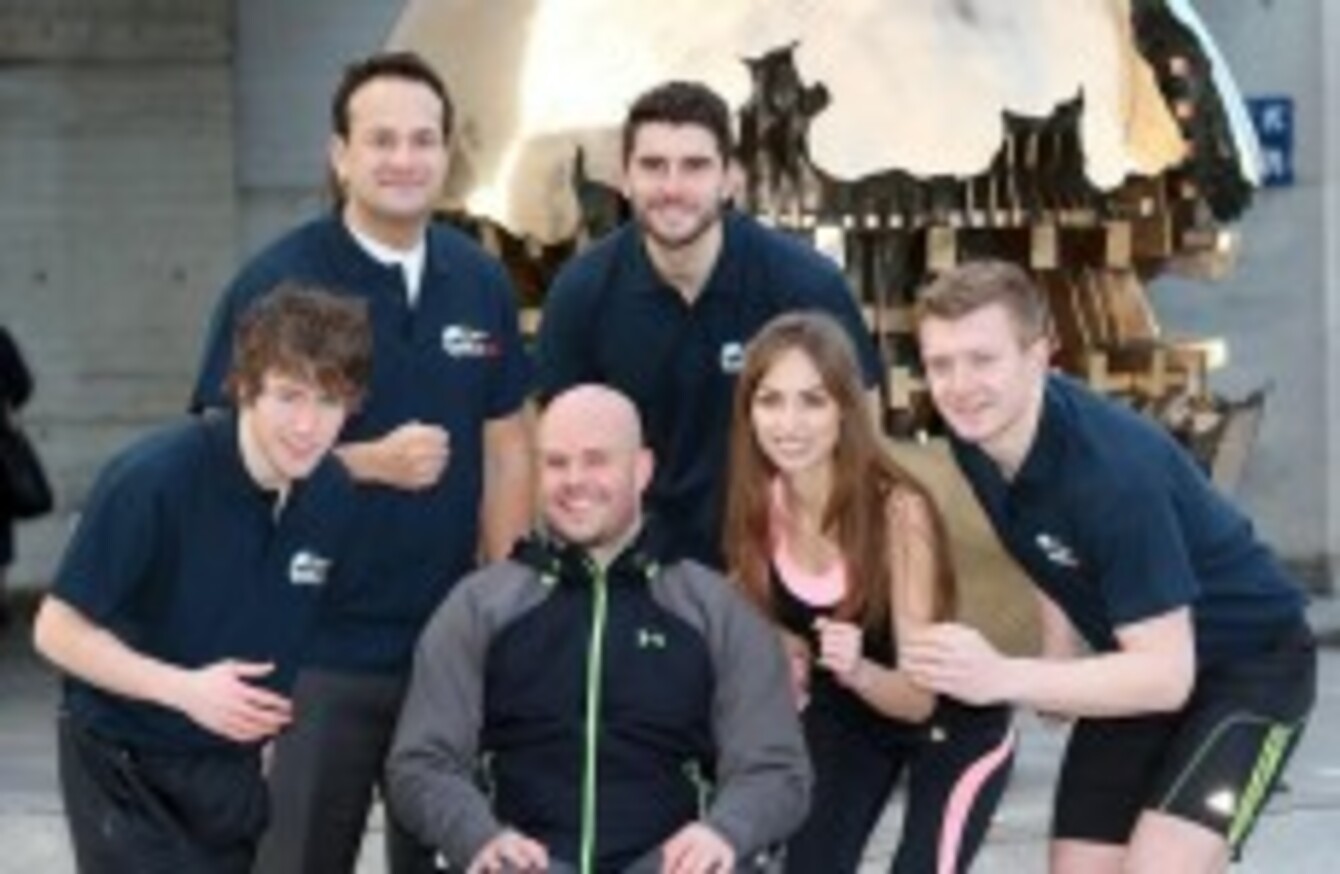 Mark with fellow Wings for Life ambassadors including Leo Varadkar and Bernard Brogan.
Image: Marc O'Sullivan
Mark with fellow Wings for Life ambassadors including Leo Varadkar and Bernard Brogan.
Image: Marc O'Sullivan
MARK POLLOCK KNOWS better the most what supporting the Wings for Life World Run means for the advancement of spinal cord injury (SCI) research.
The Irish adventurer and motivational speaker, who overcame many challenges to pursue his passion of exploring after going blind at the age of 22, has dedicated his life to developing better treatments since a fall robbed him of the ability to walk in 2010.
Having set up the Mark Pollock Trust, he and fiancée Simone joined the board of The Christopher and Dana Reeve Foundation with the aim of "connecting people around the world and fast track a cure for paralysis".
'Unbreakable', a film telling the couple's inspirational story, received overwhelmingly positive support upon its release late last year and it has just been nominated for an IFTA.
On Sunday, Dublin will be one of 35 locations globally hosting the Wings for Life World Run, a unique event for athletes of all abilities which sees participants test themselves while being chased by a 'Catcher Car' driven by Ireland and Munster star Simon Zebo.
100% of funds raised this weekend by Wings for Life, a non-profit foundation, will contribute to the ongoing mission to find a cure for SCI and that is precisely the reason that Pollock was committed to becoming an ambassador.
"Wings for Life is really interesting to me because they are huge worldwide and are linked to Red Bull," Pollock told The42. "If you have got a global company like that who know how to market, they were going to do something exciting and do it really well.
"To have such a powerhouse behind an injury such as SCI, which is under the radar, is really important in order to get the topic onto the agenda. And they have produced this exciting global event in the Wings for Life World Run.
There is no cure for SCI, so trying to get people excited about complete failure is difficult.
"By getting people who have no involvement with spinal injuries to get out there and do something positive, it starts to peak their interest about the subject and hopefully that interest will translate into money, then into science, before eventually it reaches the patients."
Irish sports stars such as Zebo, Dublin footballer Bernard Brogan and top jockey Ruby Walsh are lending their support to the cause and Pollock is urging others to do the same.
"People have to understand that it doesn't matter what their fitness is," he added. "The great thing is that whether you can walk for 30 minutes or run for five hours, you're in.
"Whatever your level, just get involved because it is going to help in the quest to find a cure for paralysis."
Online registrations for the Wings for Life World Run have now closed. From Wednesday to Saturday, those wishing to register for the Dublin event may do so in person in Dun Laoghaire at Moran Park House (located just beside the DLR Lexicon library) between 10am and 7pm. You can also register by calling 086 387 9505 or emailing ireland@wingsforlifeworldrun.com. Visit www.wingsforlifeworldrun.com for more info.