THEY SAY THAT when athletes look back on their careers, it's the big defeats, rather than the victories, that stick out in their minds.
Of course, Martin Comerford enjoyed far more good days than bad. Over an 11-year career with Kilkenny, the O'Loughlin Gaels veteran won six All-Irelands, eight Leinsters, four National Leagues and three All-Stars with his county.
But he recalls the pain of losing two All-Ireland finals in the space of seven months, one each with club and county. Those two defeats ultimately led to his retirement from the inter-county game.
Kilkenny's drive-for-five was halted by Tipperary in September 2010, before O'Loughlins lost the All-Ireland club final to Clarenbridge by 12 points the following March.
"Thanks for reminding me," Comerford says of the Clarenbridge defeat. "I still have sleepless nights about it to be honest."
He took some time out after that St Patrick's Day loss before announcing his retirement from the county scene at just 32.
It was a very difficult decision. One that you'd have to think long and hard about. I was there for nine or ten years and we were in a lot of finals and won a lot of stuff.
"To walk away from it can be a difficult decision, but we got to the club All-Ireland final against Clarinbridge in March 2011 and we were comprehensively beaten. We had put in a ferocious effort that year and it really was something that we were really targeting to win that year.
"Motivation was very difficult, we also lost the five in-a-row the year previous to that, so that was another kick. My brother was the manager of the team and we put in a massive effort. I never trained as hard.
"I just couldn't face hurling for a while and I didn't have the enthusiasm for it."
He met Brian Cody a few of weeks later and the Kilkenny boss told the forward to take some time before making a decision. Comerford did just that, before confirming his intention to hang up his boots.
He spent some more time away from the game before getting back into the swing of things with O'Loughlins.
"After a while you get over these things and you get stuck back into it. I took a break for maybe two months and just got back into it with the club.
"I noticed a lot of club teams that get to Patrick's Day, they don't come back the same team. The same faces tend not to come back."
What's interesting is how O'Loughlins reacted differently to their county final defeat to Clara last year. There were no retirements this time around as there had been in 2011.
Instead they made a pact in the dressing room not long after watching their opponents lift the trophy.
After the match we said in the dressing room that we'd come back and give it a hell of an effort the following year."
They managed to go a step further 12 months later, edging out Ballyhale Shamrocks in the final to hand Comerford his fourth county title.
For what could be a final time, Comerford shared the field with Ballyhale's legendary figure Henry Shefflin, who at 37 is a year his junior.
They were two key lieutenants in Cody's attack during for a seven-year period county's glory days in the naughties, but the first time they shared a pitch was in a different sport entirely.
When St Kieran's College played Drimnagh Castle CBS in a Leinster schools soccer final, they boasted a Shefflin-Comerford strike force.
The duo, who would go on to win a combined 16 senior All-Ireland medals, linked up for a goal on the day with Comerford laying on the pass for Shefflin's finish.
"They beat us after a replay, we played them in Buckley Park and it was one-all, I think Henry actually scored, he was a great player.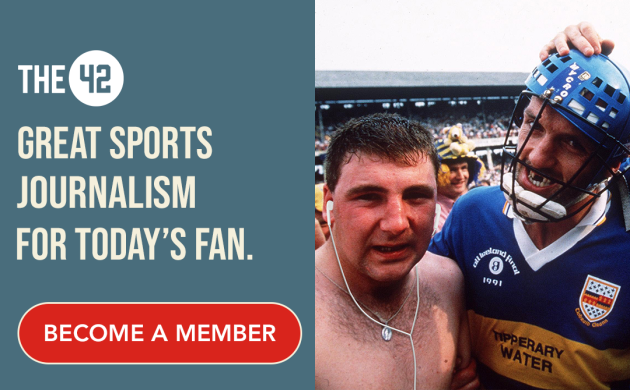 "They beat us on penalties in Home Farm in a replay. We'd a good team, we'd some good players, a few hurlers played on it, Michael Kavanagh, Henry, myself and a few other senior club hurlers that you see on the scene in Kilkenny."
Shefflin and Comerford are long gone from the county scene, but the latter doesn't for see Cody stepping away in the near future. Instead he feels Cody must oversee the arrival of new talent in the black and amber.
I couldn't see him retiring anytime soon, I'll put it to you that way.
"It's back the drawing board really for Kilkenny; it's going to be a difficult year trying to blood new players. He obviously needs to blood new players and get maybe some influence from youth into the team. Listen, there's always good hurlers in Kilkenny – junior, intermediate and senior.
"There'll be players found, there'll be players who will get their chance in the league and it will be up to them to sink or swim and see if they can make it in that environment. Brian Cody is going to be fully motivated with Kilkenny next year, Kilkenny will be there or thereabouts and if they get to a final next year, I wouldn't rule them out winning it."
At 38-years-old, an evergreen Comerford rattled off four points from play in his team's Leinster semi-final win over Oulart the Ballagh. He feels his early retirement with Kilkenny helped prolong his club career.
"Maybe it was the wrong decision, maybe I could have been on the panel for another few years. I was in relatively good shape but it was just a decision I made. That's it, we all make decisions in life you just have to live with them and get on with them.
"Maybe giving up Kilkenny when I did when I was 32 might have stood to me regarding injuries and so forth. Obviously it's very taxing on the body to be training so hard the way inter-county panels are at the minute.
Maybe that stood to me with regards to hip injuries, knee injuries, and so forth. Touch wood, bar a couple of niggles and so forth which you're always going to get, I'm in good old shape.
"I'll keep playing as long as I can. Because you'll be retired long enough. Fan Larkin always says to me, 'Keep going for as long as you can and enjoy it, because when you're gone, that's it.'"
The42 is on Instagram! Tap the button below on your phone to follow us!