WHAT MAKES THE perfect captain?
Is it about the words spoken before and during games? Do actions count more than anything else? Can the ability to 'manage' referees be influential in the outcome of games? Or is the role purely about the days preceding matches?
Martin Corry appears well placed to judge what goes into captaining rugby teams, given that he led [is that an accurate verb?] England to the 2007 World Cup final, was club captain at the Leicester Tigers, and ended up skippering the 2005 Lions after Brian O'Driscoll's shoulder injury.
The uncompromising lock/back row was greatly respected as a leader of teams, but underlines that if the right people are around a captain, the task really isn't as demanding.
The honour of captaining a side is probably sometimes more than the actual role you need to do, provided you've got the right people around you. With some of the best teams I've captained, the role was the easiest thing to do.
"It's only hard when you've got a very young side and you've got to develop those young players, then you've probably got to do more."
Corry doesn't believe that one has to be an excellent orator to be a great captain, and yet he acknowledges that some do excel because that are "great talkers." The 40-year-old points out that there is no single definition of what a captain needs to be.
Corry competes with Paul O'Connell in the air during the 2007 Six Nations. Source: ©INPHO/Dan Sheridan
Instead, Corry suggests that being a good captain is about fulfilling "what suits that particular team at that point in time." To illustrate his point, he outlines what Chris Robshaw does for England at the moment.
As Stuart Lancaster's team has developed, with several young players in important positions, they have needed someone to show them the way, something the Harlequins back row does without prompting.
"What makes him a great captain, how I see it, is really how he plays the game. His natural characteristics make people want to play with him; he's there, he's the hard worker, a good, honest grafter.
He's not a show pony, he's not flash. And in terms of a figurehead, that makes for a good captain."
It is interesting that Corry, an ambassador for the Guinness Plus app, raises the point of "natural characteristics." We often hear that captains are 'natural born leaders,' but it's difficult to prove that leadership is actually an innate trait.
Are the mental skills required to be a leader not learned through experiences instead? Corry, of course, cannot answer that question definitively, but says he captained teams from a young age.
SEE SPORT
DIFFERENTLY
Get closer to the stories that matter with exclusive analysis, insight and debate in The42 Membership.
Become a Member
"I captained schoolboys teams. I came into representative rugby fairly late, so I only came in for that U18 group. I captained Bristol when I was there at 21 too. I absolutely think that experiences make you. Experiences do help in captaining."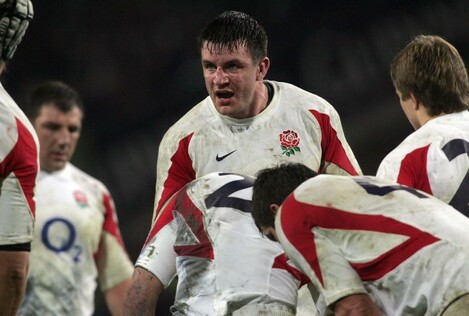 Corry motivates his England pack. Source: ©INPHO/Morgan Treacy
The experience Corry speaks of is accumulated through the act of captaining, rather than elements learned away from rugby. The question of 'natural' leaders remains unresolved for now.
Different coaches place different demands on their captains, depending on the maturity of their team, the style of play they desire and even their own coaching approach. Corry says he has had varying levels of authority depending on the particular team he has been captaining.
"There were some teams which I've been involved in where, as captain, I was doing a lot. Then there were other times where I've been in teams where the coach almost wants to suppress the captain and all you're doing is flipping a coin on a Saturday.
So it's ultimately about fitting into the role that team wants and whatever is right for that particular time. There are times when you need to have a strong captain, to lead from the front.
"There are other times where you've got key people around you, so other players can take the lead and you trust them to perform. That's when captaincy is easy, when you've got that culture and you can allow players to come to the fore."
Corry underlines the point that being dependent on one leader is damaging for a team, particularly if that man is a forward. The 2003 World Cup winner says members of the forward pack may have "their heads shoved up their arse or faces being ground into the mud," meaning halfbacks and outside backs need to make good decisions.
Dejection after the 2007 World Cup final. Source: PA Archive/Press Association Images
The build-up during the days preceding games was part of the captaincy role Corry took very seriously, particularly in club rugby, where game follows game so quickly.
He highlights that the captain is the "pulse of the team", setting the mood in the week of the most important fixtures, and lower-profile ones too.
If you feel the team is flat, you've got to get them up. But what's happened on numerous occasions, especially going into big games, is that you think the team is a bit over-anxious, a bit too psyched up. You've got to just pull them back down again.
"You've got to judge the mood of the team so that come kick-off they're in the exact right frame of mind. Sometimes it's dishing out orders, other times it's reducing a few guys.
"The captain sets your tone during the week, it's about how you conduct yourself in training. You play the game three or four times in training during the week, setting the tone. If you have to chin someone in training, just to make sure, then you do that."