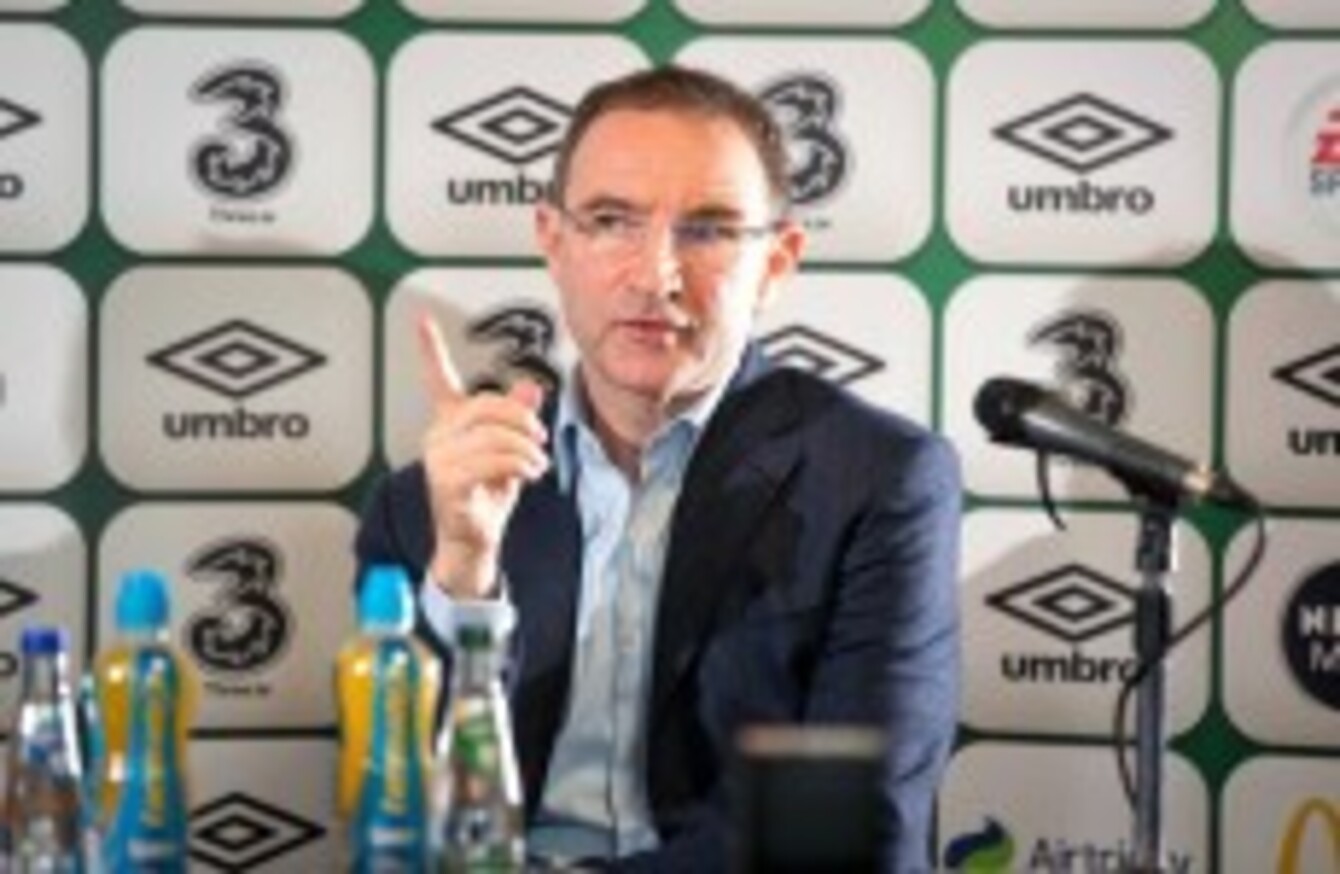 O'Neill at the Carlton Hotel in Blanchardstown.
Image: INPHO/Morgan Treacy
O'Neill at the Carlton Hotel in Blanchardstown.
Image: INPHO/Morgan Treacy
HE WILL HAVE been well aware of what was involved  in the job before taking the plunge into international management last month but it wasn't until the Ireland squad broke up after the recent set of friendlies that Martin O'Neill realised just how long it would be before their next meeting as a group.
"We came back in from Poland and pulled into Dublin it must have been around half past four and we had breakfast with the players," O'Neill said speaking at his end-of-year press conference in Dublin yesterday.
"It was really strange because we said cheerio to the players and I don't see them collectively now until March time.
"Obviously I'll watch them playing and I have done but I felt it really strange. I didn't really hit home for a day or two. As weeks go on and you're getting out to see the games it becomes easier.
"That is the difference between international management as opposed to the club management."
With no World Cup to look forward to next summer, the new Ireland boss will make do with a series of friendlies starting in March and leading right up to the beginning of the Euro 2016 qualifiers in September.
Along with assistant manager Roy Keane and goalkeeping coach Seamus McDonagh, O'Neill has spent the past couple of weeks attempting to familiarise himself with all the players at his disposal by visiting a host of Premier League and Championships matches.
He admits that it can get frustrating if you head along to a ground to watch a certain individual and he doesn't end up featuring in the game, but it's all part of the job.
"I've watched a lot of games," he explains. "You're a probably at times going to some matches where you're hoping that the player might be playing. For instance, last Sunday I went to Norwich maybe to watch Wes (Hoolahan).
"I knew that (Anthony) Pilkington might not be fit but you're hoping that Wes would get on at some point or start the game.
"That is totally the manager's prerogative. I would never ask the manager beforehand to save me the journey. As a club manager, I wouldn't want an international manager to ask me about my team before a match so I wouldn't impress that upon him.
"You go to some matches and if a certain player doesn't play there is more than a hint of disappointment but that you take.
Be part
of the team
Access exclusive podcasts, interviews and analysis with a monthly or annual membership.
Become a Member
"There are some matches where you know that there are certs – Everton at this minute with young (Seamus) Coleman and (James) McCarthy doing exceptionally well.
"Stoke you'll always find one or two of the lads will be playing. But it has been very interesting."
Questions about possible new additions to the squad, whether they be Irish born or 'granny-rulers', were also fired at O'Neill who responded by saying that while he was monitoring a number of candidates, he had no intention of getting into individual cases yesterday as he hadn't spoken to any potential new players.
That said, he did mention Norwich City's Nathan Redmond, who has featured at underage for England's underage teams including their U21s.
On picking his next squad in three months' time, he added:  "There are one or two players who were on stand-by when the squad was announced. I was happy with Noel doing that because I wouldn't have been sure of it.
"There are one or two who are doing well at this minute that I would like to think about bringing into the squad for March.
"Obviously it is a fair distance away and they might get injured or lose form. And maybe one or two younger lads who I've been quietly impressed with, I'm not mentioning any names, will be monitored a wee bit more closely between now and then. But please allow me to change me mind."
Other topics which O'Neill addressed during the briefing were his discussions with FAI chief executive John Delaney about the possibility of adding to his  backroom staff (which took place yesterday evening) and his willingness, at this moment and time, to keep Robbie Keane as the team's captain, while he also left the door open for Shay Given to come back to the fold.
Before another ball is kicked, however, O'Neill will travel to Nice on 23 February for the Euro 2016 qualifying draw.
Earlier this week, details of the format were released and Ireland could potentially progress to the finals in France with a third place finish in their group.
Reacting to the news, O'Neill joked:  "It's nice to hear that some people are saying we've already qualified which is really great. I can put my feet up now and not worry about it.
"Of course the more teams that qualify you would have to think you've got a chance. I'm excited about the draw coming around because it is getting closer. Other than somebody giving you automatic qualification, I would love to be in the easiest group.
"But I'll take what comes and give everything we've got when September comes around."