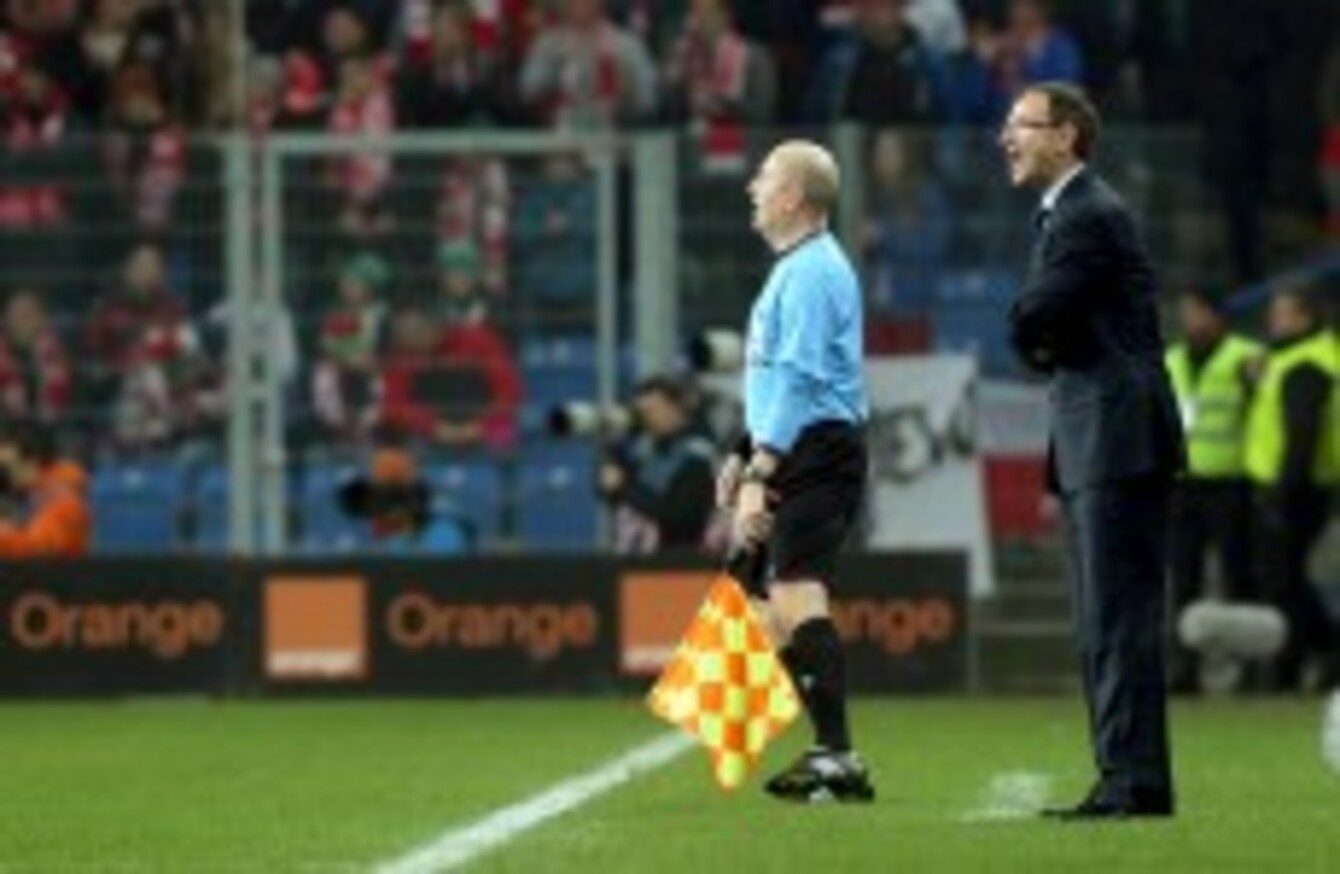 O'Neill giving orders last night.
Image: INPHO/Donall Farmer
O'Neill giving orders last night.
Image: INPHO/Donall Farmer
MARTIN O'NEILL comes away from his first two matches as Ireland manager with much food for thought and plenty of time to ponder over it.
As it stands, Ireland do not have another fixture until 5 March, when Serbia arrive in Dublin, so the coming months are likely to involve numerous scouting missions for  O'Neill and assistant Roy Keane.
The feel-good factor after victory over a poor Latvia side was needed to inject positivity into Irish football and while last night's stalemate wasn't quite as entertaining, it was a credible performance with some encouraging signs.
Bel0w, we take a look at how O'Neill's record of one win and one draw from his opening games compares with the past five Ireland managers.
Jack Chartlon (One draw, one defeat)
Wales were the first visitors to Lansdowne Road when Big Jack was named Ireland boss in 1986 but Ian Rush spoiled the party with a goal on 17 minutes.
The following month, Uruguay came to Dublin and were first to score through Ruben Paz's wickedly-deflected free-kick early on. Before half time, however, Ireland were awarded a penalty with Gerry Daly converting.

YouTube credit: AZGoal
Mick McCarthy (Two defeats)
McCarthy replaced Charlton in 1996 but didn't get off to the best of starts at home to Russia. Andrei Kanchelskis and Aleksandar Mostovioi combined for the away side's first before Igor Kolyvanov added another.
The travelled to Prague a month later where a talented Czech outfit also handed an inexperienced Ireland side a 2-0 defeat.

YouTube credit: sp1873
Brian Kerr (Two wins)
Brian Kerr was given his big chance  in 2003 after unprecedented success at underage level. The former St Patrick's Athletic manager got off to a great start when Ireland a starting XI including the likes of Gary Doherty, Clinton Morrison and John O'Shea won 2-0 away to Scotland.
From there, it was straight into a Euro 2004 qualifier with Georgia. Again, Kerr came up trumps and Ireland departed Tbilisi with a 2-0 win thanks to Doherty and Damien Duff.
Damien Duff scores against Georgia. Credit: INPHO/Andrew Paton
Steve Staunton (One win, one defeat)
All was looking rosy for Steve Staunton after his managerial debut resulted in Ireland dismantling Sweden with a 3-0 victory. Damien Duff, Robbie Keane and Liam Miller (with a cracking drive) ensured those present at Lansdowne Road went home with smiles on their faces.
However, the next friendly against Chile ended in a 1-0 loss and things quickly turned sour from there on out.

YouTube credit: sp1873
Giovanni Trapattoni (One win, one draw)
Legendary Italian manager Giovanni Trapattoni rolled into town in 2008 and was tasked takin on Serbia on 24 May. Marko Pantelic, on as a substitute,  put the visitors in front but Andy Keogh was also introduced late in the game and found the back of the net in injury time.
A short trip to London followed as Ireland faced Colombia at Craven Cottage. The South Americans dominated possession but a solid defensive display from Ireland saw them nick a 1-0 win through Robbie Keane.

YouTube credit: sp1873
What did you make of Martin O'Neill's first two games?